Who Needs The Spa? Stay Home & Lather Up With These 11 DIY Beauty Treatments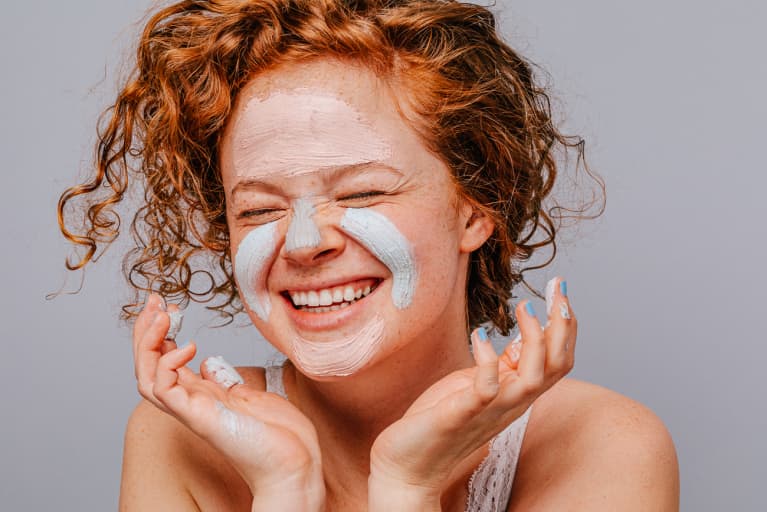 In the throes of this global pandemic, the notion of a spa day has a bit of a different meaning. Whether it's to help quell some COVID-induced anxiety or to quite literally dip your toes into fun products you finally have the time to get your hands on—this quarantine is, at the very least, an excuse to lather up.
But even if you don't have a handy collection of clay masks to slather on, we've got you covered. Here, 11 of our favorite DIY beauty treatments, so your self-care day becomes as easy as walking into the kitchen. Cue the spa music.
1.
Hot oil hair treatment
Coating your hair with warm oil just sounds relaxing, no? This treatment (which typically isn't offered in many salons) can help mend dryness, reduce frizz, and add a healthy amount of shine. Sign us up.
All you need to do is heat up a few tablespoons of oil of your choice (we're partial to coconut), massage it into your hair in small doses, and let it sit in a shower cap for around 30 minutes. See here for more details on this conditioning treatment.
In dire need of a scalp scrub? This DIY baking soda shampoo is your guy. Mix 1 part baking soda and 3 parts cool or lukewarm water, add in a few drops of essential oils if you're feeling fancy, and apply the shampoo to wet hair. A caveat: You might want to skip the scalp scrub if you have really dry hair. Also, be sure to do a patch test, just in case you have any reactions.
3.
Aloe vera hair and scalp mask
Dry, brittle hair, this one's for you. This mask is perfect for a super-clean scalp (say, after you've done a baking soda scrub to remove buildup), so the hydrating nutrients from aloe vera can better penetrate the skin. And it's one that's practically made for DIY, as the fresher and purer the aloe, the more potent the benefits. So, snip off a leaf of your aloe vera plant, remove the outer skin, and apply the inner gel to your hair right before your shower (but only for 20 minutes max; more on that here).
4.
Matcha powder face mask
There's nothing like a good DIY face mask for an at-home spa day, and this matcha powder mixture is sure to become your go-to. Mixed with colloidal oatmeal (an age-old remedy known for its skin-soothing benefits), this matcha mask will simultaneously exfoliate and calm your skin—all in a vibrant green color. Let the selfies ensue.
There's a reason cucumbers are the quintessential symbol of a relaxing spa day—the vegetable is super hydrating. When applied topically, it can even help combat facial redness. Make your own cucumber mask by simply pureeing a cucumber and slathering it on for a couple of minutes.
6.
Apple cider vinegar rinse
Trying to save your shampoo? Enter the apple cider vinegar rinse: It can help reduce the number of times a week you need to wash and condition while keeping your hair looking vibrant. Just mix ½ tablespoon of ACV for every 1 cup of cold water, and let it sit on the hair for around five minutes before rinsing it out. Depending on how dry or oily your hair is, there are multiple ways you can customize this DIY rinse—before shampooing, as a post-conditioner mask, or in place of your shampoo entirely.
7.
Apple cider vinegar bath
Is there anything ACV can't do? Because of its strong antibacterial properties, pouring apple cider vinegar into the tub can help with body acne, odor, and even wrinkles. All you need is to pour 1 to 2 cups of apple cider vinegar into a lukewarm bath (again, adding some essential oil drops if you're feeling fancy), soak for 20 minutes, and gently rinse off with cool water. (See here for all the details.)
As we're stuck at home, chances are you might be drinking more nightcaps than usual. That said, a salt-rimmed cocktail or two can make your face look and feel swollen when you wake up in the morning—a perfect time for a nice de-puffing facial massage.
Whether you jade roll, gua sha, or use your own fingers (wash your hands!), massage that skin, and feel the puffiness subside. Just be sure to apply a facial oil for some slip—you don't want to be pulling at the skin.
Yes, that fizzy probiotic-packed drink we've come to know and love can also brighten and even skin tone. While it might not be the most effective toner out there (there's a reason you don't see bottles of booch lining skin care aisles), its collagen-boosting properties make it a fun experiment to try on your spa day. Just apply it with a pad after cleansing.
Rather than ripping off your faux nails (shudder), take the time during your spa day to gently remove those tips. Find the step-by-step instructions here, so you can be one step closer to giving yourself a relaxing mani-pedi. Along with a good cuticle oil, there are tons of formaldehyde-free shades to play with.