10 Ways To Love Yourself While Caring For A Sick Relative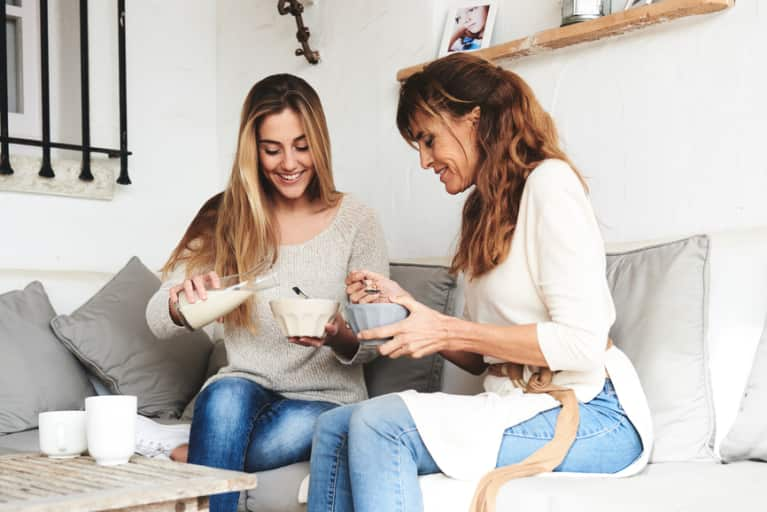 Our editors have independently chosen the products listed on this page. If you purchase something mentioned in this article, we may
earn a small commission
.
The Pew Research Center statistics show the "silver tsunami" has hit the United States. As the oldest generation lives longer and baby boomers reach retirement age, one thing is clear. Family members are living longer, so chances are high you will find yourself in the role of family caregiver at least once in your lifetime.
Caring for an aging and ailing relative—whether a parent, spouse, or extended family member—is a rewarding experience filled with love, compassion, and joy. But it's also filled with big responsibilities, new challenges, and many worries. Family caregivers can find themselves exhausted physically, mentally, and spiritually. And they often experience high levels of stress that can lead to caregiver burnout if ignored.
In order to stay healthy and continue giving your loved one the best care possible, it's vital you take time every day to put yourself first. Because if something happens to you, it affects the recipient of your care as well.
So how can you do that when you're busy taking care of someone else?
Here are 10 self-care strategies I learned as a family caregiver and include in my new book, The Conscious Caregiver, to help you learn how to make yourself a priority every day.
1. Create a happiness L.I.S.T.
"L.I.S.T." represents your Likes, Interests, and Special Things. Write down the things that bring you joy and you lose track of time doing, such as dancing, gardening, reading, or painting. Schedule time on your calendar to indulge in one of those activities each day, even if only briefly. Physically writing them on your calendar increases the likelihood that you'll do them.
2. Spend time with family or friends whose company is pleasant and uplifting.
It's been shown that spending time with friends is great for our health—as long as they lift you up. Protect yourself from those who bring you down or drain your energy. Practice saying in advance, "I'd really like to see you sometime, but I'm just not able to get together right now."
3. Accept help from everyone who offers.
It truly "takes a village" to be a caregiver, and accepting help is not a sign of weakness. It's a sign of self-knowledge and wisdom. Keep an updated to-do list so when someone offers, you can easily give them an assignment.
Mindfulness is the ancient art of practicing self-awareness in the present moment without judgment. It means pausing in the midst of a situation to observe, reflect, and then act or respond in a way that's a "win-win" for all involved. This is especially helpful when you find that you're upset with yourself, your care recipient, and/or other loved ones.
5. Stay physically active.
While you may not have time to exercise every day, you can probably manage a 20-minute walk outdoors to get some sunshine and change of scenery. Human touch is important, too. Give lots of hugs each day and you'll get many in return.
If short on meal-prep time, most grocery stores and restaurants now offer a range of nutritious "to go" items. Carry healthy snacks in your purse or car if you know you won't be home all day.
7. Listen to music you love.
Thanks to technology, music can be at our fingertips in an instant. Create playlists of favorite songs to play on your smartphone. (Hint: Making a playlist for your sick relative to listen to can help cheer or calm them.) But on the flip side ...
People don't realize how attached we are to our tech devices. Turn off your smartphone when visiting a sick relative and really focus on your conversations and interactions with them. Making happy family memories beats reading Facebook updates every time. Or if alone, simply enjoy the peace of being disconnected.
The saying "Laughter is the best medicine" is true in practice. Everyone feels better after a big laugh, so notice something humorous in everyday life. If you can't find it there, watch funny YouTube videos (dog or cat videos come to mind), reruns of I Love Lucy, or other TV sitcoms, or listen to funny podcasts.
It's OK to have a good cry and healthier to express your sadness rather than holding it in. Remember, you are one human being doing a superhuman job the best you can. Your sick relative is fortunate to have you by their side. Hang in there!
Want to take it to the next level? These are the self-care tools every woman needs in her kit.