10 Decluttering Tips That Will Help Your Parents Downsize
mbg Contributor
By Tracy McCubbin
mbg Contributor
Tracy McCubbin is a decluttering and organizational expert who has spent the last decade decluttering over 1,200 homes around the country. She has a bachelor's from the University of California, Santa Barbara, and most recently authored Making Space, Clutter Free: The Last Decluttering Book You'll Ever Need.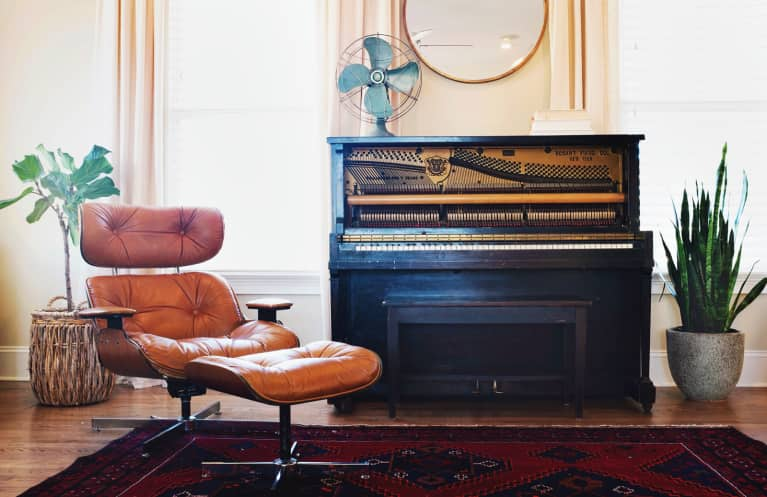 In the United States, an average of 10,000 people a day turn 65 years old. It's an age when many people start to think about retiring, and with that, downsizing. Making the decision to sell the family home and move someplace smaller, more manageable, closer to children or grandchildren, is a huge life milestone. For some, it comes with the promise of ease and a sense of relief. But for many others, it's an emotionally fraught choice, made staring down the barrel of the third chapter of life.
Through years as a professional organizer, I've seen a lot of this process weigh heavily on people's adult children. So many of my decluttering clients want to know how to better help their parents through their downsize, both physically and emotionally. Here are 10 top tips that I've seen help people move into the next chapter with ease.
1. Let them know it's OK to move on from the family home.
The first step is encouraging your parents and letting them know you support their decision. There is so much guilt in letting go of the family home and hearing, "What about my holidays?!" doesn't help. Even if it's tough for you, pretend a little. And maybe offer to host the next holiday. They've been doing the bulk of the work for years; time for the next generation to step up.
2. Acknowledge that they have a difficult task in front of them.
As a professional declutterer, I am here to tell you this is a hard process. Yet, on a weekly basis, clients say to me, "My kids keep telling me to just throw it all away, but it's just not that easy." If you let your parents know that you are aware of how emotionally confronting decluttering can be, they will feel loved and supported and the whole process becomes easier.
3. Help them come up with a realistic timeline.
Downsizing a lifelong home is not something that can be done in a week. Sit down with your folks and set out a schedule that works for everyone. Be truthful about how much time you can give them to help. And if you or your brothers and sisters don't have a lot of time to help, consider hiring a professional.
4. Have a real and honest conversation about what you want and don't want.
Most of the time, hurt feelings arise from expectations. If your mother expects you to take Auntie Olive's couch and then, when the movers show up, you say you don't want it, it will end in hurt feelings or tears or a grudge. As early in the process as possible, walk through the house and be honest about what you want and can realistically take. If you have siblings, figure out the most equitable way to split the belongings. Let your parents be clear on their wishes. It's a difficult conversation but an important one.
5. Let them tell you the history of a piece of furniture or artwork so you know why it means so much to them.
I know you've heard the story about how they bought the painting over the couch on their Italian honeymoon from the guy with the funny mustache a million times, but let them tell it once more. If people know that the memories will live on after they get rid of their stuff, it makes the process easier.
6. Identify people in photos.
When my grandmother died, I grabbed a box of unidentified photos from her house and carried them around with me for years. Just this past Thanksgiving, I had my dad sit down to figure out who everyone was. He didn't recognize anyone, and then—about a third of the way through the box—he realized these weren't photos of our family, but of a neighbor of my grandmother.
Sit down at holidays and have your parents tell you who these people in the old black-and-whites are. It's a great way to learn family history, and it starts wonderful conversations.
7. If you or your siblings don't want an item, identify charities that are important to your folks.
If your parents know that a cherished item is going to a good home or to help a cause they believe in, then it doesn't feel like they are "throwing away" their stuff.
8. If there is something of value that you don't like, bring up the option of selling it and buying something you will love and cherish.
Explain to your father that you will NEVER wear that diamond cocktail ring from the 1980s he brought your mother. It will sit in a drawer. But, if you could sell it, you'd buy that watch that you've always wanted and will wear it every day and think about them. Because that's what they really want—for you to think about them every day.
9. Treasure this time with them.
As difficult and potentially full of bickering the downsizing process can be, remember that someday your parents won't be around. Be grateful that you're able to be a part of the process and relive these family memories.
10. Sometimes you have to take something you don't like.
An item will come along that your mother will insist that you take. She will beg and cajole and tell you all the reasons you need to have it, even though you said 100 times, you don't want it. Well, to keep the family peace…take it. Tuck it in the closet or under the bed, and eventually you can let it go. For now, accept that it's part of the process, and just take it.
Be sure to watch out for these common decluttering regrets as you go.