10 Things You Should Know If You're Doing Veganuary
mindbodygreen Editorial Assistant
By Sarah Regan
mindbodygreen Editorial Assistant
Sarah Regan is a writer, registered yoga instructor, and Editorial Assistant at mindbodygreen. She received her bachelor's in broadcasting and mass communication from SUNY Oswego, and lives in Brooklyn, New York.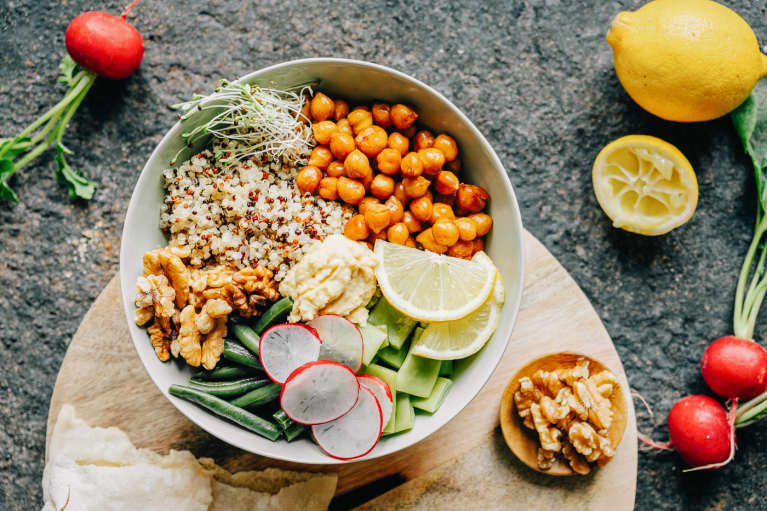 December 23, 2019 — 0:14 AM
B-12 deficiencies are very real.
If you don't get enough of this essential vitamin, you're going to feel it. B-12 is most commonly found in meat, so vegetarians and vegans often suffer from a deficit, which can cause fatigue, digestion problems, and even depression. Luckily, there are plenty of plant-based B-12 supplements out there.
On that note, B-12 isn't the only thing vegans might want to consider supplementing. Of course, individual diets vary, and tests are needed to confirm if you're definitely missing something, but some other common deficiencies in the vegan community include vitamin D, omega-3s, taurine, and vitamin K. Just one month of eating vegan may not be enough for you to notice any changes, but it never hurts to pay attention. And that goes for both what you're no longer eating and what you've introduced.
Watch out for food sensitivities.
After all, anytime we make adjustments to our diet, it's important to keep track of how our bodies respond. While omitting dairy may help if you have trouble with lactose, the influx of nuts, gluten-based products, and soy could catch you and your gut off guard. Again, paying attention is key to making sure you're not missing any inflammatory triggers.
Not all meat alternatives are made equal.
One big criticism of the vegan diet is that it can get quite pricey. But any diet can be expensive or affordable, with the right effort. Rice and beans, for example, two vegan-friendly pantry staples, can both be bought in bulk and cooked in large batches. Get your hands on some frozen vegetables, and before you know it, you've meal-prepped for just a few bucks. And check out your local markets, too, for deals on fresh, local produce. A budget-friendly vegan diet may not be the most exciting taste-wise, but we're saying it's definitely possible.
Vegan cheese is making serious strides.
And if you're willing to dish out some extra dollars for the products to really make your vegan meals pop, we have to mention the strides being made in the vegan cheese world. Where there was once chalky, cheddar-like shreds that didn't melt, we now have brands like Violife, Miyokos, and Follow Your Heart whipping up some very convincing "cheese." Just be careful not to overindulge, as the use of nuts and oils can make vegan cheeses pretty heavy.
This one might sound weird, but a nutrient-dense, plant-based smoothie is a really great way to start your day. Superfoods like spirulina, turmeric, and chlorella are so easy to throw in the blender with your fruits and vegetables, offering extra protein, anti-inflammatory properties, and/or gut-healing power. Be sure to include healthy fats like avocado, nuts, or coconut milk to keep you satisfied longer.
Get familiar with substitutions.
It seems like every day there are more and more ways to make your favorite meals plant-based. Did you know an egg can be replaced with a quarter cup of applesauce when baking? Or that jackfruit has a strikingly meaty texture when cooked and shredded? And the substitutions don't stop there. As you get more comfortable in your grocery store's vegan-friendly aisles, don't be afraid to get creative and try new things!
Now that you're prepared with a plethora of vegan knowledge, you can tackle Veganuary with confidence. And for more vegan inspo, check out our recipes page, where we're always featuring the latest and greatest plant-based recipes.