10 Healthy Snacks To Keep You Fueled During Your Holiday Travels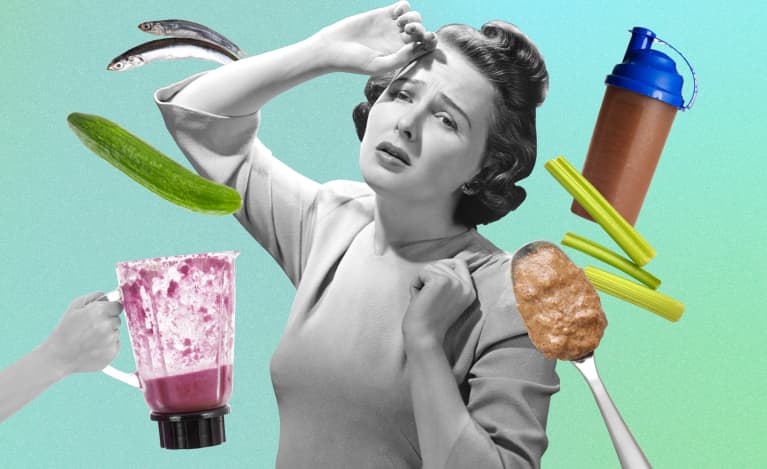 Our editors have independently chosen the products listed on this page. If you purchase something mentioned in this article, we may
earn a small commission
.
Air travel is taxing, both physically and mentally. It can create stress and anxiety, test your patience, and make you puffy and bloated. Then there's the food. Many airport terminals and airlines have dramatically improved their offerings compared with a decade ago, but they're still not choices you can consistently rely on. The newsstand is usually bad news, and the biggest sellers are still junk food, candy, fast food, and alcohol. All the hurrying, worrying, and waiting make you crave comfort food and perhaps something to take the edge off.
Here are a few simple strategies from my book, Body Love Every Day, to tilt the situation back in your favor. When you're on the go, they can help turn any travel day—whether it's for a stressful work trip or a fun vacation—into just another body-loving day.
1.
A smoothie is always a great option.
If your flight is early in the morning, blend up a smoothie the night before and stick it in the fridge. Then sip it in your car on the way to the airport. It saves time and money, shuts down hunger, and sets you up for the rest of the day.
2.
You can always bring a full meal with you.
If you're crunched on time, bring a meal through security, then eat it in the terminal or even on your flight. My favorite go-to is to build a wild salmon salad at Whole Foods or Erewhon Market. I also like putting together warm meals with grilled protein and sautéed vegetables. Build something that sounds good to you.
Roughly 15 to 20% of our daily water intake comes from food. Water-packed vegetables like cucumber, celery, and peppers are great for travel days because they help hydrate you slowly without the immediate need for the restroom.
Tip: Splash a little olive oil and apple cider vinegar (ACV) on your vegetables when you pack them. ACV will give them a little bite and help curb cravings for salty airplane snacks.
No matter where I'm going, my bag is always packed with items that will help support clean, body-loving decisions when I get to my destination. Here are some of my go-to's. Choose the ones that work for you, and make them a must every time you travel, just like your toothbrush and toothpaste. (These are also examples of things I keep handy in my bag or car when I'm at home.)
Single-serving protein powder packets: 1 packet per day of travel. Pick your favorite flavor or mix it up.
Single-serving raw nut or nut butter packets: 1 packet per day of travel. Pick your favorite flavor or mix it up.
Single-serving oil or vinegar packets: 1 to 3 per trip. Use these as dressings to keep your salads healthy at a work conference, sports event, or back at the airport.
Single-serving fish pouches: A "fish pouch" sounds a little fishy, but they're a great protein addition to any garden salad or a salad bar where the protein looks subpar. These have saved me at work conferences, corporate meetings, and the airport. Cans work, too, but weigh more, are bulkier, and may contain BPA (look for BPA-free options).
Single-serving coconut oil, coconut butter, or MCT powder packets: 1 packet per day of travel. If you have an early morning during your trip or just want to take a break from eating after a big client dinner the night before, stir these into your tea or coffee to give yourself some fat-based fuel to start the day. Some MCT powders have fiber in them, which is a bonus.
DIY fiber packets: Scoop 1 to 3 servings of chia seeds, flaxseeds, or acacia fiber into separate travel containers or tins.
Single-serving powders: Scoop 1 to 3 servings of greens powder into a travel container or tin. Use 1 tablespoon in your DIY smoothie. (Fresh leafy greens don't blend in a shaker bottle!)
Excerpted from Body Love Every Day by Kelly LeVeque. Reprinted with permission from William Morrow, an imprint of HarperCollins Publishers © 2019 by Kelly LeVeque.