10 Reasons To Try Natural Birth Control
mbg Contributor
By Kim Anami
mbg Contributor
Kim Anami is a holistic sex and relationships coach based in Los Angeles and Bali. Her work has been featured at CNN, NPR, Glamour, Elle, Cosmopolitan, Playboy, Marie Claire, The Huffington Post, and many other places.
Medical review by
Wendie Trubow, M.D., MBA
Functional Medicine Gynecologist
Wendie Trubow is a functional medicine gynecologist with almost 10 years of training in the field. She received her M.D. from Tufts University.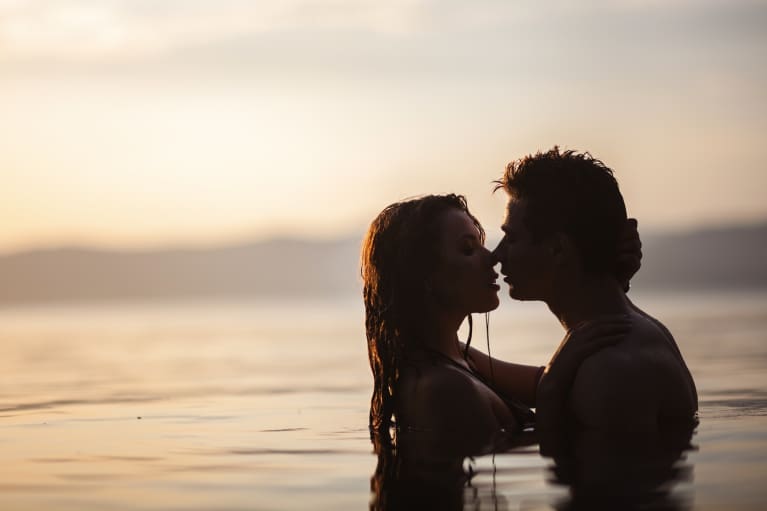 Our editors have independently chosen the products listed on this page. If you purchase something mentioned in this article, we may
earn a small commission
.
Last updated on February 4, 2020
As a holistic sex and relationship coach, I'm always on the lookout for ideas and concepts to apply to human sexuality that are natural and empowering.
Birth control is one big area where many people, even if they have an organic approach to many other areas of their lives, default to pharmaceuticals.
There is another way.
I went on The Pill and off The Pill early in my sexual history. I've only been on it for two years of my life. The rest of the time, I've practiced natural birth control, with impeccable success.
Every female in the animal kingdom shows visible signs of estrus.
Human females are no different.
There are several methods of fertility awareness out there. My favorite is The Billings Method, developed by husband and wife team Drs. John and Evelyn Billings in the 1950s.
The method involves observing the changes in female mucus secretions throughout the month. These secretions follow a distinct pattern. Once you become aware of this, it's very easy to see the differences.
Simply by placing a finger at the opening of the vulva, a woman (or her partner) can observe the consistency of the mucus and instantly know whether she is fertile or not.
The method is sexy, easy, safe and once you learn it, takes about five seconds a day to use.
Using iPhone apps that guess at your fertile window, playing "just the tip" or using "withdrawal" as a birth control methods is like playing Russian roulette. Employing a method with a 99.5% — 100% success rate gives you a precise answer.
Here are 10 reasons to give natural birth control a try:
1. It's can be as effective as the Pill.
Various studies over the years have placed the Billing Method's effectiveness at 97.5% to 100%. The most comprehensive study to date, done over a year period in China and looking at 1000 women, found the method-related (i.e. when used properly) incidences of pregnancy with The Billings Method at zero. Use-related (i.e. someone made an error when using) pregnancies were at 0.5%.
To compare this to The Pill, the method-related pregnancy rate is 0.3%. The use-related rate is 8% (for example, someone forgot to take a pill). Either way, the Billings Method still comes out on top.
2. It might lower your risk of breast cancer.
3. You'll revive your libido.
Countless numbers of women come to me with complaints of low libido. When I ask whether or not they are on hormonal birth control, the inevitable answer is yes. Many studies have confirmed hormonal birth control's impact on libido, lubrication and enjoyment of sex.
4. You become more in tune with your body.
While you can still be in tune with your body on the Pill, being forced to pause and consciously inspect what's happening in your body is a whole other level of awareness. By listening to the signs that your body has to give you about your fertility without relying on an outside source can strengthen your ability to be present within your own body.
5. You'll preserve the natural rhythms of your hormones and your cycle.
Suppressing normal hormonal ebbs and flows can wreak havoc on a woman's system. It can lead to several negative effects, including mood swings to weight gain.
We've been conditioned as women to think that our cycles are complicated and mysterious, and that understanding fertility is a great challenge—something only an external device or pill can do successfully.
Millions of women around the world use the Billings Method. Robin Lim, a midwife in Indonesia who received CNN's 2011 Hero of the Year Award for her work with women in developing countries, has taught the method to all education levels. The method is listed as one of the Chinese government's endorsed choices of birth control.
When prompted, your partner can slide his hand into your pants and tell you what's happening. Then you run off to the bedroom, put a sticker on the chart and either go about your nights or start having sex.
While hormonal other birth control methods typically require a copay or other costs, natural birth control is free. And aside from your finger, you don't need any special equipment or device.
9. It will be easier for you to get pregnant, when you decide to.
Getting to know your body's natural windows of fertility will make it easy to know when to aim for sex dates.
I also attribute the myriad problems women have trying to get pregnant once they come off hormonal birth control to years of altering hormones and suppressing ovulation.
10. Birth control becomes a shared responsibility.
Both partners can participate in the process of observing and charting fertility. The Billings Method involves recording your cycle on a wall chart, in plain view for both partners to see. Understanding and practicing the method together builds intimacy.
An excellent online resource is the official Billings website. You can watch videos, connect with an online instructor and learn more about the method. Also check out the book The Billings Method: Controlling Fertility Without Drugs or Devices.