DIY: Treat Your Feet To Natural Foot Reflexology (A Barefoot Park)
Written by
Brianne Grogan, DPT
Brianne Grogan, DPT, is a women's health physical therapist, fitness expert, and the author of FemFusion Fitness for Intimacy and her newest book, Lady Bits. She received a B.S. in Health Sciences from Linfield College, and earned her DPT in Physical Therapy from Pacific University.
My family and and I moved to Germany two years ago due to my husband's job with the U.S. Department of Defense. As (happily) displaced Americans, we feel über-blessed to be surrounded by world-famous castles and museums. I relish my time at the local saunas, my husband loves going out with his buddies for bratwurst and beer, and my son gets a kick out of playing among castle ruins.
So far, our favorite field trip has been to the Barefoot Park (Bad Sobernheim Barfußpfad), a 2-mile walking trail along the Nahe River in Southwestern Germany. Barefoot parks range from short trails (100 yards or less) to longer loops, such as the one we experienced. They're unpaved, with varying surfaces ranging from dirt to wood chips to rocks of all shapes and sizes. Sometimes they have obstacles, such as water features or wooden bridges. The park we experienced was the first of its kind in Germany, and to this day, Germany has the most barefoot parks in Europe.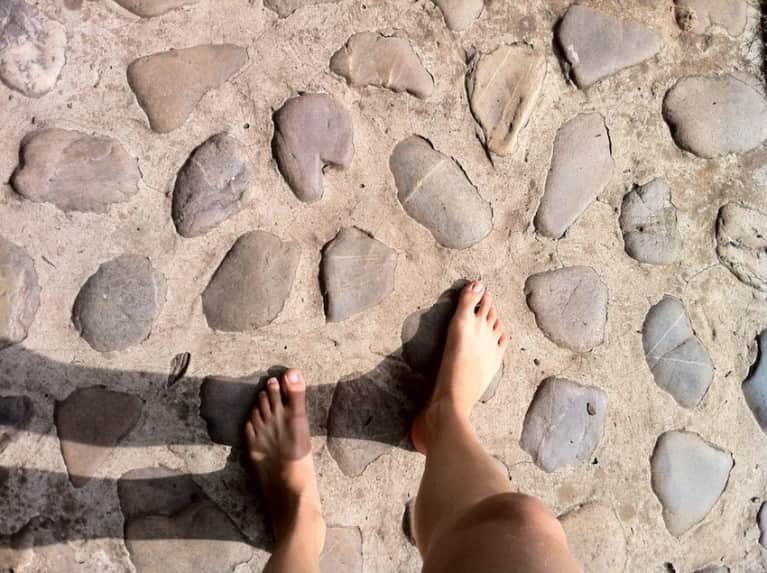 Barefoot walking in a controlled environment is a great way to treat your feet to a natural foot reflexology massage while also improving body awareness, balance, and sensory awareness. It is (literally) a grounding experience. Feeling your bare feet against the Earth helps you tune in to nature and to the moment. My family and I reveled in the sensory explosion that walking barefoot provided. We took our time to really feel and enjoy the different sensations: clay, mud, water, packed dirt, slippery rocks, barkdust, smooth logs, brick, and more.
After our experience at the barefoot park, my husband and I began plotting ways to add a barefoot walking path and sensory obstacles to our yard and garden. First, we took inventory of what we already had. River rocks? Got 'em. Grass? Check. Stone pavers? Yep! It turned that we didn't need to invest much money or time into creating a barefoot path; rather, we simply needed to get outside and walk.
We committed to walking barefoot in our yard, using the obstacles we already had, once a day for 3-5 minutes per session. It is the best thing we have ever done for our mind and body. We use our barefoot walk as a time for meditation and reflection. We feel calmer, clearer, and more grounded than ever.
Interested in creating your own mini barefoot park? Click here for a great link with ideas to get started. If you don't have time to create your own park, simply spend a few minutes standing outside with your bare feet on the ground to reap some of these amazing benefits.