10 Ways To Be An Inspiring Teacher No Matter What's Happening In Your Life
You've rocked Warrior I thousands of times.
You've breathed into tough twists and big back bends.
You've got this.
You are 100% made up of asanas.
Now trust it.
I've been teaching yoga for 24 years and am here to say that having a personal practice is like having a best friend. It requires consistency, honesty, a whole lotta love and letting go!
Teaching is great, but it's in those sacred moments before and after class that teachers must allow themselves to create, dance with the divine and mover closer to God. That's where the real richness of the teacher lies.
About 15 years ago, when I was still a new teacher, I remember taking a class with Erich Schiffman, one of my favorite teachers in LA, and asking him a simple question when the class ended.
"How do you keep showing up?" I asked. "How have you had a Sadhana or personal practice for so long?"
I've always known that if I could maintain a personal practice, I'd be able to teach forever. But my question was always: how do you stay inspired to practice every single day?
Erich looked at me and then said, "When I wanna move this way..." he swung to the right and wrapped his arms around his body in a bind.. "I do," he said. "And when I wanna move this way, I do that, too," as he swung to the other side. "That's it."
I thought, "Wait, there are no rules?"
What I learned from Erich that day is something that has set my entire teaching philosophy in motion. There are about 72,000 mystical shapes or poses in yoga and you certainly cannot hang out with all of them everyday.
When you give yourself permission to abandon the rules, to listen and truly explore and celebrate your body through the shapes and then share what you discover with your students, the movement becomes medicine. My partner and Laughing Lotus co-founder, Jasmine Tarkeshi, always says that to be a good teacher you've got to be a soul scientist. You truly must go into a laboratory and investigate your sacred self through your body, every single day.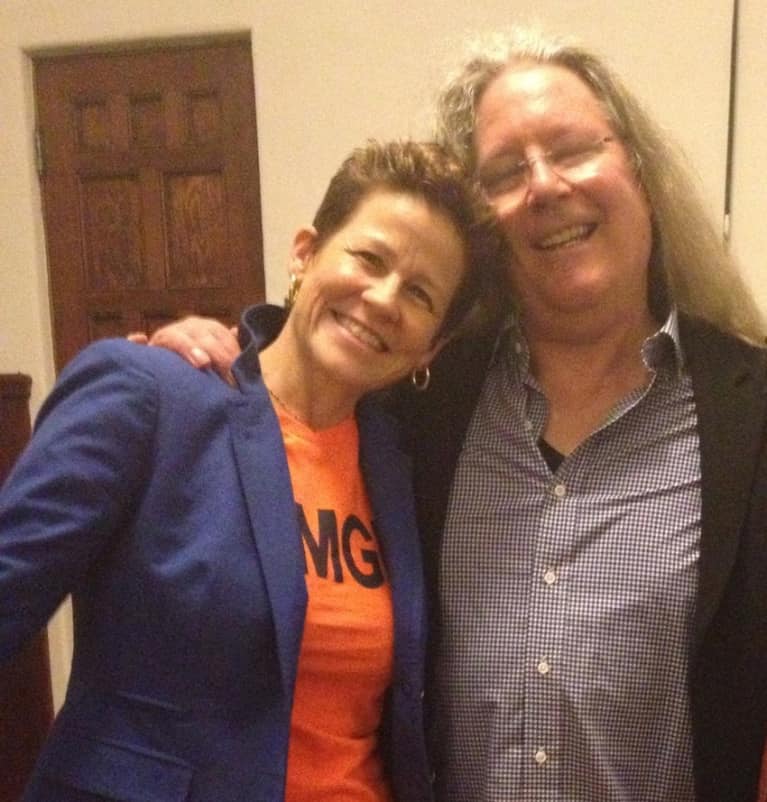 I loved that Erich's classes were so uniquely him. In his 90-minute class, I felt like I was receiving 20 years of his practice. I thought it was brilliant that there was no chaturanga in his sequence simply because it wasn't in his own practice.
Because if you don't practice it, how can you teach it?!
Being a good teacher is about authenticity. It's about truly knowing yourself and not being afraid to go within. After that class in LA all those years ago, I knew I needed to find out what it would be like to move like me, so I stopped going to yoga classes for six years. With Erich in mind, I rolled out my mat at home and waited and listened and breathed and waited.
The yogis that came before me didn't have books on all the poses, they came to them naturally, so I knew my practice would reveal itself eventually. And when I wasn't moving through poses on my mat, I danced and practiced tai chi.
I practiced patience and repeated the only mantra that came to mind, don't quit before the miracle, don't quit before the miracle, don't quit before the miracle...
It took me months, years even, to learn how to move like myself. But eventually, I discovered new shapes and poses within that I still teach today at Laughing Lotus—Rainbow Warrior, OMG, Ganesh. It's a personal, infinitely creative and new discovery for me everyday.
But I was changing and so was my practice and, at times, it got hard. There have been breakups and sicknesses that changed me. There have been losses and bouts with depression that have changed me. But it is the suffering that must also become the motivation for your practice—so don't be afraid to take it with you to the mat.
Suffering allows you to have more compassion for everyone else who may also be suffering, which is KEY as a yoga teacher. And perhaps the greatest challenge during these times is learning to remain consistent with your practice, whether that be through asanas, prayer, chewing on a mantra, or reading a Hafiz poem to pour light into your empty cup.
Stay on the path and keep it real.
There are as many forms of yoga as there are yogis, so get on your mat and let your artistic, dancing, musical, poetic, free-form self come through you. Teachers are always concerned about being fresh, happily received and filling their classes. The only way to be fresh and happily received is to stay inspired...because we all want to feel inspired. Make it personal, it's the most universal.
Here are 10 Things To Practice for Staying Alive As a Teacher
1. Wake up early, set your alarm, or get a rooster, seriously! UP, UP buttercup! Discipline = Freedom
2. Create a beautiful and personal altar where you practice. Ritual is habit made holy.
3. RUN TO YOUR MAT. Roll out your mat and roll out your true self.
4. Commit to a certain amount of time and stay with it, this creates confidence. Who knows? At any moment, bliss may come. You wanna be there when it does!
5. Bring your friends, Mick Jagger and Mary Oliver: music and poetry.
6. Remember that you are already a yogi, all that is required is a sense of adventure. STAY ON THE MAT!
7. Turn off your iPhone. Just do it.
8. Notice the obstacles, call them out and blow past them
9. Remember: You are the student and you are the teacher. KEEP ON! in the words of Yogi Bhajan
10. "Teach what you practice, practice what you teach." —Krshnamacharya
Be inspired by all your teachers, but DO YOU!
So if you're looking for more inspiration from all the fabulous teachers out there, join us at the Laughing Lotus Teachers Reunion and Summit in New York City June 14 - 16. We have a killer lineup of teachers, please take a look. We'll feature mash-ups, intensives, a blow out Kirtan Party with Sean Johnson...and more!
And this year, the Summit is sponsoring the Lineage Project, bringing yoga and meditation to at-risk youth in NYC. We have a raffle and they're doing opening invocation with a goal of raising $10,000.