Former Head Of Cosmo Talks Body Image, Dealing With Stress + More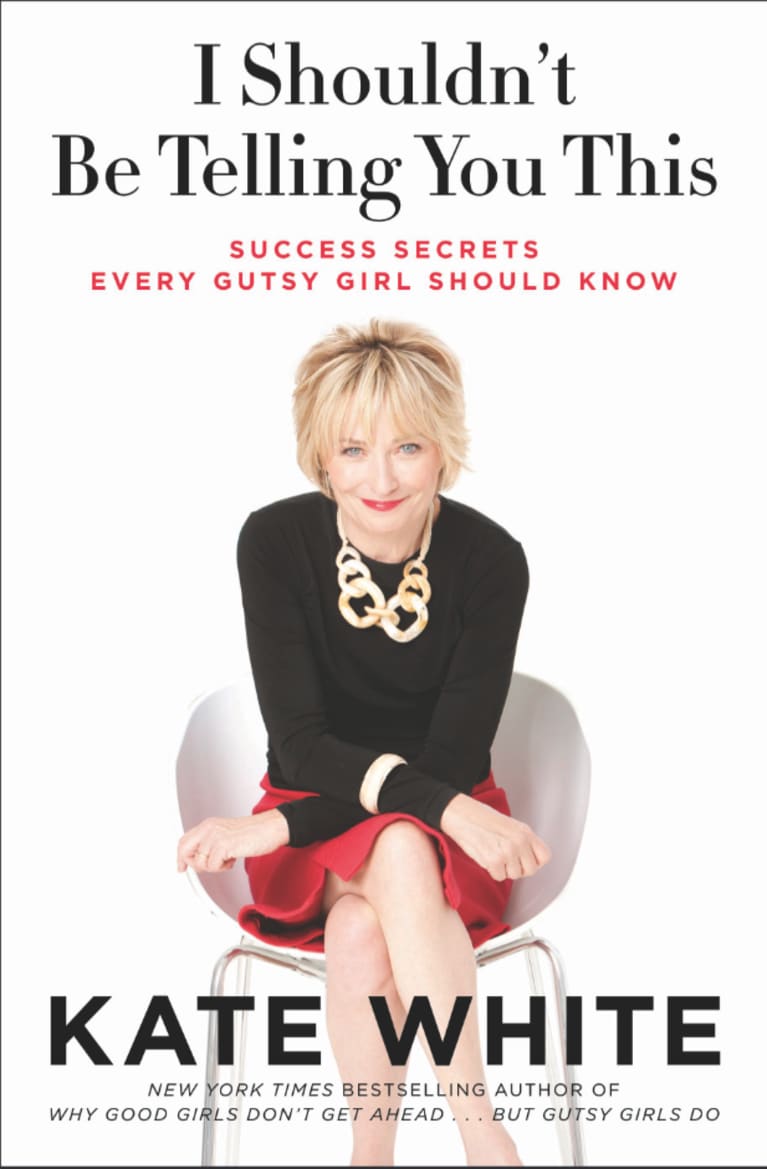 I was thrilled to interview bestselling author Kate White, who was the editor-in-chief of Cosmo for 14 years. When I read her latest book, I Shouldn't Be Telling You This, a no-nonsense guide to being great at work, I was surprised at how much soulful guidance it offered. So much of Kate's success, it seems, was due to trusting her gut and dealing with stress.
This mother of two was kind enough to tell us about how she cared for herself emotionally and physically while holding down one of the most demanding jobs in publishing.
Her tips on cultivating intuition and dealing with self-doubt are sure to help you find success—however you define it!
KS: If you had to pick one quality that's fueled your success, what would it be? 
KW: I'd say being fairly gutsy when it comes to generating ideas. I am a total wimp in terms of physical risk, but I tend to think big. I'm probably hard-wired that way, but I also believe it's something you can train yourself to do.
I try to step back from every project and ask if it could be gutsier, more exciting. Don't get caught up in the way things have always been done before. Step out of the box. I also have to say that I am an information gatherer and that is a key strategy for success. Knowledge really IS power. Don't be afraid to investigate why a project failed or why you didn't get the promotion, or whatever. Use that info to win the next time.
There have been several debates within our community about body image. Some feel that the media (in particular, by PhotoShopping models' images) contributes to negative body image among women. What's your take? 
I think Photoshopping women's bodies is ridiculous. Why the pretense? At Cosmo, most of the Photoshopping done when I was there was to smooth out clothes, fix stray hairs, that sort of thing. I didn't see any point in trying to distort someone. I never made someone look thinner on a cover. (And just for the record, I not only didn't run diet articles in Cosmo, I published a number of articles about how stupid breast implants were, unless you have had your breasts removed because of disease.)
My goal, as a businessperson, was to sell magazines. So I chose women for the cover who I sensed that readers would find attractive and inspiring, regardless of their size. I was the first American editor to put Adele on the cover. Our readers loved her.
I should point out that if women want to see "real" looking women in magazines and in ads, they need to respond with their pocketbooks. As the former editor of five national magazines, I can tell you that "real" looking women rarely sell as well as more model-y types. So women themselves have to stop playing the game.
In your latest book, I Shouldn't Be Telling You This, you attribute much of your success to your intuition. Did you always have a strong inner voice? 
Intuition really has been an asset for me. Though it wasn't until I was running my third magazine that I really learned to use it well. The magazine was taken over by a European media company and our new bosses were not easy to deal with. I was worried about my staff and wanted to anticipate as much as possible what was going to happen so we could prepare for it.
I started saying things to my managing editor like, "Let's do X because I think Y is going to happen." So many of my predictions proved accurate. She asked me one day, "How do you know all this stuff?" and I realized I'd really started paying attention to my gut.
How can a reader learn to trust her gut? 
You first need to learn how it talks to you. Is it a twinge in your tummy? Or just a weird feeling? Then educate it. The best gut reactions come from a base of knowledge. I trusted my intuition with covers but that was after I'd really researched what women liked.
Lastly, become a listener. A close friend of mine, who I met through writing mysteries, has worked thousands of homicide scenes and she says the secret to a golden gut is putting your hands over your mouth and listening.
What's your advice for someone currently struggling with self-doubt in his or her career?
Know that everyone feels nervous at times. It's just a fact of life. There are two things that I found especially helpful. (1) Try to focus less on yourself and more on the other person. How can you provide something that will be beneficial to that person or the group? (2) Do your homework. When you really know your stuff, you'll feel far more confident. Often people are nervous about presentations because they haven't prepared enough.
If you were starting your career over today, would you do anything differently? 
I honestly don't think so. Though maybe I would have worried less. Because in hindsight I realize nothing extraordinarily bad would have happened. I also probably would have taken a bit more time for myself because I realize my kids wouldn't have suffered!
You managed to run a magazine, have a family, and find time to author a dozen books. How did you make time to care for yourself, physically/spiritually/emotionally in all this? (Did you?) 
Well, I wasn't perfect at it. And as I just said, I could have done more without my kids suffering. But I did try to create some nice rituals. I often got a massage on the way home from work on, let's say, the last Friday of the month. And I often went to secret lunch places on Friday for a glass of wine and a salad and I brought my notebook for writing out ideas.
What I found most beneficial was to actually be ritualistic about it. I had my regular spots and routines. That way I knew I had it to look forward to. And when you become a regular—whether it's at a day spa or restaurant—people treat you wonderfully, which adds to the pampering aspect.
How do you do all that you do and manage stress?
One way I managed stress was to not talk about work very much. Through my work at Cosmo, I came to see that men don't vent a lot about what's bugging them. And there are some studies that show that not venting CAN be a good thing. Venting often churns things up. I also noticed that my husband never vented. So I learned to come home, enjoy a good dinner, drink wine with dinner (always!), and talk about other things. I wasn't always successful, but I tried to leave work at the door.
I also managed stress ultimately by going out on my own last year and working just as an author. I am in Nirvana these days! I love being in charge of my own destiny.
This interview was edited and condensed. Connect with Kate at KateWhite.com, or on Twitter, @KateMWhite