8 Sneaky Sources Of Air Pollution At Home, According To An MD
Functional Medicine Doctor
By Amy Myers, M.D.
Functional Medicine Doctor
Amy Myers, M.D. is a renowned leader in functional medicine living in Austin, Texas. She is a New York Times best-selling author of both The Autoimmune Solution and The Thyroid Connection, and received her doctorate in medicine from the LSU Health Sciences Center.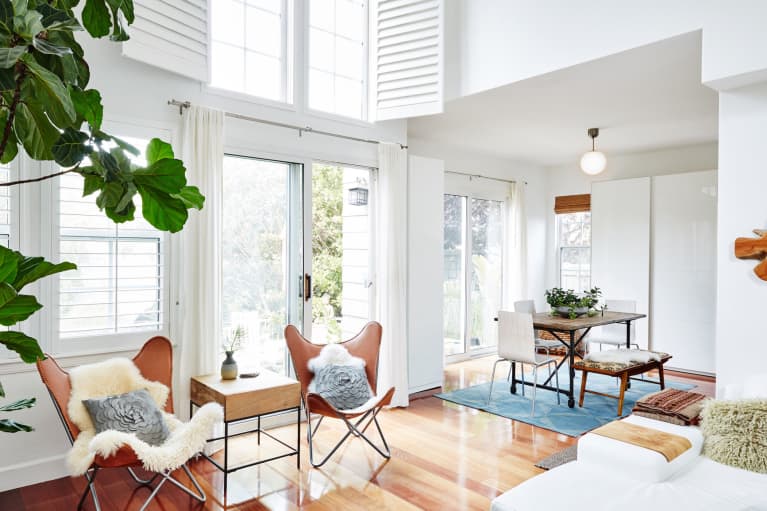 Last updated on March 31, 2020
"Indoor air can be more polluted than outdoor air" is a statement that gets thrown around a lot these days—but what's happening inside of our homes that makes them so dirty? As a functional medicine doctor, I believe that these are the eight most common (and most commonly overlooked) sources of indoor air pollution:
1. Conventional flooring.
Volatile organic compounds (VOCs) are a category of chemicals that are highly reactive when they enter the air. There are many types of VOCs, and 56 different ones were found in one survey of 126 homes in Detroit. Certain VOCs are probable carcinogens and should be closely monitored. Paint is one potential source of VOCs, so always look for no-VOC options.
3. Upholstered furniture.
Upholstered furniture can be stuffed with polyurethane foams that contain fire retardants, which, according to the Environmental Working Group (EWG), can contribute to hormone disruption and attention problems. Look for pieces made with natural foams, cushions, and fabrics instead. Choose solid wood over pressed particle board, which can emit another potential pollutant: formaldehyde.
5. Vinyl shower curtains.
When vinyl shower curtains are exposed to heat (so every time you take a shower), they can release more than 100 VOCs that can hang around in the air for more than a month. They can also contain phthalates, which are hormone and endocrine disrupters. Opt for organic cotton and linen PVC-free shower curtains instead.
6. Some curtains and window treatments.
Window curtains can also contain fire retardants, pesticides, bleach, and dyes. Look for organic, untreated cotton, linen, or bamboo ones.
7. Polyurethane foam mattresses.
I believe that what you sleep on is one of the most important decisions you can make! We spend nearly half our lives in bed, and our bodies detox and repair as we snooze. Polyurethane foam mattresses can contain harsh chemicals and fire retardants that off-gas for years. Instead, I recommend 100% natural latex mattresses and organic wool mattress toppers. Oeko-Tex Standard 100 and Greenguard Gold are two reputable certifications to look for on your nontoxic mattress.
8. Chemical-heavy cleaning solutions.