8 Sneaky Sources Of Air Pollution At Home, According To MDs
mindbodygreen Editorial Assistant
By Sarah Regan
mindbodygreen Editorial Assistant
Sarah Regan is a writer, registered yoga instructor, and Editorial Assistant at mindbodygreen. She received her bachelor's in broadcasting and mass communication from SUNY Oswego, and lives in Brooklyn, New York.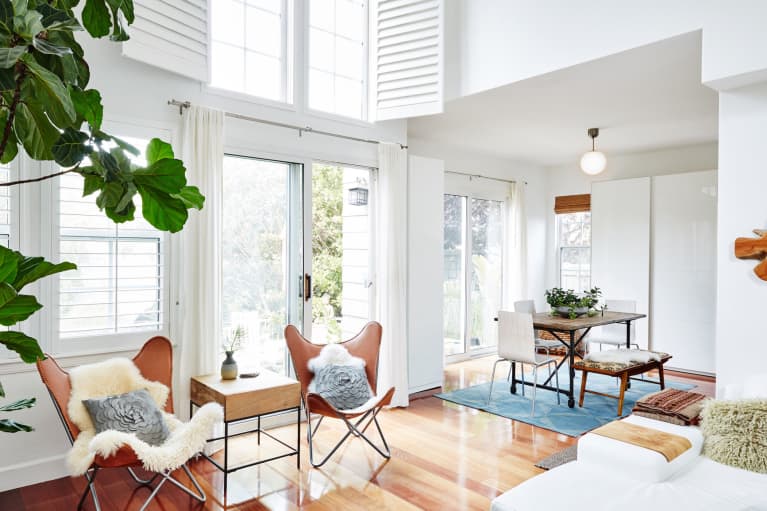 Last updated on July 28, 2020
When considering air pollution, you probably think car exhaust, factory smoke, and things of that nature. But indoor pollution can be just as much (if not more) of a health concern as outdoor air, given how much time the average person spends inside. So, we got in touch with Ann Shippy M.D., certified in both internal and functional medicine, along with functional medicine gynecologist, Wendie Trubow M.D., to find out what sneaky sources of air pollution might be lurking in your space.
VOCs, or volatile organic compounds, are chemicals that become hazardous in the air—and they're commonly found in paints, carpets, cabinetry, mattresses, wood floors, and even vinyl shower curtains, according to Shippy and Trubow. Thought to be likely carcinogenic, you want to avoid VOCs whenever possible.
2.
Cabinets and wood floors
3.
Gas cook tops, fireplaces & wood stoves
According to Shippy, gas cook tops, fireplaces, and wood stoves can all increase the carbon monoxide levels in your home when used for prolonged periods of time. This one's an easy fix: Open windows or run exhaust fans when using these appliances to keep your space well ventilated.
You hate to hear it, but yes, some candles and incense are not too great for our respiratory systems or overall health, Shippy notes. Thankfully, there are now plenty of non-toxic and clean-burning candles on the market. Opt for those over ones made with lead wicks or paraffin wax, which might mess with indoor air quality, when possible. Whichever scents you choose, burn them in moderation (candles start to loose their fragrance after 4 burning hours anyways) and open windows after burning if you're concerned.
No surprise here: Mold is a big problem in homes, particularly those that are humid and well-sealed. It can cause all sorts of issues from allergies to respiratory woes. "Wet basements are a likely source of molds," Trubow tells mbg, "which can also act as toxins if you're genetically less effective at removing them." And, Shippy adds, toxic mold (mycotoxins and mVOCs) can occur from just a small leak around windows or behind walls, or in air conditioning units and systems. If you suspect mold in your basement or any part of your home, call a professional to get it checked out.
We spend a third of our lives in bed, so having a nontoxic mattress is an investment worth making. Trubow reminds us that conventional mattresses (particularly ones made from polyurethane foam) may contain flame retardants and other chemicals that off-gas Check out mbg'd guide to buying a nontoxic mattress the next tme you're in the market.
7.
Certain cleaning products
8.
New clothes and furniture
And lastly, Trubow notes many of the things we buy new have the potential to off-gas for months. "New furnitures often contain chemicals," she says (such as flame retardants, like mattresses), "and don't forget new clothes, which contain formaldehyde as a preservative!" Among other things, formaldehyde has been linked with asthma, skin reactions, headaches, and more. In this case, be a choosy consumer and/or consider buying secondhand furniture and apparel that's thrifted or made from natural materials.
Once you've identified which things in your home have got to go, you can start taking steps to make some upgrades. In the meantime, it's always a good idea to ventilate your home well and be choosy about what you let into your space.