Pro Skier Caroline Gleich Dishes On Yoga And Her Organic Garden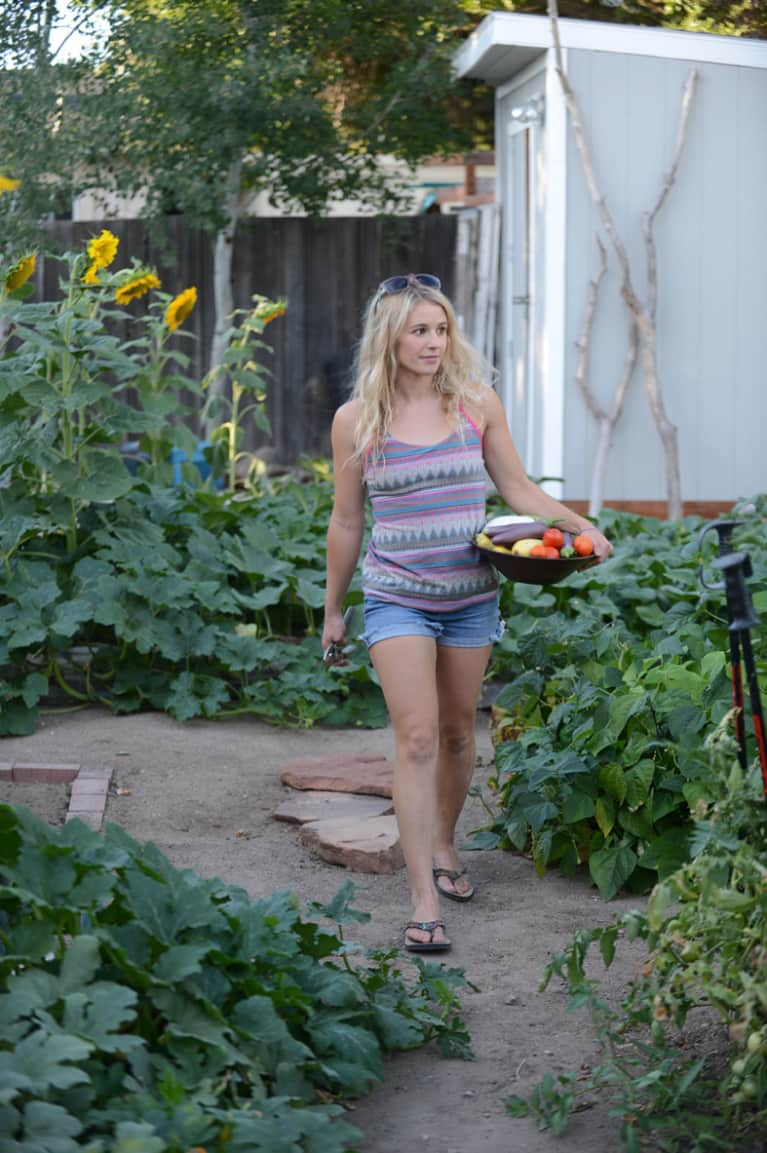 Caroline Gleich exudes a passion for wellness and healthy living: she practices yoga and stand up paddling, grows her own organic garden, designs her own clothes and openly expresses her overall enjoyment for life. She's graced the cover of magazines like Skiing, Ski, Powder, Outside, Men's Journal and Fitness and has been a featured skier in Warren Miller films. Caroline is also very socially conscious, spending a good amount of time educating others about backcountry skiing and serving as an ambassador for the globally recognized non-profit POW – Protect Our Winters.
I chatted with Caroline to get her take on skiing, her healthy lifestyle and much more!
CR: What made you decide to become a professional skier?
CG: I grew up in the frozen flatlands of Minnesota and always had a dream of becoming a professional big mountain skier. The mountains captured my imagination, and I decided to pursue a career in skiing as an adult despite having no formal training or background in racing or freestyle. Being in Salt Lake City is perfect because there are so many ski photographers, filmmakers, athletes and companies. I ski almost every day, meet everyone I can, and from these connections, I grew my career. There's definitely been some ups and downs, but overall, I'm so grateful to be in the mountains nearly every day of the winter!
CR: Can you talk a bit about why you practice yoga and SUP (Stand Up Paddle board)?
CG: Yoga is my favorite cross training because it doesn't feel like training at all. Sometimes when I'm really sore and tired from a big day skiing or paddling, I just lie in child's pose and relax. It keeps my muscles loose and keeps me flexible. I don't even think of it as training – it's more about re-centering and getting my body realigned. These sports put so much impact on your body, it's important to have a way to release the tension in your muscles. It's like giving your body a hug.
What I love most about stand up paddling is that it's a way to recycle fun – what I mean by that is as the snow melts from the ski slopes, it runs into the rivers and eventually the lakes and oceans. It's a similar feeling, moving down the water, being one with nature. The river levels depend on the snow temperature. My current obsession is whitewater stand up paddling; it's the same adrenaline rush as skiing big mountains. You have to read the water, figure out your line and stick to it.
CR: Would you say powder, yoga, organic and SUP is maybe a perfect recipe for life?
CG: I'm not sure everyone would love this lifestyle, but for me, it's perfect. I found this quote the other day that I love, "Don't ask what the world needs. Ask what makes you come alive and go do it. Because what the world needs is more people who have come alive." [ed: Howard Thurman]
When I get up for sunrise to hike up a mountain for fresh powder or when I head off to run a new river with my SUP, I know that's what I'm supposed to be doing. My mind shifts into this other kind of focus and I get this crazy energy. I'm like an animal out there. Yoga and healthy living go hand in hand with this lifestyle. You just have to find what turns you into an animal and stick with it!
CR: You grow your own organic garden; what was the inspiration?
CG: Living in Utah, it's pretty arid in the summer. When I moved into my house, the backyard was a big green lawn, and it got blasted with sun all day. It was so hard to keep a green lawn. After one year, I figured, why am I wasting all this time, effort and water keeping the grass green when I could be spending the same effort growing food? I ripped up all the grass and planted a huge fruit and vegetable garden. In the first year, I grew enough food to feed all my friends and neighbors. Project #foodnotlawn is in its second year, and I just planted all my spring crops: peas, radish, beets, carrots, broccoli, cauliflower, lettuces, spinach, arugula, chard, kale and brussel sprouts! So much goodness!
When I built the garden beds, I installed a drip irrigation system, and it uses half the water the sprinkler system used for the lawn. It's on a timer, so I don't have to worry about manually watering every other day. If you plan out your garden, it can be just as easy or easier than keeping a green lawn and nothing beats the satisfaction of picking food fresh from your backyard. Plus, we save a ton of money and still get to eat the organic produce we love.
CR: What is POW (Protect our Winters) and how did you become involved in this cause?
CG: Protect Our Winters is a non-profit that aims to activate the snow sports community in the fight against climate change. Just as the coal and oil industries come to the table to express their views about issues, we come to the table as skiers and snowboarders to make sure our perspective is heard. Climate change is already affecting our professions, winters are getting shorter and snow is melting faster. Less snow also creates more dangerous avalanche conditions. Lack of snow and global warming affects our whitewater paddling season as well. I started working on POW with my partner, professional snowboarder Forrest Shearer. Together, we've talked to hundreds of high school students about climate change solutions, and we were keynote speakers at a clean energy rally in Salt Lake City this winter. Skiing is part of who I am, I want future generations to be able to enjoy the greatest snow on earth like I get to.
CR: How has the winter been? Any interesting places you had the opportunity to explore and play or entertaining stories from the field?
CG: This winter has been amazing – this winter, I've had more of a focus on human-powered backcountry skiing. It's exhausting, but when you reach the top of a faraway peak for sunrise, it gives you a confidence and strength that you carry into every aspect of life. It makes all your goals seem more attainable.
My favorite trips have been to interior British Columbia, where we stay at backcountry lodges and tour for a week at a time. One of them was so rustic: no running water, electricity, internet or cell phone coverage, but after a week, you feel so refreshed. It can be hard to adjust to normal reality. I think everyone should take a trip once a year when they can disconnect for a few days. Eat, sleep, ski!
CR: Knowing that you like to make your own winter hats, is there a Caroline Gleich apparel line in the works?
CG: I love to dabble in design, but right now, I'm happy working with my sponsors as a design consultant giving feedback and ideas on what works and what doesn't. Maybe someday I'll do a small t-shirt and beanie business, but for now, I'm happy being in the field product testing.
CR: What's in store for Caroline Gleich in the future?
CG: First ascents, fashionable outdoor adventure, more videos and photos to inspire others to live a healthy, active lifestyle! Thank you!