How I Swapped My Eating Disorder For A Yoga Addiction
All my life, I struggled with a food addiction. Actually, it was a bit more complex than a simple food addiction; it was full-blown bulimia and body image issues, but my addiction to food was definitely a problem.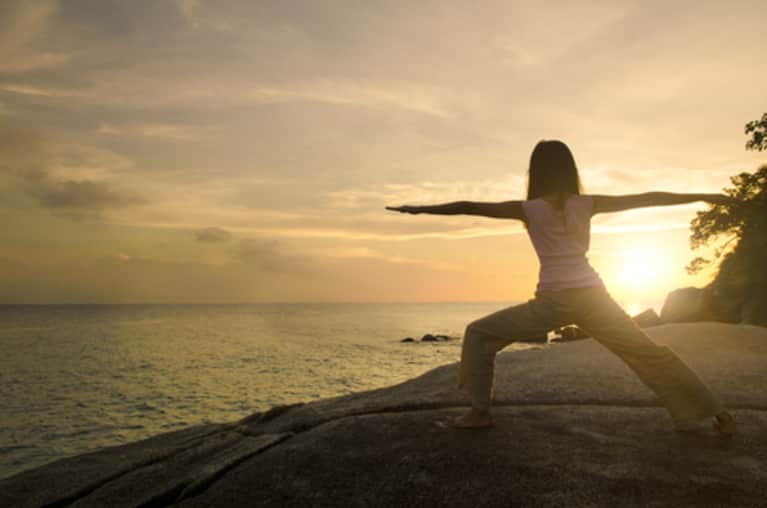 Breaking this deep-rooted destructive addiction wasn't easy, that's for sure! But some basic and inexpensive things helped me so much that I had to understand why.
Yoga was one of them! So I read everything I could find on the practice, and I started to interview yoga teachers to understand better how yoga could help people break free from food addictions or eating disorders.
And here's why: Yoga releases endorphins (feel-good neurotransmitters) in our brains within 30 minutes of starting a session. We also know that three hours of exercise per week can have the same impact as antidepressants on our brain chemistry, without the side effects. Since yoga classes generally last an hour and a half, you can achieve these benefits if you practice only twice per week.
On top of that, yoga is different form other sports in that the focus is on the breath. It's a type of moving meditation, which allows us to focus on the present moment and accept our body for what it really is.
This is quite powerful when struggling with food issues or poor body image. People who suffer from such problems are often stuck worrying about the past, the future or their bodies. Their perception of reality is highly distorted, and yoga has the ability to help them reset it. It's helped me see my body differently and to be grateful for it.
By practicing yoga poses, we stretch our body in certain ways to allow energy to flow freely. This gives us a chance to release blocks of energy, emotions, traumas and feelings that have built up, which a sufferer of an eating disorder will cover up with food. Practicing yoga will allow you to release these blocks of energy, cleanse and realign your chakras, which is powerful and beneficial when struggling with addictions.
Yoga has many other benefits. It allows you to improve your breathing, relax your mind, de-stress your body, tone your muscles, improve your flexibility and bring peace of mind.
I would recommend everyone try yoga, but if you're struggling with addictions, especially a food addiction, it's worth a shot. It's changed my life and I am sure it can change yours.