Competitive Yoga Shattered My Stereotypes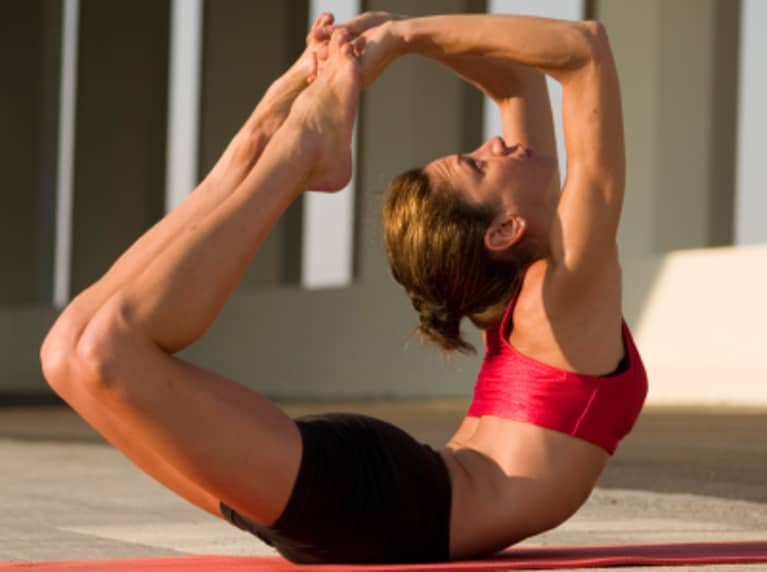 I recently attended the 2013 USA Yoga Asana championship in New York City. As a Bikram enthusiast, I was curious to see what it was all about and to be around so many people who practice the same "crazy hot yoga" that has totally changed my life.
If you've ever been in a yoga class (Bikram or otherwise), it should not surprise you that there were significantly more women than men competing. Each competitor was required to do four mandatory poses, which come from the original 26 postures, plus two of her own choosing.
Right away, I noticed that the first female competitor did not have the skinny body type so often associated with yoga. (I'm certainly not built this way, but I'd been expecting the competitors to be.)
These lovely women were STRONG. Not just "look-at-me-I-can-hold-myself-up-on-one-arm-strong," their bodies were downright powerful and healthy-looking.
I cannot tell you what hope this gave me.
I have spent the better part of my adult years eating disordered in more ways than one. As I approach my 40th birthday, I'm regularly plagued by body dysmorphia in spite of a 95-pound weight loss, and eating a plant based diet.
Knowing that I am never going to be super skinny, I try to use my practice as a time to develop my strength. Since I am naturally flexible (almost freakishly so), I first assumed that yoga would be easy for me.
Boy-oh-boy was I wrong. Core strength plays a huge role. In fact, there is a direct correlation between having a strong core, a strong mind, and ultimately a strong life. The key word here being strong.
Bikram yoga focuses on using your strength—physical and mental—so this, coupled with a new, clean way of eating this has put me on the track of realizing my goals.
Seeing the competition was a good reminder to keep focusing on building strength. Living a life that I can find fulfilling, healthy and STRONG has become my motivation to achieve…well, everything.
I have a beautiful six-year-old aspiring yogini who loves to show me just how strong she is…just like me.
Sweeter words were never spoken!