What The Numbers On Produce Stickers Really Mean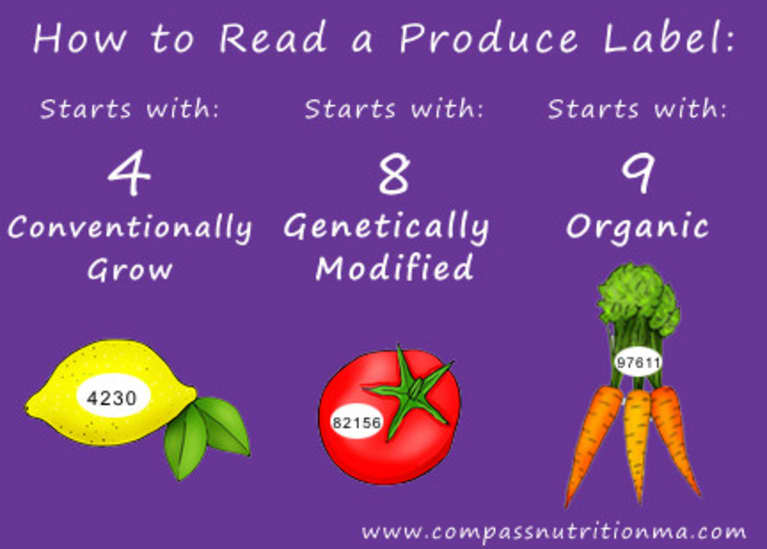 Have you ever wondered what the numbers on those produce stickers mean? The four- or five-digit numbers can actually tell you a lot about the produce you buy. Want to know if those Gala apples are organic, the potatoes conventionally grown, or the corn genetically modified? To the right is a simple graphic that breaks down the codes for you.
When you shop for produce, it's important to keep in mind that some fruits and vegetables have more pesticide residue than others. Thankfully, the Environmental Working Group puts out a great list of "The Dirty Dozen" and "Clean 15" every year.
Currently, the Dirty Dozen list includes:
1. Apples
2. Celery
3. Sweet bell peppers
4. Peaches
5. Strawberries
6. Nectarines (imported)
7. Grapes
8. Spinach
9. Lettuce
10. Cucumbers
11. Blueberries (domestic)
12. Potatoes
In 2012, EWG also added green beans and kale to the list because they may contain pesticide residue of special concern. By purchasing organic options of these fruits and vegetables, we can reduce our pesticide exposure by up to 80%!
The following Clean 15 are shown to be the lowest in pesticides:
1. Onions
2. Sweet corn*
3. Pineapples
4. Avocado
5. Cabbage
6. Sweet peas
7. Asparagus
8. Mangoes
9. Eggplant
10. Kiwi
11. Cantaloupe (domestic)
12. Sweet potatoes
13. Grapefruit
14. Watermelon
15. Mushrooms
*Although sweet corn is also on the Clean 15 list, I personally choose to only buy organic because it's one of the most common genetically engineered crops. For a handy printout of the EWG guide, click here.
So why should you be concerned about pesticides on your produce? For starters, pesticides are toxic. They were developed to kill pests, but they've also been linked to a variety of health problems in people. Organic farms, on the other hand, focus on using renewable resources, crop rotation, composting and other techniques that help preserve the soil rather than deplete it. They cannot use synthetic ingredients, sewage sludge (gross!) or bioengineering to cultivate their crops. Simply put, organic farming is not only better for our health, it's better for the earth!