How To Make Sure Your Knees Are Healthy When You're 90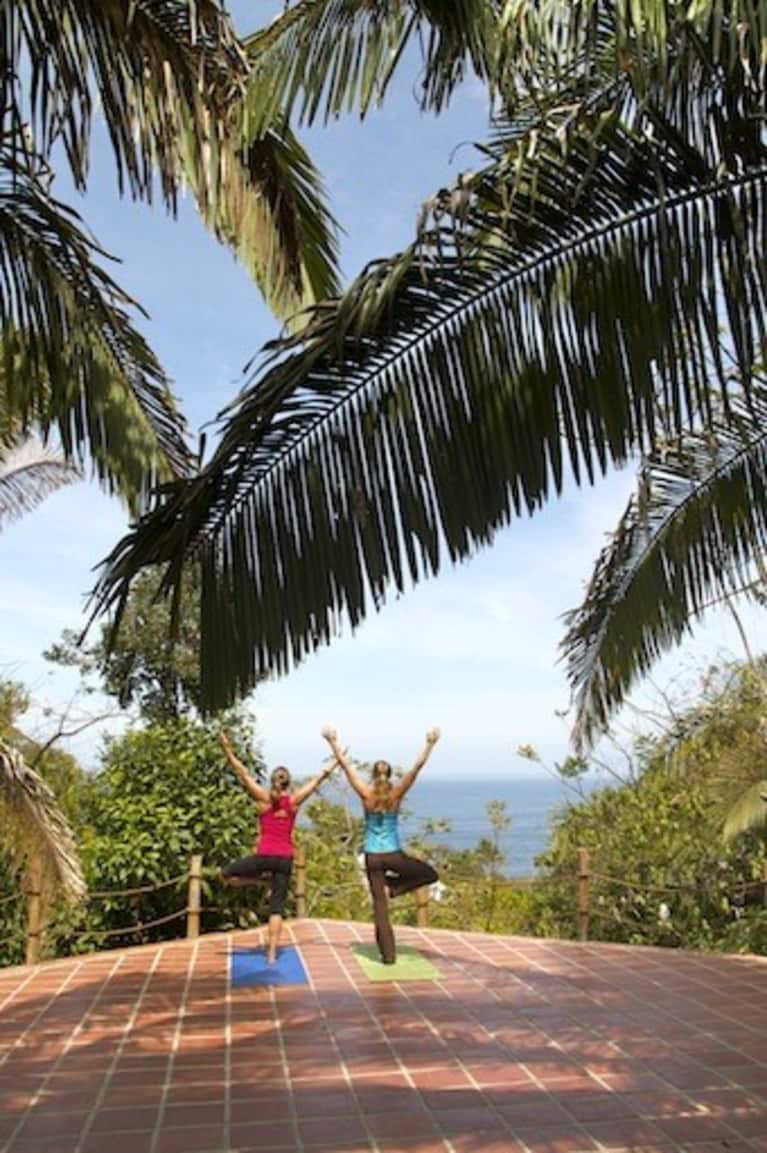 Do you have happy, healthy, knees? They provide us with endless support, yet so many of us take our knees for granted. That's no way to treat a friend!
This year brings my 30th birthday and my mom's 60th—milestones that have prompted reflection for us both. We're both passionate athletes; from standup paddle surfing to trail running, we say bring it on!
My mother is an example of how I want to look and feel when I'm 60. As we each enter a new decade, we're putting a spotlight on knee health. We feel strongly that happy knees are essential to the active lifestyle that we love.
We're also both pain free and want to stay that way! So here's what we're doing with yoga and foods to support our knees.
Yoga for knee health
Yoga is known for strengthening muscles. However, along with toning muscles, yoga also improves joint stability, balance and alignment, particularly in the knees and the spine.
Yoga strengthens areas in the body that are too weak and loosens areas that are too tight. Athletes like my mom and I, who engage in high-impact activities, can easily over-develop and stress lower and upper leg muscles, which can knock the knees out of alignment.
Certain yoga asanas (when done correctly) can restore balance to the legs and knees by supporting the muscles around the knees; offering the knee support and stability as well as preventing injury.
Try incorporating the following asanas into your regular yoga routine:
1. Standing poses such as Mountain Pose will stretch and strengthen the leg muscles.
Mountain pose also strengthens the connective tissue surrounding the knee joint. This pose may seem subtle but it's powerful and can actually be quite challenging when done correctly.
2. Lunging poses such as Warrior Pose are empowering, not only or the mind, but for the knees, too!
In a lunging position, leg muscles are stretched and strengthened, improving balance between the quadriceps and hamstrings. These are the front and back muscles of your thigh that surround and support the knee joint.
3. Balance poses such as Tree Pose are extremely beneficial for the legs and knees.
Balance poses require focus, correct alignment, coordination, flexibility and strength, all of which are wonderful ways to keep your knees happy.
Quality foods for knee health
I had a client who would visualize "cheese on the knees" whenever she felt tempted to make a grilled cheese sandwich. She knew that for her body, eating processed cheeses and breads (gluten) inflamed her arthritic knees, causing her pain and stiffness throughout the day and following week.
Her visualization tool is unique and perhaps a bit strange, but surprisingly effective ... when I think of cheese on my knees, they immediately feel uncomfortable and sluggish. I definitely don't feel like going for a jog! This makes it easy for me to skip the processed cheese and go for more quality foods that will actually heal and support my knees instead of causing damage.
One of the keys to healthy knees (and health in general!) is to base your diet on quality, anti-inflammatory foods that support your joints. The Standard American Diet (SAD) fosters an inflammatory condition in the body that may start in one part of the body and quickly spread throughout. The knees are a prime target.
A successful anti-inflammatory diet includes plenty of pure water, a range of organic veggies and fruits, beans, seeds, nuts, whole grains (gluten free), fresh seafood, quality meats, and a strong focus on healthy fats. Healthy fats such as olive oil, fish oil, avocados, seeds (chia, hemp, flax, etc.) and coconut oil are essential to offsetting inflammation in the body.
Other helpful additions to the diet are anti-inflammatory herbs and spices such as turmeric, ginger, cinnamon, garlic, and basil. Keep these handy and add to your meals throughout the day. You probably won't feel a difference in your health overnight; the effects of these herbs are cumulative so stay on it! Its helps to keep them on your counter in a place where you can see them.
These are just a few things to keep you on track with happy, healthy knees. Instead of suffering from "cheese on the knees," let's take care of our knees like we would an old friend. They support us and we give them love and support in return. Also be sure to check out my free guide to start listening to your unique body!
Your body is always sending you subtle messages. Let me support you with listening . . .