What If My Partner Hates Yoga?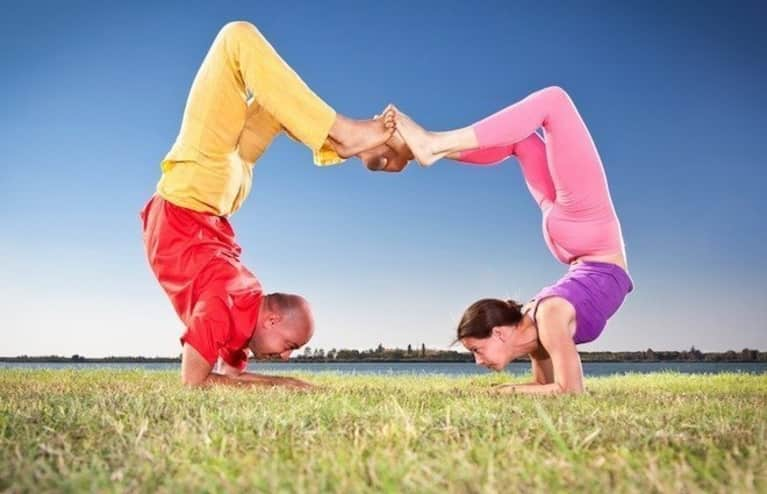 Hate to break it to you, but not every guy or girl is going to fall in love with yoga the way you did.
My husband and I use to do yoga together in Sydney, Australia when I was playing professional basketball abroad. I loved it because yoga is such a big part of my life. He used to like it as well and our yoga dates became a time for us to slow down and connect.
Since then, my husband was diagnosed with a nerve impingement in his pelvis that shoots down toward his groin. Pretty much any time he folds over, he is in pain.
He has been to every doctor in search of the "cure." Sure enough, he hasn't found it yet. So now he equates yoga with pain, and avoids taking class with me at all costs.
Obviously, as a yoga teacher I believe in the healing benefits of the practice, but to him it's an "hour of torture" with his nerve impingement.
After years of me being frustrated that he wouldn't come take my classes or at least take classes together, I finally came to the realization that my truth may not resonate as his truth. I need to be able to hold space for him to come back to his practice when he is ready.
As yogis, the practice is often a release and a way for us to connect and heal. To others, dancing, running, or cycling may be their release…their yoga. Some people are going to connect to yoga and its benefits and some people simply aren't. But can we hold space for them regardless?
Here are some tips for holding space for your partner:
Be supportive of the activities your partner enjoys. Join him in taking a run, ride, hike etc. If you join him in his world, he'll be more willing to try yours.
Explain that your practice is important to you and that you'd appreciate if she join you on the mat once in awhile.
Instead of focusing on what you don't have, focus on the what's healthy about the relationship you do have.
Love your partner for who they are. Let them find their own way to connect and heal their body.
Try and let go of your attachment you have to being that cute yoga couple in class. Simply put…GET OVER IT!
Use these tips as a way to hold space for your partner. Let go of your attachment to what you want your relationship to be, and instead enjoy your relationship for what it already is!