Hate The Gym? Call Your Friends And Try These Workouts Instead!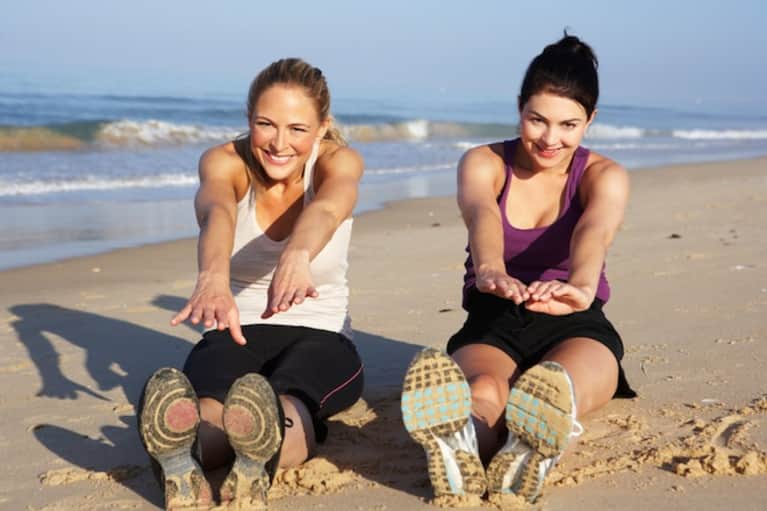 I'm not a huge fan of gyms. I tried it once. Did the membership thing and lifted weights after a jog on the treadmill. I hated it.
What I learned is that I need to be more social with my workouts. Doing reps is empowering and easy to fit into my schedule, but I strive for a healthy balance of activities so that I can keep it going as a lifestyle.
So, I decided to make a list of my favorite ways to make a workout, a fun social experience.
1. Make Happy Hour a healthy hour. 
Instead of heading out for drinks and greasy food with your friends, meet up for class! I'm lucky enough to have found some amazing friends in my yoga teacher training, and often a group of the girls will meet up for yoga class and then head out for lunch, a green juice, or even drinks. (Hey, there's gotta be a balance to life!) Meeting up with friends makes heading to class a little more fun. Plus, it holds you accountable to actually showing up!
2. Explore your city. 
Whether you're heading to the local zoo or an art show, spending the day wandering around is so much better for you than sitting on the couch. Even if it doesn't sound like much, it is. Every step taken is a step in the right direction.
3. Take a hike! 
Being from Florida, I wasn't hip to hiking, but I quickly learned that it's an amazing way to get in shape, get some sunshine, appreciate where you live, and catch up with friends. Whether it's meeting up with girlfriends to talk about shopping, dreams, and boys OR dedicating that one on one time to spend with my fiancé at the end of the week, it's a fun way to be active. Plus, there's no cell phone service! So, it's also a great way to unplug from the buzzing city. I try to fit in at least one 6-mile hike each week.
4. Run a 5k (or more)! 
I'm not a runner by any stretch of the imagination. So, when my fiancé suggested signing up for a 5k last year, I wasn't thrilled, but I agreed because of the free Kings Hockey tickets that came as an end prize. The race is only a little over three miles, but I actually cried while finishing it. It was a great sense of accomplishment to cross that line. Since then, we've done small races with his family and each time it gets much easier. The sense of community, fun, and even competition, is a great way to make a workout a good time.
I would LOVE to hear some of your favorite ways to workout without even knowing it. Do you go swimming? Snowboarding? Scale buildings? Walk the golf course? Let me know!