How I Know That Yoga Is Working Its Magic On Me
I've had a really bad month. Seriously.
It started with a second degree burn on my thigh. It was during a snowstorm and I spilled hot liquid onto my iPhone and naked leg.
Worried about the phone, I rushed to clean it off. Seconds later I realized my flesh was being melted.
I jumped in the tub, turned on cold water, snapped a picture and texted a doctor friend who told me to go to the hospital. Well, unable to put on pants, because my car was buried by two feet of snow, I called an ambulance.
The technicians arrived, and I was embarrassed. They took me to the hospital and covered my pantsless body with a blanket for modesty. When I saw the doctor, he asked how it happened and I simply replied, "I wasn't being mindful."
A week later, I was making raw vegan brownies when my blender suddenly started to smoke. Black liquid poured from its base. There were sparks. Then all was quiet. My hectic energy managed to blow up a blender….
The next day, I woke up early after a goodnight sleep. I hopped in my car to get to my first yoga class of the day. I pulled out of my spot and noticed there was snow on the window. I rolled it down, brushed off the snow. I got honked at and I was startled. The next thing I new, my car had landed on someone's rose bushes. Somehow I had managed to accelerate enough in 20 yards to jump a snowbank and have my car land splat on a neighbors lawn. It just didn't make sense.
I called 911 to report the accident.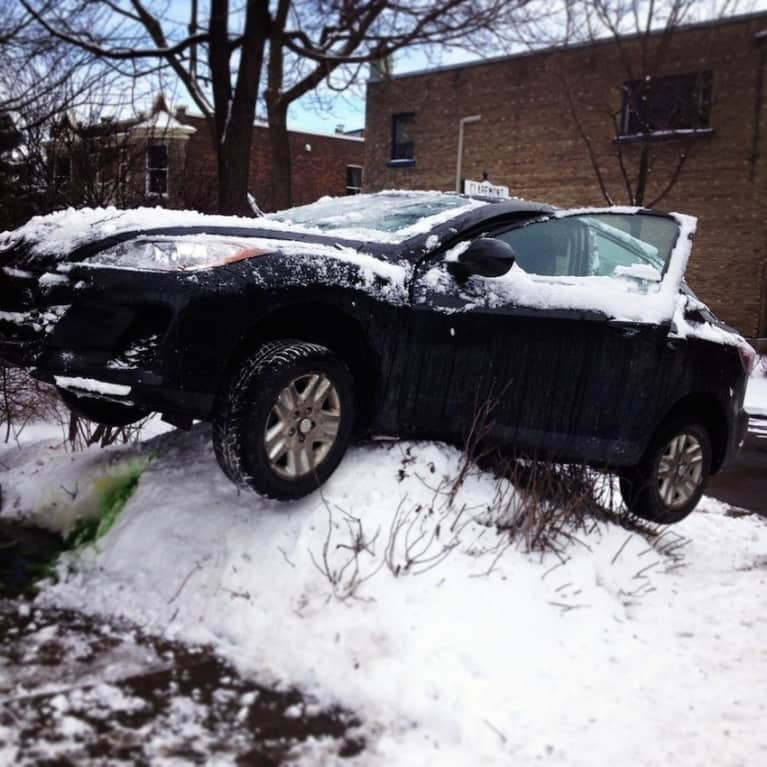 Firemen came and exclaimed, "Well miss, you don't seem to be on drugs, which frankly seems odd given where your car is right now!"
I called a tow-company who seemed to think there was a mechanical failure, and I called the studio to tell them I would not be in to teach.
So how do I know that yoga is working?
Well, throughout all of this, all I can think of is how fortunate I am. One-week post burn I was back to practicing, but in the healing phase, I had an opportunity to practice meditation, rest and slowing down. Getting back to vigorous Asana made me feel so appreciative for my body's capabilities.
The car .... well my first thought was that this seems so wasteful—a waste of metal, new parts, resources, paperwork, time… and my second thought was, thankfully no one was injured!
If I had been going slower I would've hit the snowbank rather than jump over it. The airbag would have deployed.
I could've broken my nose, had whiplash, and certainly not gone back to my yoga mat for a long while. Had someone been walking by on the sidewalk at the same moment that the vehicle lost control, I would have killed him or her.
The car landed just inches from the house belonging to the lawn on which it had been deposited. There was no damage to the house. The snow had protected the rose bushes, so they, too, were fine.
Even pertaining to my yoga class, I was blessed. Coincidentally, that day, my own first yoga teacher had come to check in on me. She was there to take my class and ended up providing a last second sub.
When I sit and reflect on all this, all I can feel is gratitude and love. I am grateful that the worse case scenario did not occur. I am grateful to those who have stepped in to help out and I feel so much love for the people who have asked me how I am doing or who have lent a helping hand.
That's how I know yoga works. Shit happens and I'm still grateful.