Big Wave Surfer Jamie Sterling Talks Yoga And His Wellness Regimen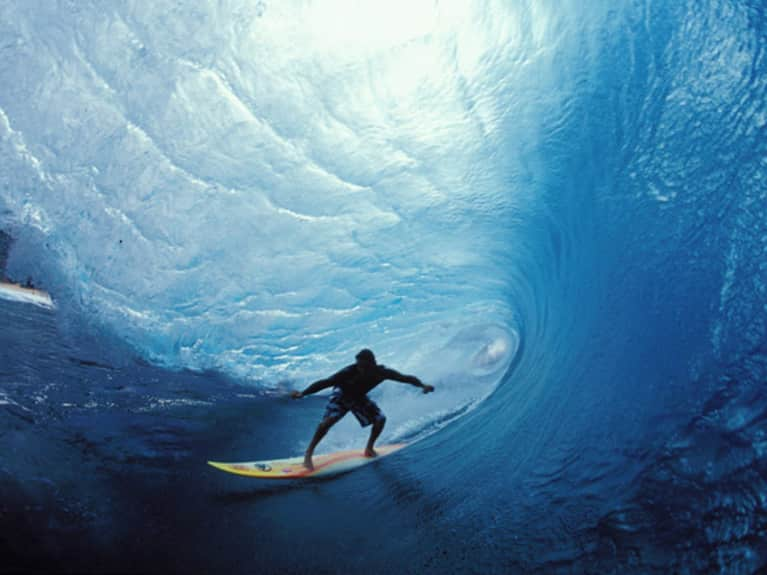 Hawaiian North Shore Big Wave Surfer Jamie Sterling is no stranger to staring fear directly in the face; he's surfed the biggest breaks around the globe and counts among his many conquests giants like Cortez Bank, Jaws, Mavericks, Dungeons, Teahupoo, Todos Santos, and Chile's El Buey and El Bajo. He's recognized as one of the first faces of GoPro, in 2006 was Billabong XXL Performer of the Year, and in 2008 placed third in the world-renowned Mavericks Invitational. Jamie is also the 2011 Big Wave Surf Tour Champion and currently stands in second place on this year's Tour.
CR: Could you give the general public an idea of the thoughts and emotions you experience when surfing the world's biggest waves?
JS: Everything becomes nonexistent; you're in the moment of the break, determination and focus on making that wave and totally detached from all other thoughts. It's a form of meditation in motion, when the mind becomes totally clear and there is no room for distracting thought to enter your mind. Surfing for me has become a great way to detach from everything and become one with the rhythm of the waves and inspiring nature.
CR: How do you train for big wave surfing?
JS: My training disciplines consist primarily of CrossFit, yoga, playing polo on horses, and mountain biking. Riding a horse is another form of connecting with nature and can be much like riding a wave; the core muscles required, flow, timing and hand-eye coordination all are tremendous assets for riding waves. I utilize a high intensity Cross Fit program of 10-15 minute intervals to build strength, endurance and lung capacity. The CrossFit program simulates what it is like riding big waves, total calmness to high intensity stress (spike in heart rate) on the body for a short duration of time and then an abrupt stop and cooling down.
Yoga is my baseline for training. It complements all the sports I do, and practicing allows for a method to go inside the body and listen to how it feels that day. Among other benefits, I consider yoga as an internal body scanner or self healing doctor that identifies what part(s) of my body need attention. A type of yoga that I practice is called Pranayama, which concentrates on exercises to hold your breath, positive breath holds and strengthening of the diaphragm. I also incorporate a more traditional Western philosophy of yoga, emphasizing the spiritual side of yoga that I find sometimes is overlooked and just as important than the physical attributes. Some of my favorite poses are inversions, like the headstand that circulates blood flow and is also meditative. Others include the Pigeon Pose and shoulder opening movements. As a paddle surfer we rely heavily on shoulder movement so it becomes critical that they feel lose and strong. Other alternative medicine practitioners that I owe much gratitude to is my chiropractor Porter Turnball, Rolfing instructor Chris Richardson, Polarity therapist John Basehart, sports message therapist Gee Metcalf… and sleep!
CR: What's your overall philosophy on nutrition?
JS: I feel lucky to live in a geographic area that the main source of food is a natural lean protein, fish. I also consume my fair share of locally grown fruits, vegetables and superfoods, like algae and spirulina. Other parts of my diet include Organic Sol Raiz Maca, Jay Robb protein powder and Asana Foods Yerba Mate Tea. The key is finding that synergy between nutrition and training so you can compete at your optimal level.
CR: When you sense trouble on a big wave, what's your strategy and mindset?
JS: Stay calm and enjoy the ride. In big wave surfing you are somewhat on an island with limited resources to assist you when things go bad until we are able to reach a safe zone out of the whitewash, coral reefs and cliff bands. Big wave surfing and surfing in general is a brotherhood of friendship; we are all on the front line helping each other out when danger arises.
CR: How do you feel being one of the first GoPro athletes has enhanced your career? Do you study your film? 
JS: I study film to learn from my mistakes, identify what I'm doing well and improve posture and skill, much like having a personal coach on the television. Being noticed by GoPro has had a major impact on my professional career; it provided viral footage of my surfing skills and made me a more valuable asset for the companies I represent and allowed me to live my dream. I also enjoy the archive of memories I have collected to relive memorable rides and moments with friends and family.
CR: Since you're a storm chaser, how do you know when and where to go to find the best swells?
JS: The four sites that I rely on most to predict swells around the world include; Surfline.com, Buoyweather.com, Stormsurf.com and Windguru.com
CR: I've heard you mentioned that tow-in is fading and traditional paddle surfing is now the popular means to riding big waves. Why the change?
JS: Paddle surfing was the traditional way of surfing until around the early to late 90s, when tow-in surfing became the means to approaching the bigger waves. People didn't realize they could surf the big waves with human-powered methods and believed the only way to catch the monsters was tow-in (jet ski assisted). As of recent years, we have taken the knowledge from tow-in and adapted our experiences back to paddle surfing. Lots of equipment has changed in paddle surfing over the years, which has aided its return. Boards have become more thick, buoyant and faster to paddle. Much like back-country skiing, the surf industry has begun testing Patagonia flotation safety suits that are equipped with a rip cord that activates an airbag to propel the surfer to the surface after a crash. Surfers are also utilizing pads on their suits for protection and buoyancy.
CR: Congrats on your recent victory in Oregon on the Big Wave Surf Tour. Could you tell us a little history and what's to come of the Big Wave Tour?
JS: The Big Wave World Tour consists of 12 locals from each event location and 9-12 invitation-only top big wave surfers in the world. It is an elimination tournament that starts with the prelims of 6 surfers in each heat, top 3 advance of each heat advance to the semis and the top riders from the semis advance to the finals. Each event heat is scored on the riders' two best runs within an hour time frame. The surfers best ride is doubled in score, with 10 being a perfect score and 1 the lowest, with a max of 30 total points. Contestants are rewarded for biggest wave, execution and proximity to the barrel.
CR: Can you compare big wave surfing and big mountain snowboarding?
JS: Absolutely, both are the most extreme in their respective discipline and pride themselves on fresh tracks, riding the unknown, living on the edge and pure passion. People involved in these type of sports consider it a lifestyle, live in areas where they can evolve in the sport and ensure when the timing is right they are in the right place at the right time. The sport becomes priority in life.
CR: Any general tips for anyone looking to surf or improve their skills? 
JS: Consistency, the right wave for your level, right equipment and dedication to become better. If you are serious about the sport, hire a guide or coach and at least start with the proper technique tools to practice.