Kayaker And Cancer Activist Brad Ludden Talks Gratitude And Healing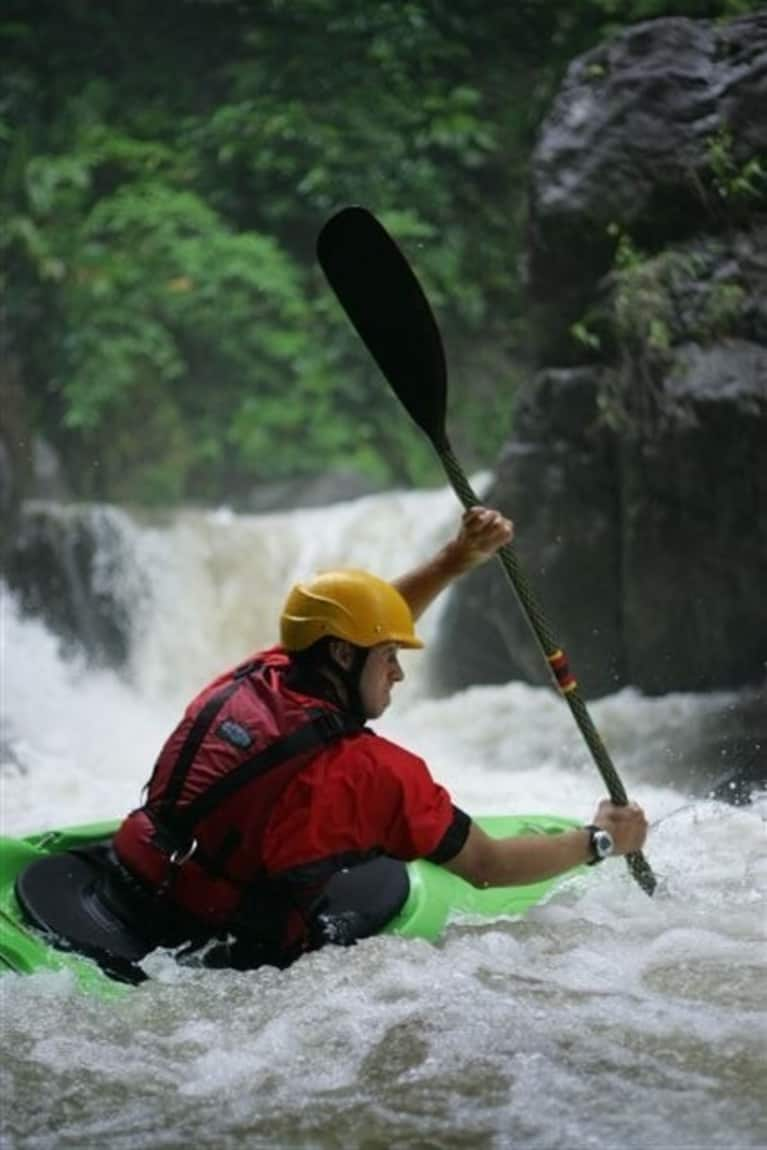 Brad Ludden is a professional kayaker who has made his mark on the industry as a pioneer of first descents, a river or portion of a river that has never been kayaked.
Brad also founded a nonprofit organization called First Descents, which provides young adult cancer fighters and survivors free outdoor adventure experiences designed to empower them to climb, paddle, and surf beyond their diagnosis, defy their cancer, reclaim their lives, and connect with others doing the same.
I asked Brad to share his insights into dealing with individuals diagnosed with a terminal illness and his unique approach to enhancing their time on this planet. If you're interested in donating or volunteering with First Descents, please visit their website.
CR: Can you describe what First Descents does, and what you hope to accomplish with it?
BL: One of the things we are starting to focus on at First Descents is connecting with community organizations throughout the United States to provide a wealth of resources for individuals recently diagnosed with cancer. Once contacted by an individual or their family, we emphasize for them to immediately connect with others who are experiencing the same diagnosis, learn from their experiences, and gather insight into resources readily available for them. First Descents is continually building a network of doctors, clinics, organizations and others who are going through a cancer diagnosis within the individual's direct vicinity.
The biggest initial piece in dealing with a diagnosis is to find support and get connected with people who have experienced cancer. Immediately, you feel like you're on an island, and if you don't overcome that right away it's only going to get worse. A couple of the biggest issues we see in individuals affected by cancer are isolation and alienation. They are often alienated by their peer group because they are unsure how to react, and as a byproduct you can become isolated. Our goal at First Descents for the next couple of years is to grow that community support and resources to assist the individual in taking control, get connected and don't become that island.
CR: When operating an organization that has the reality that your participants may not live for much longer, could you explain your method for dealing with difficult diagnosis on a consistent basis?
BL: Inherently when you start an organization dedicated to cancer, you are going to lose a lot of friends. When I started, this it was not something I thought of. I never thought that I would lose them. I thought I would love it, meet these people and that it was going to be amazing. That is probably a good thing because it could have become a deterrent.
We have grief counselors working with internal staff on dealing with loss, and as an organization decided to start a board with the faces of those who have passed on. For the staff, they want to be reminded of the importance of what we're doing and the urgency behind it. For me, it has been a process of learning how to honor the pain and not ignore it. For guys it's easy to compartmentalize things and in turn it becomes an emotional dam, which can be bad. You have to sit with the pain; it hurts, you have to let it hurt and live in that place for a little bit and experience those emotions, because if you don't they won't go away and will manifest themselves in different ways.
I think too, being somewhat grateful for that pain because, if you hurt that badly it means you truly cared for someone, and if you cared for someone that is a gift. Focus on the fact the pain is coming from love and love is a gift. Whenever someone passes, we send a letter to the participant's family and thank them for sharing their child or spouse with us because it was a gift for us too.
CR: What are the benefits of taking physical risks?
BL: Interestingly enough, we just did a quantitative research study in conjunction with Stanford, and the results were staggering. At this time we can't divulge the results because they want to publish it and should be available to the public in approximately six months.
The bottom line is this program works. People in Colorado get it; we use the outdoors and outdoor challenges as a way to make us happy. But why are we so drawn to that? In reality we are providing therapy to ourselves, whether it's addressing a challenge in our own life or your feeling depressed, what do we do? We get outside and hike, bike, ski, run, paddle, etc. What First Descents does is recreate that same environment and provide the outlets to what we enjoy so much, just more specifically designed to cancer patients.
There lies the therapy. It has been proven, generally speaking; cancer patients feel depression, anxiety and reduced self-confidence. They often feel betrayed by their body, and what we're seeing is that our program effectively addresses those emotions by getting out and challenging yourself.
CR: What have you observed in your participants as they learn about themselves after they're diagnosed with a terminal illness?
BL: The journey is different for everyone, and I can speak for only what I have seen: Your priorities change drastically. What and who is important in your life, and discovering what your strengths are as a person is most important. When you're faced with mortality at an age you're not supposed to, it's really an unnatural position to be in.
The silver lining is that you are given the chance to live a beautiful life because of it and really connect deeply with loved ones and have gratitude for everyday. Going to these programs is such a gift for me. The participants become wise souls very quickly, and every time you interact with that you are reminded of what matters most and is an opportunity to refocus on what's important in life. The interaction helps you live a much richer life and reflect on what is really important. It's important for us to realize life is finite and it's up to us to seek it.
CR: Why should everyone get an adrenaline rush?
BL: One thing I really miss is the process of an adrenaline rush. Scouting my rapid, getting in my kayak, committing, going through it, knowing the reality of the challenge is about to happen and successfully completing it. The emotions associated with the process and adrenaline that course through your veins while going through that process is like a drug, it's a shot of life. When you challenge yourself — adrenaline is usually associated with fear — and when you scare or challenge yourself you feel alive. You come out a confident and capable person, a feeling of invincibility almost, and you're reminded that you're alive. If you can provide that experience to others in an easily accessible way, there is no better feeling! It can be done in many different ways, you just need to find the one you enjoy.
CR: Do you see any regrets of the dying?
BL: I'm pretty fascinated when I meet someone close to my age who I can relate to and see as a peer. When I feel comfortable I ask them how they feel about facing mortality, and it differs for everyone.
The interesting thing I found is that it is not so much fear, but disappointment and sadness. Something I commonly hear is, "I was just getting started and wanted to do so much." I met a lady a few years ago through our program that did pass away. She was my age, successful, beautiful, smart and expressed she is most concerned about the end of life part and the effect on her family. Also, I'm bummed because I wanted the chance to get married, have a family, travel, meet people, and retire. The conversation made me realize I really need to get on it, as does everyone else. You cannot wait to live. One thing we should not ever put off in life is LIVING.