How To Maintain Your Post-40 Fitness Mojo
I was recently interviewed by a fitness magazine for a feature on women who are fitter in their forties than they were in their twenties. While I was talking to the journalist about how great I feel at 41, I started thinking about what keeps me going now that I've developed (at last!) some good habits. So, how can we maintain our fitness mojo after the big four-oh?
You've come a long way, baby!
It's important to look at the progress you've made over the years and to give yourself credit for making some good choices, even if they were only recently. Better late than never, right?
In my twenties, I was very academic and spent a lot of time on my butt writing my PhD thesis. Beyond attempting Cindy Crawford's workout video (yes, so long ago that I was exercising in VHS), I was seriously inactive. With hindsight, can see that there were good intentions, but I had more commanding emotional needs that required feeding, preferably with refined carbs, sugar, and alcohol. I was seriously stressed during that decade, what with the PhD and not one, but two failed, marriages — I really was over-achieving on all fronts!
I wonder how different things might have been had I been fitter and better nourished with a more stable self-image – all the benefits we now know that regular exercise and a healthy diet can bestow.
What changed?
Had I known back then that I was severely gluten intolerant, life could have been very different. I was in constant discomfort, and the symptoms made me anxious about socializing, lecturing, and other activities that put me in the spotlight, which made me miserable and withdrawn.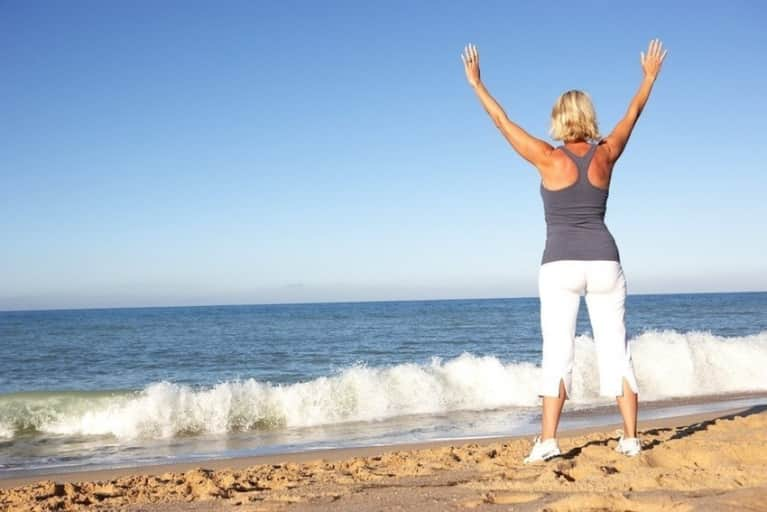 Recent research now links gluten intolerance with chronic fatigue syndrome, with which I was eventually diagnosed in my early thirties. I think it was the frustration of not being able to exercise at that time that eventually pushed me towards regular training when I recovered. On the recommendation of an ex-boyfriend, I tried out martial arts and found not only the most rigorous physical conditioning you can get, but the best stress relief available thanks to all the pad work.
Maintain the mojo.
If you want to keep your mojo, you need to find exercise that suits you and to which you look forward, and kung fu did it for me. I was also suddenly surrounded by active people, and that's a huge motivator. Spend time with friends who support your goals and who give you something to aspire to and be inspired by. I have people around me who are walking examples of a healthy lifestyle, which helps to keep any tendencies I may still have to slob out and pig out well in check.
Regular workouts, combined with a gluten-free whole food diet, have transformed my life. I'm not in pain, have bags of energy and a much more positive attitude to life. I don't need a glass (or several) of wine to help me relax. I have two glasses of pinot grigio on a Saturday night and call it quits for the week, and I eat dark chocolate in small amounts instead of virtually inhaling a huge bar of the milky, sugary stuff. Knowing that I have finally developed some self-discipline makes me happy.
Love your age, love your wisdom.
Our culture seems to value youth over age, but you couldn't pay me enough to revisit my twenties. It's important to value what you have at the age you are now and not fall into the trap of comparing yourself with all the twenty-somethings at the gym. While I may not have the taut, lithe body of some of the younger women I train with — there's only so much aging you can hold back, no matter how hard you work — I do have the confidence that comes with being over forty to not give a damn.
Knowing that, at 41, I can hold my own in an MMA conditioning class, run a comfortable 10k, and pump iron, while at 25 I doubt I could have knocked out a single push up, definitely keeps my fitness mojo working!