Exposed Ribs, Slender Stomach, And New Diet: Yes, I'm Still HEALTHY!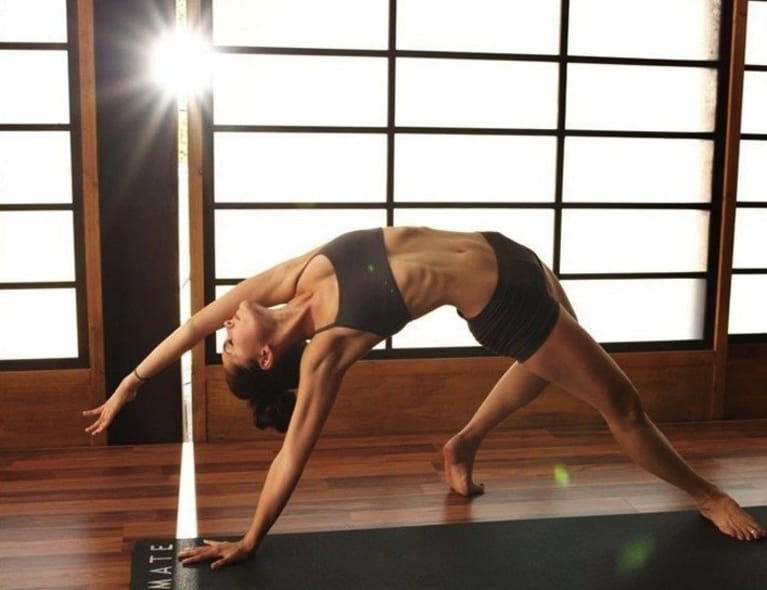 When MindBodyGreen published my first article, 5 Unexpected Things Yoga Will Teach You, I was honored to be a part of such an inspiring community. But what astounded me more than the article being published was the volume of response the photograph MindBodyGreen chose to use received. Since first being published, the article (and the photo) have been re-posted to Facebook a few times and with each re-post I am blown away by the responses — not to the article, but to the photograph. The fact that strangers felt it necessary to suggest I eat something, or that I have an eating disorder, made me realize there is a misconception out there that a thin body implies an unhealthy body.
When the photograph was taken I had just completed 108 days of yoga, meditation, and a healthy vegan-lifestyle diet for the filming of a yoga DVD called The Ultimate Yogi, by Travis Eliot. I was at an all-time high in my life. I felt the clearest, cleanest, and most fit I had ever felt, and all of it was achieved through healthy, conscious, yoga-centric practices. Yes, I lost some weight during this program, but at 5'6" I was absolutely at a healthy, acceptable weight for my height. For the first time in my life I was practicing yoga seven days a week (only five days a week of vinyasa with two days a week of Yin or Restorative). For the first time in my life, I was meditating every single day. And, for the first time in my life, I stopped eating dairy, refined sugar, alcohol, processed foods, and fried foods, all of which I was previously consuming regularly.
In this photo, I am upside down in full extension. My body is stretched to its max, so yes, you can see my ribs. But let's pose a question here: Why, when men are photographed in similar poses with their ribs exposed, do the same outrages at bone protrusion seem irrelevant, and instead they are touted as being fit?
I am a healthy weight, and to get to this place took hard work, discipline, and tremendous self-control. Instead of eating my regular dose of sugar after lunch, I ate dates. Instead of starting the morning with a pastry from Starbucks, I ate fruit and oatmeal. And instead of eating pizza or Chipotle for lunch every day, I ate Ezekiel bread sandwiches or salads with tons of grains. Going through 108 days of yoga changed my life. I went from working a job that depressed me to teaching yoga full time, a dream come true! I began a daily meditation practice, and I obtained healthy control over my diet which I did not think was possible.
I have always been thin, and I can thank genetics for that. Both of my parents have great metabolism and are similar in height and build, for which I am grateful. But I used to eat thoughtlessly: pizza, alcohol, and tons of sugar consumption. At the time we began The Ultimate Yogi, I didn't know if it was possible for me to change my eating habits. I tried hard for many years to slow my sugar and dairy addictions but never had any luck staying on course. This program gave me the structure and confidence to change not just my diet, but my life. It forever altered my digestion, and I digest food better than I ever have. Many women struggle with digestion, and moving to a plant-based diet helped me achieve a healthier movement of food, which I know contributes to the tone of my structure.
Please don't misunderstand, there are days where my diet is balanced but there are also days where I eat too much sugar, enjoy a pizza, and half a bottle of wine. The goal is not perfection; the goal is balance.
I am very lucky to say that despite growing up in an image-conscious city, society, and industry, I have never battled an eating disorder. As a teacher and friend, though, I know many people who struggle. I work closely with students who fight eating disorders, and they are a daily inspiration, reminding me why I care for my myself the way I do. And I know, in return, I am an inspiration to them through my energy, support, and compassion.
I am not writing this to defend anything, I am writing this because the photograph promotes an important discussion about HEALTH. What does it mean to be healthy? Is it your weight, or is it the way you care for yourself through exercise, diet, lifestyle, and family? I think we all know the answer to that.
We are a community, and as a community we must promote healthy discussion. We should also promote comments and conversation that uplift the society we all want to create. A society that is inspiring and thoughtful, supportive and proactive. Making cruel comments such as "give that girl a sandwich" misuses the power of social media and turns the beautiful instinct of concern about someone being too thin into an attack rather than a thoughtful inquiry.
So let's start here and let's really talk this through because the truth is we all desire lives of longevity, vitality, and joy. So, what does it take to live a truly healthy life? Share, comment, and let's use this community to facilitate a meaningful conversation about health. Oh, and if you have the time, skip past the photo, and read the article.