How A Collision Of Worlds Strengthened My Marriage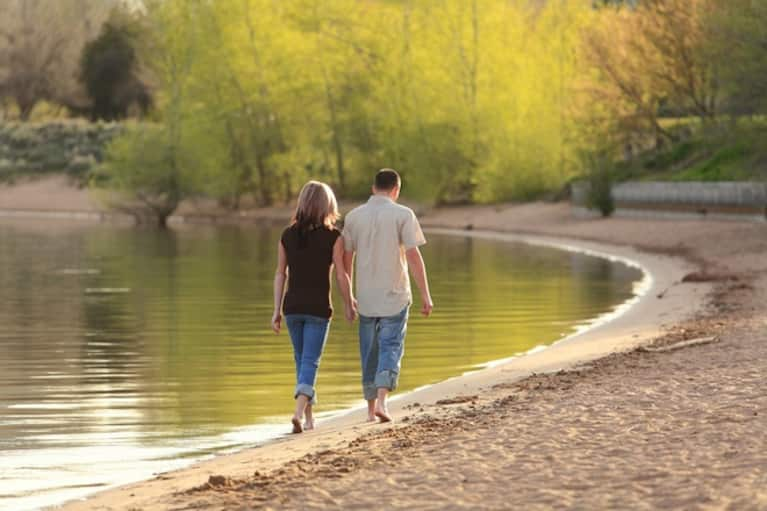 Last week my husband and I traveled across the pond to jolly ol' London to take a course with my teacher, Dr. Robert Holden. Yes, I said, "My husband and I." This was big. I have been studying with Robert for a while, and my guess is my husband got curious. I warned him this was serious stuff, and he may find himself in meditation, opening up to strangers, and sharing his feelings. YIKES!
The course we took was on love and the enneagram, a guide to understanding our innate personalities and how we give and receive love. A pretty cool course to take with your spouse, especially if you are both open to really seeing yourselves.
Arriving at the workshop, I was filled with the anticipation of bridging the gap between my spiritual studies and my personal life. At first I felt a little uncomfortable. What would my husband think? Would he be comfortable? Would he think this was too woo woo? Or would he completely surprise me and relax into the loving cocoon Robert Holden creates in his courses? I recognized this ego-based pressure I was putting on myself, and reminded myself to be gentle.
The course was honest, loving, nonjudgmental, and grand. It helped me to understand how to love others more, and to love myself more honestly. We have great opportunities to love with acceptance as our guide. I began to understand and embrace the differences that our personalities observe and used this knowledge to alleviate feelings of doubt or unworthiness.
In their truest form, relationships are a quest for knowledge. By learning about our innate tendencies and needs, we are able to shine a bright light on what is true for us, and what is true for others. I now have a better understanding of my own desires and dreams. I am comforted knowing there are many "helpers" like me who share the same deep feelings of empathy and sensitivity. I now understand that my ability to truly feel what others feel is a reality I cannot escape. I am able to see it as a blessing, and also understand that my husband, who is not the same "type," has to make an effort to feel what I am feeling. It is not his nature. Being The Enthusiast, his strength is in letting go, moving forward in life, and seeing a bright future. I love that about his nature and realize that I am attracted to a lot of enthusiasts! I have a deep respect for his ability, and by understanding more about our unique personalities and gifts, I am able to love him more deeply.
Having this experience together has been surprising and honest, and has created a shift in our pattern as a couple. I don't pressure my husband to think deeply about our experience; I accept that he does things in his own way. But I am truly amazed and delighted at the current status of our relationship. We seem to understand each other better and there is a deep sense of calm and knowing... like we have this amazing secret life beyond what is tangible. The bottom line: It's really cool, and I am loving sitting with this new knowledge and relishing in the experience of my worlds colliding!
Do be open-minded! If you are going to a workshop with a spouse for the first time, try your best to let the "newbie" be. I know it's hard, but forcing your ideas down someone else's throat is a recipe for disaster.
Do allow time to let the dust settle. I know you love to talk and share feelings, but your partner may not be ready to do so. If you don't want this to be the last spiritual rendezvous, allow your newbie to come to you with comments.
Do pay attention and express gratitude for your partner's presence. Just be being patient, you may find your partner is willing to talk about all the cool, deep stuff you just learned. When they do… gratitude, gratitude, gratitude. Let them know you are super grateful for their observations and respect them!