How Yoga Helped Me Deal With My Best Friend's Death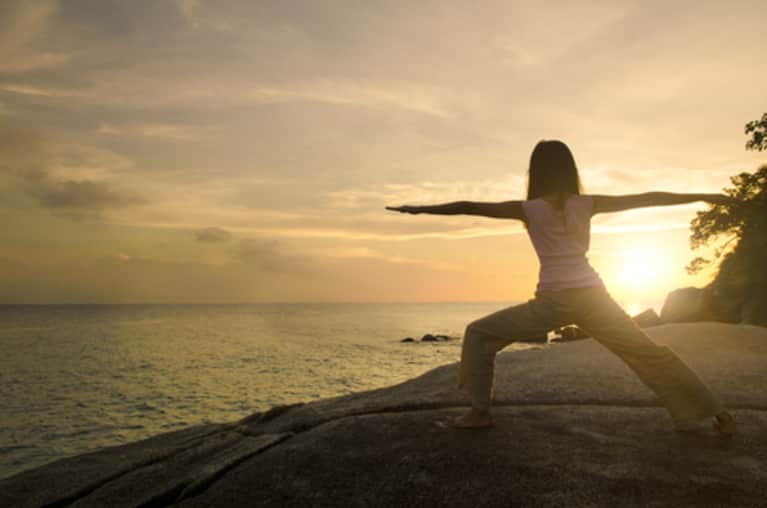 It had been almost 10 months since her shocking death: my young, beautiful, vibrant, life-loving, 25-year-old best friend, gone in an instant. The shock, anger, and sadness were still with me as I struggled daily to cope. Nothing was helping -- not the extra glass of wine or the extra sweat-inducing workout. Then yoga found me.
I had grown up as a bit of a workout nut, trying everything from team sports, running, high-intensity interval training (P90X and Insanity), etc. Being active was always my way of not only being healthy and balancing out my high energy, OCD personality, but it helped me emotionally as well. I could let out frustration or just feel pure bliss and joy after getting a great endorphin rush. Naturally, I assumed I could use the rush to help me cope and escape from the feelings I had about my best friend's death. That wasn't the case.
On a random Saturday afternoon in early June, I decided my next fitness adventure would be to look into yoga. I then found Kathryn Budig's "Aim True" DVD on Amazon and purchased it. A week later I was in my living room doing my first yoga practice. I was in love, and more importantly, I had found peace, something I had not been able to find in 10 months of utter emotional imbalance.
Yoga was my savior. It taught me to let go and truly be in the moment; to let go of all the fear and sadness I was carrying. Nothing else mattered on my little island (my mat). I learned to appreciate today, to use my breath to inhale joy, acceptance, and calm, and to exhale frustration and anger.
Kathryn Budig has a beautiful philosophy and mantra that put everything in perspective. "Trust that everything is as it should be, I lack nothing, I am perfect." All this time I kept thinking how much I lacked without my best friend in my life, how things weren't right. But Kathryn was right, and yoga was right. Life will always throw you the highest of highs and the lowest of lows, but through controlled, thoughtful breathing I was able to cope.
To yoga and Kathryn Budig, I say, "Thank you." Thank you for finding me just when I was losing my last bit of hope. For giving me new hope and a new perspective on life, and for helping me accept this loss and see it as a way to be grow stronger and appreciate life with every breath. I know now -- more than ever -- that every inhale and exhale is a blessing.