5 Easy Ways To Rid Your Home Of Toxins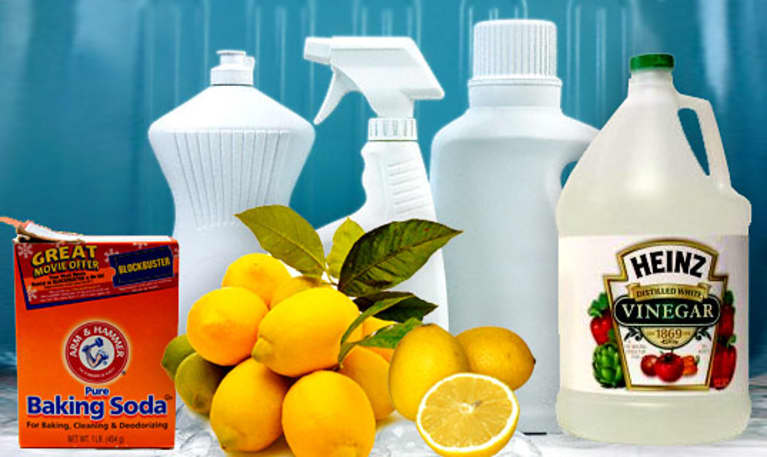 Cleaning your house is necessary, but it doesn't have to be evil. I used to dread cleaning day, anticipating the harsh smell of chemicals I purchased to disinfect my kitchen and bathroom. The toxins and fumes in most commercial products would leave me with nothing but cracked hands and a headache. I switched to organic products, but even they can be hazardous. I started to explore an all natural approach to cleaning my home, and soon I was making my own products.
I was surprised to learn that many everyday items such as baking soda, castile soap, Murphy's Oil and white vinegar were among the items I needed to make my own supplies. Most of us already have these inexpensive items in our home. I added in a few other ingredients, two or three spray bottles and some essential oils. Before I knew it, cleaning became an experience that I actually enjoyed.
Below are a few of my favorite cleaning potions for you to try in your home:
1. Dishwashing Liquid
22 ounce plastic spray bottle
liquid castile soap (this can be purchased at Trader Joe's or Whole Foods)
20 drops lemon essential oil
10 drops sweet orange essential oil
Fill the spray bottle with castile soap, diluting slightly if necessary. Add the essential oils. Always shake before using.
2. Kitchen Sink Cleaner
¼ cup baking soda
½ cup vinegar
3 drops of an essential oil of your choice. I love lemon, lime or orange for the kitchen.
Combine all of the ingredients. Rinse the sink with hot water, and then pour the cleaner into the sink. After wiping with a wet sponge, rinse again with hot water. This is safe for porcelain and stainless steel sinks.
3. Floor Cleaner
1 gallon of hot water
2 tablespoons of castile soap
10 drops pine essential oil
Combine all ingredients in a large bucket and mop floor as you would with a commercial cleanser. No need to rinse after cleaning.
4. Toilet Bowl Cleaner
½ cup baking soda
¼ cup vinegar
12 drops tea tree oil to disinfect
Combine all ingredients, pour into the bowl and brush.
5. For Bookcases, Coffee tables, etc.
plastic spray bottle
½ cup Murphy's Oil (or another oil soap of your choice)
¾ cup water
5 drops patchouli
15 drops cedar essential oil
Combine all of the ingredients in a spray bottle and shake. Spray on tables and shelves and wipe with a soft, dry cloth.
After discovering this all natural and nontoxic way of caring for my home, I no longer view cleaning as a chore. It's more like a sacred ritual where I get to wipe away the grunge of the past week and have a sweet smelling and clean pallet on which to color my future.