I Still Don't Want To Get On The Scale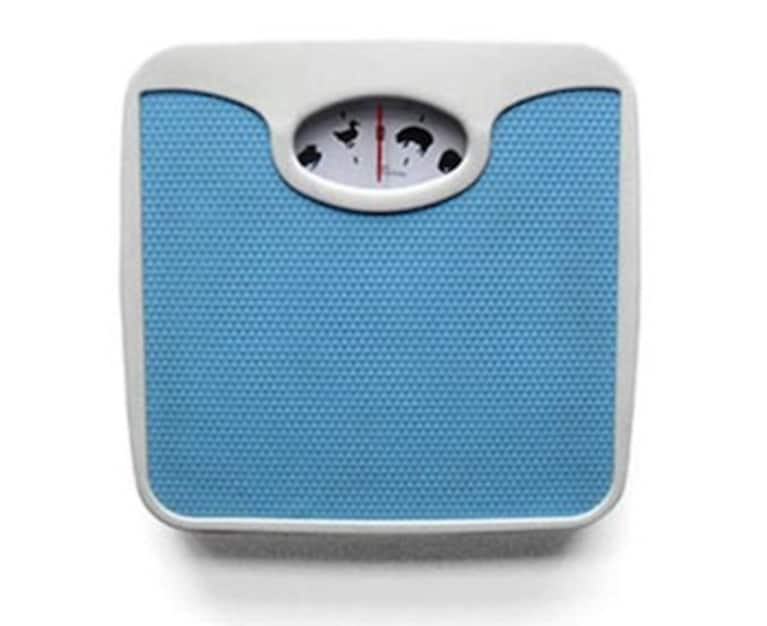 I had a checkup today at the doctor.
I was dreading it for days. This morning, when I woke up at 10 am (I know, I know! Jet lag, yikes!) I had an especially delicious knot in my stomach.
The scale.
Going to the doctor meant I had to get on the scale. I thought about the steel geometry of the it, how unfeeling and telling it was, and I wanted to spit my coffee up and get back in bed. I'd just demand that I wouldn't get on it.
They would give me a hard time and I'd finally agree that I'd get on, but that my back had to be facing away from the numbers. And they shouldn't ask me why, it's just a quirk of mine, a remnant from those years with anorexia. I'd lower my eyes and be embarrassed and feel like a fraud as I stepped off and into the doctor's office with its fake frogs on the walls.
I arrived on Robertson Boulevard in Beverly Hills (where my doctor is located) with five minutes to spare, which is so unlike me that I chuckled. When I saw a parking spot right out front (unheard of!) I knew that the parking gods were looking down on me favorably and sympathetically because they knew how much I was dreading this and how circling the block would have added to my anxiety.
Thank you, Parking Gods!
I went to pull in and there was a woman standing there so I sort of gave her a little wave as if to say, Watch out now love, I don't want to hurt you. I am sure you didn't realize that you are standing in the street and in my parking spot.
She mouthed to me (I lip read, being mostly deaf, so I pride myself on this skill): I am saving it.
I mouthed Aww, you can't do that.
I wondered if her lip reading skills were as good as mine.
She shrugged at me and waved me away.
I rolled down my window. (At this point, the rear of my car was sticking out into traffic.) You can't do that. I am here with a car and you are in a body. It doesn't work like that.
I inched closer and she didn't move, as if she was playing chicken with me.
Oh lady, you picked the wrong day to mess with me. I am jet-lagged and having trouble with re-entry after a trip to Bali and someone in a white coat is going to make me get weighed. Back off.
I smiled.
She shrugged again and called someone on her cell.
I inched closer.
She didn't budge.
Minutes passd.
Okay, maybe not many minutes but enough that I started laughing and getting angry at the same time.(The combo always makes me feel evil.)
I get it. I have saved a spot for someone before when they were literally five feet away. This car had not yet appeared and a lot of time passed considering my back end was sticking out into the road.
She obviously didn't believe that I'd run her over (I wouldn't) when I slid my car closer, but this was absurd. I mean, was her ghost car driving from Ohio?
I won. I had the car. She had nothing but her cell phone and in this case, it was a clear win. Me.
Why did I get so annoyed?
Well, naturally I wanted to be right. (I know, I know. When choosing to be right or kind, be kind.)
Well, I gave myself a free pass today. I was crabby and tired and it was raining and I had many excuses, none of which had anything to do with anything, but still they were mine and thus, in my arsenal against this travesty.
But seriously. At what point do you get to save a spot for someone?
Finally, she caved.
I pulled in and she went and... hid behind a building.
I could not make this up. She was cheating. She was trying to play the role of Parking God and the fact is, she was just a lady in a brown coat with an iPhone and a stubborn shrug.
The standoff lasted at least 5 minutes.
As she hid behind the building I had an urge to go chat with her and talk it out but realized I was now late for my appointment. I put money in the meter and her "friend" still hadn't showed up.
Please don't key my car, lady, I thought, as I walked into the doctor promising myself I'd be extra nice to every single person I encountered today to make up for the incident for which I felt semi-guilty (ever the Jew!), even though I had done nothing except what was in my right as a car-parker.
A baby was screaming. For one hour. Again, I cannot make this stuff up. A baby screamed for one hour straight and, due to my vow, I just smiled. In fact, I went over to the toddler and said. "You don't feel good?"
His mom or nanny nodded and smiled and the child kicked me.
Finally, after one hour, the nurse called my name. I had two false alarms, when I got up and walked in, only to realize they had been calling Jessica and Justin.
"Jennifer?"
Finally.
I stiffened and prepared for battle with the nurse who'd hold a gun to my head and make me get on the scale.
"Just so you know, I do not want to get on the scale," I said, as non-defensively as I could.
"No problem." Smiles. "Go right into office number 7."
Must be my lucky day.