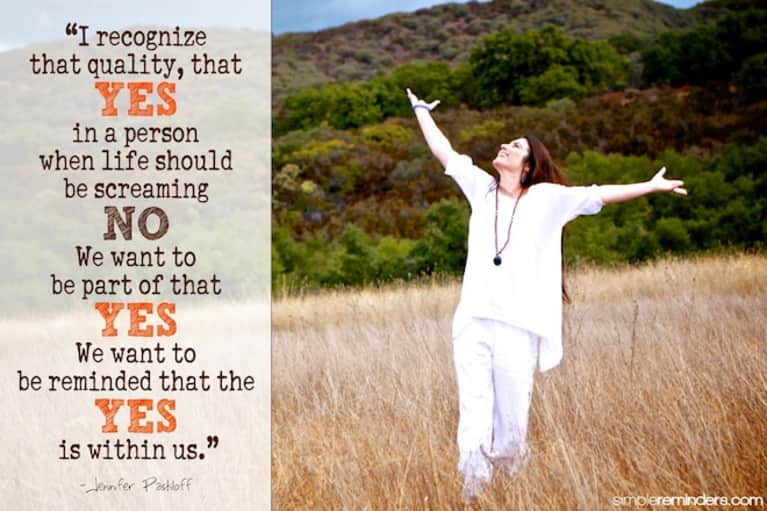 So I was teaching my yoga class yesterday, which incidentally is less of a class these days and more of a joy ride, a life experience, a laugh and sing and dance fest, but I digress, I was teaching and the theme was: You Could Be Happy, since it was my DMC (Daily Manifestation Challenge). 
I take the DMCs and apply them to class. (Check out the song by my buddies in the band Snow Patrol with the title You Could Be Happy.) I opened class with that one, fittingly.
Our mantra anytime the hands came together was I Am Happy.
(Notice it wasn't I Could Be Happy. )
I AM HAPPY. Now.
I made a confession in class. I told my students that I get tons of emails and feedback daily about how my class is so fun, so joyful, I smile all the time, I am so positive, and happy etc. You get the gist.
I confessed that, at times, it was hard for me to grasp that these people were talking to me. Me? Me???
Me? Me, who had grown up with people telling her daily, "Jen, you should smile more. You seem so depressed. You think too much. Are you OK, you look sad? You are so intense. So heavy."
You get the gist.
I was a mature kid. I was born at age 30 (which may be why I am so silly now. I am owning my childhood). And then, after my dad died, I had a lot of sadness and guilt. I was, to put it mildly: depressed. For a long long time.
So at times, it is hard for me to equate that this joyful and fun and positive person is me. Can it be? Me? Maybe they mean a different Jen?
You know what I told my class yesterday? I said Eff that!
It is me!
I'm owning it.
You see, dear Manifesters, it is possible. It is possible to grow and shift and change. I changes my thoughts and my beliefs. I found my bliss. (My bliss is this right here, this Manifesting Stuff, in case you hadn't gathered.)
So I say: Eff that! (I told them they could decide what Eff meant.) I can be whoever I want to be.
Today's DMC: In the comment section tell us what you are OWNING today.
I am owning my joy. My positivity. My happiness.
To quote my own poem:
You get to open the door of You,And decide, over and over, as many times as you like,as many times as your socksJust who you are.