Cancer-Fighting Kale Burger (Vegan Recipe)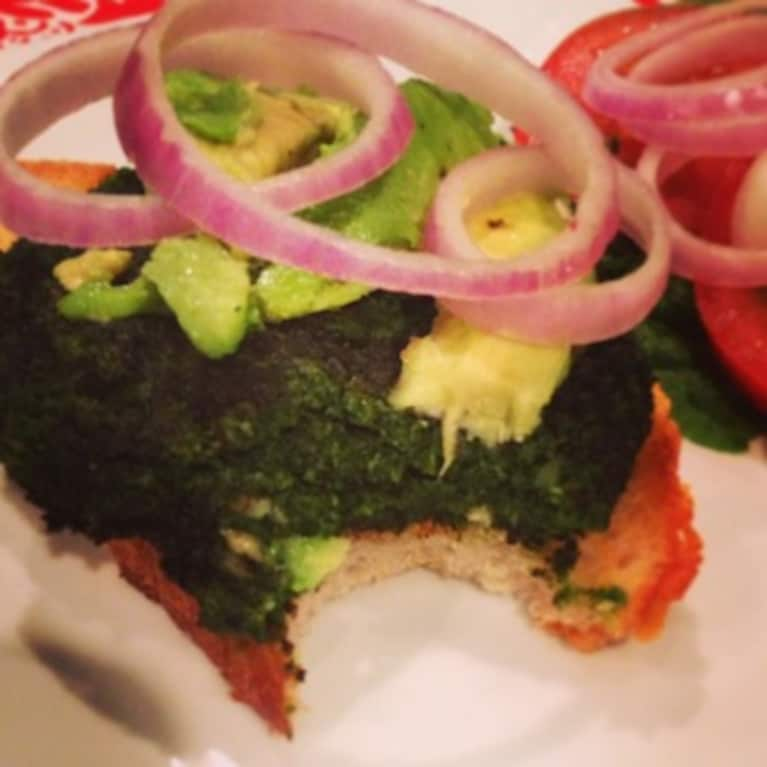 Yes, you read correctly! This I.AM.YOU. burger recipe is made to fight cancer, inflammation, autoimmune diseases and boost your alkalinity, immune function, and overall health.
And, it is de-lish!
Here's how:
In a Cuisinart or Blender add cooked kale, cooked broccoli (both sauteed or steamed), raw baby spinach & garlic.
This is giving you alkalinty, gluconsinolates, fiber, antioxidants, omegas, isothiocyanates, and everything else good you can imagine.
Blend until tiny and slightly soft/mushy.
In a skillet, add olive oil on medium heat. As it warms, make the burger patties with your hands.
Place the burgers on the pan and let cook until crisp to taste. In the meantime, top your cancer-fighting condiments: avocado, tomato, onion, lettuce. This is how you get your omegas, lycopene, sulfides, alkalinity.
Toast a bun or bread if you like. Here, I use asiago sourdough bread from a local baker. Latest cancer studies are showing a direct link between calcium in dairy and cancer prevention, particularly breast cancer.
When the patties are ready, assemble, drool, and enjoy.
Now you can eat a burger every day and literally get healthier as you do! It could even help you lose some weight and detox easily.... (hint hint)
For 8 burgers, I used 1 quart of steamed kale, 1.5 cups steamed broccoli, 1 box raw organic baby spinach, 3 cloves of garlic.