Life Lessons From A Third Grader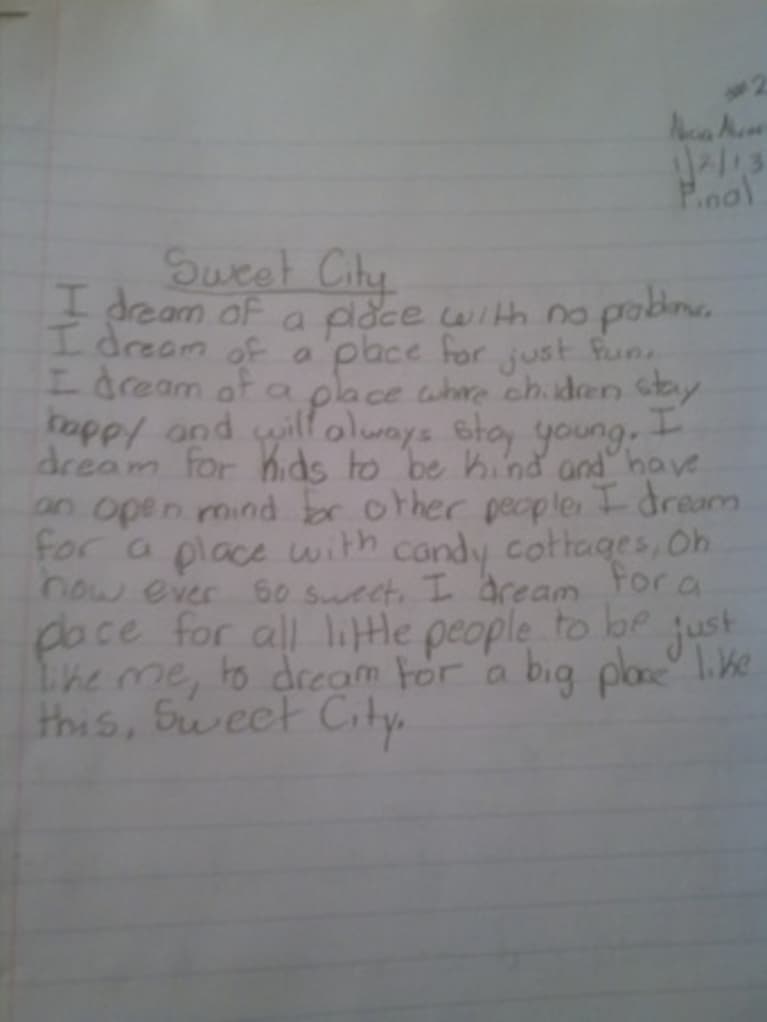 A very good friend of mine is a third grade teacher in Harlem. She's a phenomenal mentor and a true inspiration. She's taught in several inner city schools over the years, in both Washington, D.C. and New York.
Recently she shared with me a poem one of her students wrote. I immediately typed it out– it was so beautiful and profound.
Here is the poem:
Sweet City
I dream of a place with no problems.
I dream of a place for just fun.
I dream of a place where children stay
Happy and will always stay young.
I dream for kids to be kind
And have an open mind for other people.
I dream for a place with candy cottages,
Oh how ever so sweet.
I dream for a place for all little people to be
Just like me, to dream for a big place like this,
Sweet city.
This poem touched my heart. It's so hopeful and sad at all once.
I'm used to hearing my friend describe some really challenging things that come her way as a school teacher – children who are absent, difficult to discipline, angry at life, and much worse.
It's refreshing to know a 9-year-old is dreaming of kindness and staying young, and of pure sweetness.
It's a lesson we can all learn from. What's a bad day to you? Someone cut you off on your way to work? You can't pay your telephone bill? Or maybe you don't have enough food for the entire family this week? Big or small, I think it's important to all picture ourselves in a sweet, sweet city, no matter where we really are.
I don't want to dream of a sweet city. I want to live in it.