How Yoga Philosophy Can Help You Date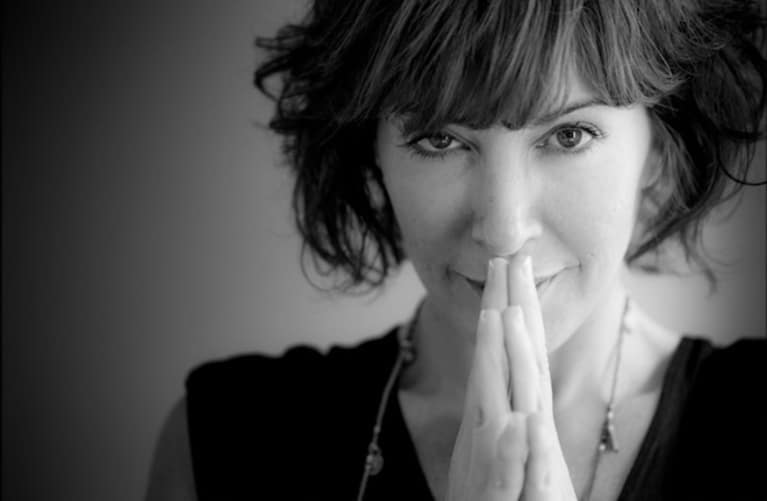 The last time I dated it was 2004, and I was on MySpace. (Ha! Remember MySpace?!) I was living with my awesome dog, and teaching yoga full-time as I had been for years. 
The abridged version: In 2005 I got married, in 2006 I had my son, in 2009 I had my daughter, and my husband and I opened YogisAnonymous.com six weeks later. Don't ask me about the first year because I don't remember a thing.
In July, I got divorced (still co-parents, business partners, and good friends, thankfully), and I now find myself dating for the first time in eight years.
It has been...interesting.
There was a very brief stint on Match.com encouraged by my mom ("A great man isn't going to sweep you off your feet on line at the grocery store!!!"), and my little brother who informed me, "Everyone is online these days."
I won't bore you with the details of the two Match dates I went on, but I will say they were enough to send me running to my laptop to cancel before the three months I'd paid for had expired.
Not. For. Me.
There was the blind date where the guy hit me in the eye with a football so hard I saw stars and wondered if my eye might be rolling around in the grass somewhere. And there have been a couple of amazing dates with someone I like a lot who may or may not be a blog post in the future. (Kidding. Mostly.)
Anyway, all of this got me thinking about the Yamas, and how they really ought to show up in the dating realm, but frequently don't.
Below you'll find my interpretation of the first five precepts that make up the first "limb" of yoga, but only as they apply to dating:
1. Ahimsa (Non-harming). Basically, be kind in every way possible. Remember you are spending time with another human being with his or her own struggles, fears, joys, shame, dreams, doubts, fear, and heartache. If you go out and it's not a home run for you, tell the person as gently as you can at the end of the date. "You're awesome, but I'm just not feeling that feeling, I'm sorry." (In your own words, of course.)
It'll sting if they like you, but it's a lot kinder than saying you had an amazing time, and then never taking their call again, leaving them to wonder and spend more time and energy on it then they deserve.
2. Satya (Truthfulness). Know yourself. Know what lights you up from the inside, understand your rhythms and your strengths and areas where you have some growing to do. The more you're truthful with yourself about who you are, and where you are in your life, the easier it will be for you to recognize someone you could love.
If you find yourself developing a relationship, be honest about where you're at and how you're feeling. "There's a difference between playing and playing games. The former is an act of joy, the latter -- an act." ~ Vera Nazarian
3. Asteya (Non-stealing). Don't go out with someone you don't have interest in just for the sake of dating. In other words, don't steal someone's time or energy. And please don't go out with someone for a fancy meal and a night on the town you couldn't afford otherwise. That really is stealing.
Lastly, don't steal a person's heart if you aren't feeling it! No one should be a "back-up" date, or a person you hang with until you find a person you really want to hang with, especially if you know they dig you. "The biggest coward of a man is to awaken the love of a woman without the intention of loving her."  ~ Bob Marley (This works just as well if you flip the genders around, of course.)
4. Brahmacarya (Chastity). Don't freak, I'm not gonna tell you to abstain, although if that works for you, do your thing. Just be responsible with your sexual energy. The modern yogi/ni takes this to mean that you direct your sexual energy only in the direction of the person you're dating.
5. Aparigraha (Greedlessness). It's not about "stuff." You don't want to date people because they have a fast car or huge house or the ability to buy you whatever you desire, there's no heart in that. And remember that relationships thrive when two people enter them thinking about what they can give, not what they can get!
Just another way to take your yoga off the mat.
Good luck out there single yogi/nis!!