Nurture Your Mind, Fuel Your Body: 5 Ways To Become A Better Runner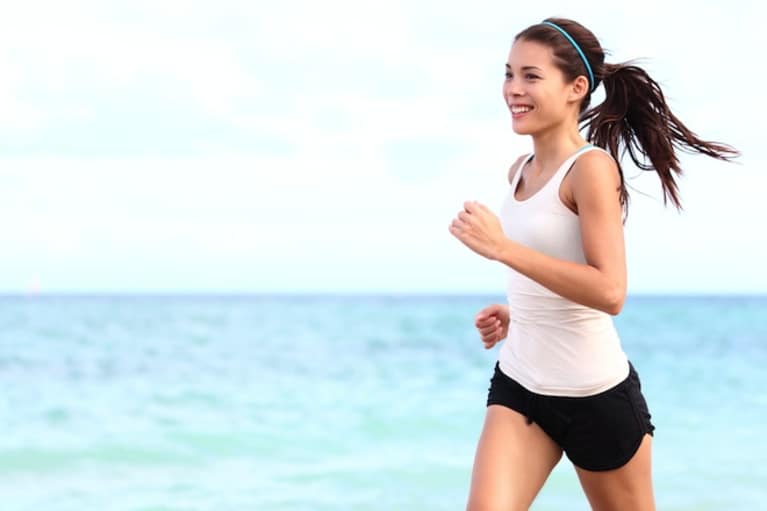 Running is not only the exercise where you get the most bang for your buck as far as burning calories is concerned, but once you become more involved, you begin to harness that inner peace and contentment in much the same way as yoga. In fact, yoga and running compliment one another like sunshine and blue skies, which is why yoga is number 1 on my list of tips to become a better runner!
1. Incorporate yoga. 
Runners have a hard time getting involved in other activities because they are already crunched for time to fit in all their miles. However, since yoga harnesses the power of breathing and stretching while also enabling the depth of the mind-body connection, when runner's incorporate yoga into their week, they will notice a stronger core and more flexibility.
2. Run with a friend.
It's much easier to get up at 5am if you know someone else is waiting for you. Any run is better than no run, and you're more likely to look back on your morning and feel happy that you got up to exercise. It's much less likely you'll look back on your morning and say "I wish I would have slept 20 minutes longer instead of going for that run."
3. Get more sleep. 
Most people underestimate the amount of sleep they need to feel good and function well. Sleep repairs and restores at the cellular level, and if you exercise hard, you need more of it, especially through the winter when immune systems are working hard to fight off viruses.
4. Do not over-train. 
While running is something anyone can do, it's also a process that evolves over time. Whether you're coming back to running after some time off or starting from scratch, running should never be rushed.
If you rush the miles, your body will rebel with injuries, even if they are just nagging inconveniences like plantar fasciitis or a sore illiotibial band (ITBS). Take your time and increase your miles slowly, whether you're training for your first 5k or your 5th marathon, and know when you need to cut back.
Visit Runner's World for a variety of training schedules to help you get started. If you feel extra tired or cranky for too many days in a row, it's time to back off the miles and incorporate some more yoga.
5. Eat mostly whole, plant-based foods.
I know, I know, this one will be under debate for years to come, but hear me out. What happens inside the human body during digestion is a complex set of events that actually begins in the mouth when we chew food.
The composition of the nutrients we consume determines how the body uses or disposes of these nutrients, and as Colin Campbell advocates, understanding the differences between what types of nutrients we gain by eating plant-based foods versus animal based foods is one of the most important factors in moving toward a more healthful diet.
High quality protein, vitamins, minerals, and phytonutrients are all found in plant-based foods, whole grains, nuts, seeds, legumes, fruits and vegetables. In fact, animal based foods do not contain any antioxidants necessary for eliminating waste, only plants contain antioxidants.
For more information on how athletes, both recreational and elite, can benefit from a whole-foods, plant-based diet, see Brendan Brazier, Scott Jurek, and a variety of fact sheets from the Physican's Committee for Responsible Medicine.