Why You Need Some Slow Motion In Your Life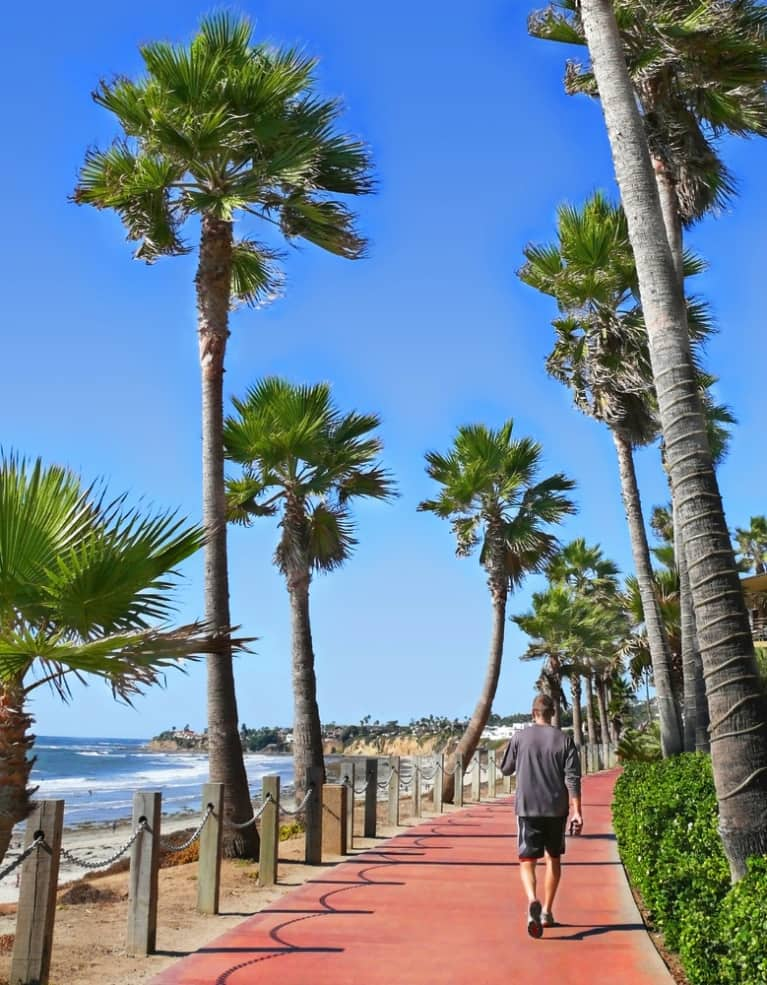 In San Diego, we have a very busy pedestrian boardwalk that fronts some of the main beaches.
On any day of the week, you are sure to see a local icon making his way, down the Boardwalk, very slowly, on rollerblades.
He is known, and self identifies, as "Slomo."
His claim to fame is his simple, and consistent, daily jaunt down the Boardwalk, whereby, with exaggerated movements, he mimics the appearance of someone moving a la slow motion photography.
He has two mini speakers dangling around his neck playing classical music.
Locals all know of him, greeting him with a shout of "Hey Slomo!" Or they wait patiently for the contact of a very slow high five.
Tourists are routinely left baffled and confused, looking around for some explanation not readily available. Many simply dismiss him as a nut.
Slomo is actually a retired medical doctor. He has been doing his thing for years now, achieving his local notoriety. You can visit his website, www.iamslomo.com, to learn more
I had first seen him years ago and to be honest, I dismissed him as someone seeking attention. I had generally ignored him as I went about my daily quiet, meditative walks upon the Boardwalk.
But one day, I realized that my walks were part my own self- care regimen that I enacted as a matter of slowing myself down from the hustle and bustle of daily life and economic activity.
I had this epiphany, brushing aside my prior judgmental conclusion. Slomo has got it so right! 
I now view him as a wise teacher who has simply chosen to focus upon one simple lesson: SLOW THE HECK DOWN!
And he models such on a daily basis.
Working as a counselor, I realized that with many of my clients, the first order of business is getting them to slow the heck down, so they can even catch a glimpse of what is the blur of a life they may be leading of constant doing, reacting and multi-tasking.
In their efforts to do good, to survive, they are in a constant state of anxiety, always trying to get more done. It becomes a trap, a hamster wheel of sorts that they just can't seem to escape.
In slow motion, my clients can take inventory of their lives. They can gauge their common emotional reactions to situations and adjust accordingly. They can hear the inner voice of intuition and abide by its guidance. They can relax as they withdraw off of the speed inducing amphetamine which is anxiety.
I also know that when people are in an anxious state, the mind does not work as well. Normal thinking processes are bypassed. Thoughts are distorted and poor judgments can be made.
In watching sports, it is the slow motion review that helps determine if the right call has been made. We make better decisions when we slow ourselves down out of the constant anxiety mode.
There is an overall general need to slow down. Deep belly breathing is the gold standard to help slow our processes down . The more the better. Yoga slows people down, the more Yin, the better. Tai Chi works. Simple awareness of our constant rushing and mental chatter may help to slow us down.
Slowing down can be uncomfortable at first. It doesn't feel right to slow down when the norm has been the rush, rush, rush of the hamster wheel. We tend to resist changing away from it. But it is a learned or conditioned state, that is in fact, not normal except, in cases where our lives are truly in danger and our anxiety oriented systems are intended to kick in.
Even before I had the epiphany about Slomo, there were some simple instructions that I would sometimes give to clients to get them to slow down:
When you leave my office today, walk 10% slower than normal to your car.
Drive to your next destination 10 % slower than usual ( without being a hazard).
Eat your next meal 10 % slower.
Stop and notice your breathing at times and bring it to a slower rate.
Basically I am telling them to go in slow motion, to be more like Slomo!
Put some slow motion into your life!