Who Are You Surrounding Yourself With?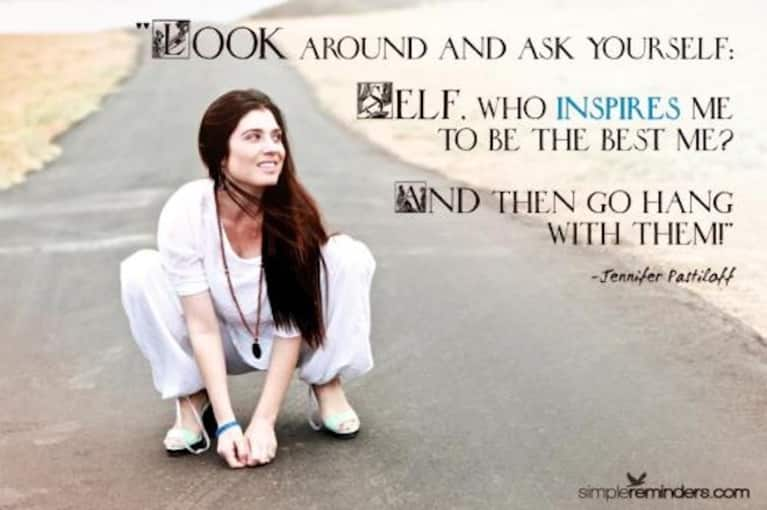 Who are you surrounding yourself with?
Let's be clear. I don't necessarily mean in real life. Whose Facebook are you stalking or tweets are you tweeting? Whose art affects you? Who do you drink wine with and who do you read books by? Who do you text? Whose yoga class do you take? Whose spin class? Who do you watch on television? Who do you play with? Who do you think about?
What I am asking you is: Who inspires you? And are you choosing to be in line with them at the post office?
Are you surrounding yourself with them, in some way? Even if it's looking at their website and borrowing inspirational quotes.
It speaks volumes about where you are in your life, and what you want to manifest when you hang out with people who teach you in some way and who inspire you to the best YOU you can be.
It starts to affect your thoughts which affect your what?
BINGO! Your life!
And all the things you are manifesting!
When you are in spirit, or inspired as it were, I believe you are connected to something greater than yourself. As I heard Wayne Dyer say:
"When you are inspired by some great purpose, some extraordinary project, all your thoughts break their bonds: Your mind transcends limitations, your consciousness expands in every direction, and you find yourself in a new, great, and wonderful world. Dormant forces, faculties and talents become alive, and you discover yourself to be a greater person by far than you ever dreamed yourself to be." —Patanjali
And that dear Manifesters, is where the magic happens.
P.S. Don't beat yourself up if this isn't happening yet.
Start to take baby steps by looking around you and asking: Self, who inspires me? 
I find people that I either want to model my life after, or people who make me laugh, or people who challenge me to stand up for what I believe in. I find people who make me want to write, who allow me to be silly, who have had huge adversity and make me believe in the power of the human spirit.
You get it.
Another suggestion I make to my workshops and retreats is that they make an inspiration playlist. A playlist that literally inspires you to be the best you by lighting a creative fire inside you or by transporting you back to a place in time where you felt really, really good. Have it handy in the car, or at your computer.
What about you? Who inspires you? Who are you hang in' with? What songs are on your playlist? All of it, share all of it. Your inspiration is my inspiration.