8 Ways To Feel Great In The Moment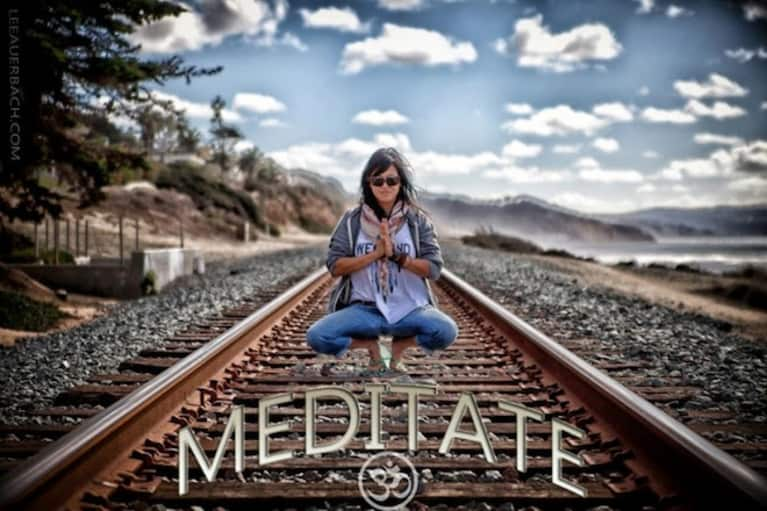 I've always been more of a do-er than a be-er, so here are 8 practices I play with to feel great in this moment and into the next one!
1. Create daily (or even hourly) reminders in your smartphone. 
Putting up positive affirmations in my personal space is great, but I was slightly embarrassed to have folks come over and see reminders plastered all over the place. That's why smart phones are awesome!
I recommends notes like Surrender, receive, surrender, receive! or Thank you for showing up in your life today. Consider book-ending them, so that you a reminder pops up right when you wake up and another before you go to bed.
2. Look into your own eyes in the mirror while brushing your teeth, and say nice things.
It took me years to learn how to look in someone else's eyes when speaking with them, but even longer to feel comfortable looking into my own eyes. That's where my Sonicare toothbrush comes in.
It's equipped with a two-minute timer, so I use that time to practice looking into my own eyes in the mirror while repeating affirmations. It was awkward at first, but soon enough, I began to enjoy telling myself how freakin' awesome I am — at least twice a day!
3. Create an email address for your Higher Power. 
To help get concerns out of my head, I created an email address for my Higher Power. As a freelancer constantly connected to my smart phone and laptop, sending an email is a wonderfully simple way to be directly and personally connected to my sense of divinity.
When I get stressed or find myself in a situation beyond my control, I send an email to my Higher Power and trust that somewhere in the digital ether, my prayers are being answered. It helps me remember that the Universe is on my side, and I don't have to take care of everything on my own.
Best of all, I've forgotten what the password for this email account is, which means that I never check it, and that's important, because in the end, the results aren't up to me. That's what my faith is for. All I have to do is authentically show up in each and every moment.
4. Write more than a Gratitude List, write your Success List! 
I love creating Gratitude Lists when I'm walking, driving, or having my morning cup of coffee. Counting my blessings is one of the quickest ways I've found towards feeling good and these days, I complement that with a Success List.
Start listing all the ways in which you show up in your life and commend yourself! You can do this at the end of the day or the next morning. For example, I washed my dishes last night, or I took out my contacts before plopping into bed," or "I spoke up for myself. 
5. Worry all you want — just worry differently.
I'll admit it: I like to worry. It gives me an illusion of control, as though, by being anxious and stressed, I'm doing something that might impact the outcome. Turns out, worrying doesn't actually help and simply creates a lot of stress reactions in our minds and bodies. So, now I worry in a different way.
A friend shared this lil' golden nugget of advice and I absolutely love it:
If you're going to worry, why not worry about the good things that are going to happen?
Instead of worrying about everything going wrong, what if you started wondering, What am I going to do when I start earning all the money I'm worth? How am I going to spend that? or What am I going to do when I meet the man or woman of my dreams? How am I going to handle receiving so much love?
6. Let go of your secrets. 
Years ago, I stumbled upon the book PostSecret and as I flipped through the pages, I felt as though I were seeing humanity in all of our depths.
As an ongoing community mail art project started by Frank Warren, PostSecret invites everyone to anonymously decorate and mail a postcard that portrays a secret you've never previously revealed, and in so doing, encourage a bit of healing to begin.
Whatever your secret, find a way to let it go.Write it down, burn it, create a postcard, beat it into a pillow, or send an email to your Higher Power to ask for what you truly need, so that you can surrender into the truth that you are always divine, whole, and completely loved.
7. Practice Ho'oponopono and forgive yourself first.
When you feel you've made mistakes, forgive yourself. The ancient Hawaiian practice of Ho'oponopono is a sweet way to do so. Traditionally, people would gather together to air grievances with one another, resolve them as best as possible, and then never speak of it again in order to prevent carrying past burdens into the present.
Ho'oponopono also believes that everyone else is a reflection of you, so if you can heal yourself, you can heal your relationships and even wounds in the world. Even when you feel you're the one who's due an apology, practicing Ho'oponopono can create profound shifts that lead to letting go and finding peace. Simply repeat these phrases as a mantra whenever you need:
I'm sorry.
Please forgive me.
I love you.
Thank you.
8. Place your hands on your heart and affirm your purpose.
As a Reiki practitioner and yoga teacher, I've learned that the power to heal lies within your own two hands, especially by using mudras as powerful locks for your life force. By bringing your hands together at your heart, you are energetically rebalancing your life force and resetting everything to neutral.
Anytime you feel stressed, anxious, or scared, you can take one or both hands to the heart and remember who you are and why you're here. I like to do this when I'm driving, placing one hand over my heart and using that time to connect to my Self, my purpose, and the unconditional love that exists within.
Place both hands over your heart and breathe into your being. Spread your fingertips wide and press gently. Feel love emanating for yourself from this most courageous, brave and beautiful of all places.