To The Girl Who Bullied Me In 7th Grade: I Have Two Words For You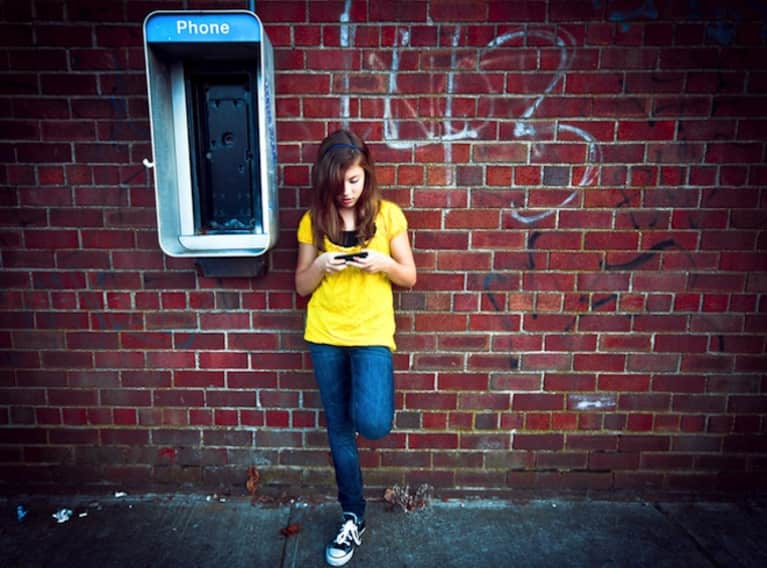 Trying to fit in at a new school when you're a 12 year-old, skinny kid with a Bon Jovi T-shirt, straggly hair, and braces makes for an after-school special from hell.
Missing my old friends while trying to make new ones is a lot for an adolescent. (Get our your violins!) Didn't my parents know this before they made me change schools?! I'd stand there trembling as Tracy Robbins (not her real name) yelled crazy things in my face, spit on me, and then walked away.
I didn't understand why she chose me. What on earth did I have that she didn't? Was it over a boy? I can guarantee there were no boys looking at me. Was it because I was popular? Mmmm, not so much. Were my clothes nicer?
Well, if you count my "Slippery When Wet" T-shirt and rocker boots with stone-washed jeans hooked at the ankles by rubber bands, then I'd say I was looking pretty stylin', though I don't think she would agree. What did Tracy want from me, and more importantly, why the hell was I so afraid to stand up for myself?
The Lesson
Fast forward to an adult female who has been through a roller coaster of ups and downs this year, including a painful divorce, which brought up every emotion under the sun—shame, guilt, and a lot of sadness.
Through this journey, I remained grateful for my support system: family, friends, and of course, yoga. You can't go through a rigorous yoga teacher training program and look at life the same way ever again, I don't care who you are. It requires a complete purging of oneself both physically and emotionally.
I also had the help of wonderful teachers, readings from the inspiring Byron Katie, Andrew Cohen, and any spiritual writings I can get my hands on. I am now a different person, but the transition took time as I went through some major changes that forced me to look deeper into the pivotal moments and people who me become this new version of myself.
As I reviewed my notes, I noticed that, although I'd enjoyed some great experiences with friends and family, the things that taught me the most always seemed to involve something unpleasant; most likely because I was out of my comfort zone, and then I'd step away and learn something from it.
For me, all of these unpleasant memories involved confrontation. I used to get mad at myself for being a wuss: Why can't I just stand up for myself at the school dance? That later turned into This food is cold, why do I feel bad telling the waitress?, and years later turned into How do I tell my husband I'm not happy? My needs, of course, were secondary so I'd never want to rock the boat with anyone.
Wait…my needs were secondary? When did that happen?
The Work
Grab a piece of paper and write this down:
I mean something.
My needs mean something
My opinion means something.
That's what people (beginning with Tracy Robbins) have taught me. To finally recognize unhealthy patterns, (in my case: the fear of confrontation) and learn to fix it.
The pattern could be anything, but the life-changing lesson always comes back to your self-worth. And the answer is, "Yes you are worthy so go ahead and tell that person how you feel!"
Now write down about 3 or 4 people in your life with whom you've had a bad experience. Recall the story, and then (big step) come out of the story and ask what behavior or emotional patterns you had that contributed to the situation, and see if you can find something tangible enough to work on.
But be patient, for in yoga we are taught that nothing comes ahead of its time, and the tools we are "lacking" when going through life are insubstantial for a reason. It's who we are!
Just wish I could've told my 12-year old self, "Chin up, Karen! Bon Jovi will still around in 15 years, and you'll still rock their t-shirts AND you'll be damn proud of it! (Even though Jon Bon Jovi's voice will take a bit of a turn for the worse... it doesn't matter!)
When I look at my students during class and I see that every single Warrior I looks different, I'm elated. Everything is OK, as is.
So whether it's the girl who bullied you, someone who broke your heart, a teacher who scared you, a boss that didn't respect you, a friend who betrayed you, a parent who didn't understand you, or [fill in the blank], I say thank heaven, for those people for they are our teachers.
Thank you, Tracy Robbins! Thank you again and again. You and everyone else in my life that I learned something from. Where would we be without our teachers? Well frankly, we wouldn't BE.