Are You Stepping Out Of Your Comfort Zone?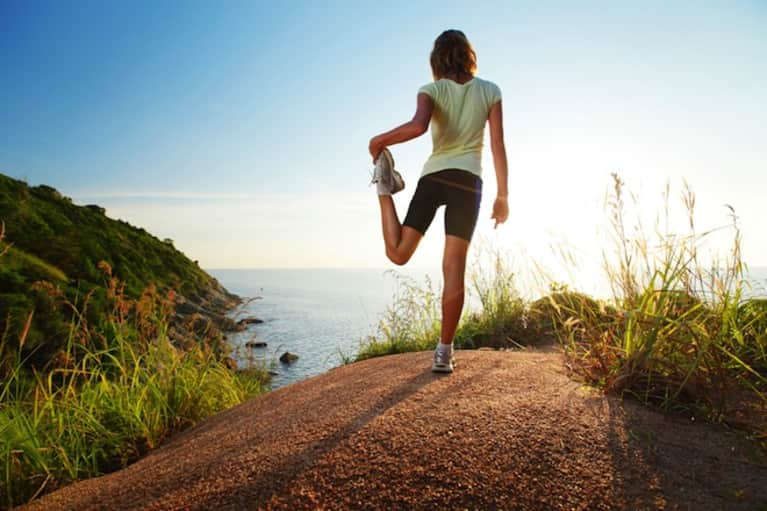 It's 5:30am. My alarm is going off. It's so tempting to stay buried underneath the covers. Why am I getting up at this ungodly hour in the dark when it's getting colder and colder, to meet this insane group of runners that band together every Tuesday, Friday and Sunday?
Our coach sends us the workouts a month in advance, but I usually don't look at them ahead of time. I don't want to stress out because of what he's got in store for us. I'd much rather get a good night's sleep and then be shocked when I meet them all in the morning.
This morning it was a 4-mile tempo run up Flagstaff mountain. Do you have any idea what it feels like to run uphill, starting at 5,600 feet above sea level and then gain another 1,000 feet by the time you reach the top?
Awful.
Yes. Awful. On top of it, I'm the oldest one in the group by at least ten years and the slowest one in the group by far.
That said, I love my running group. The first day I showed up to meet them, I got smoked. I am not talking a lap, I'm talking roadrunner style: beep, beep, bye-bye.
Most people probably would have walked away with their tail between their legs, quit, or searched out an old ladies' jogging club. Instead, I rose to the occasion, stepped up to the challenge and kept at it, knowing I could use these women and their speed as a way I could push myself to a level I may never get to by myself.
One of the mantras I live by is that I will never grow if I stay in my comfort zone. It takes guts and courage to run in the first place. Circumstances such as family, work and time can always get in the way and be used as an excuse.
This running team is made up of elite athletes a decade or more younger than me! I am not a slow runner, by any means, but these women crush it, sometimes out running me by a couple of laps around the track. I'm talking regional and national championship level. So, I ask myself several days a week, What am I doing here?
In difficult moments, it's so easy to give up or at least to want to give up. Wouldn't it be easier to pull those covers over my head and go back to sleep? Go for an easier run on my own? Or not push the pace as hard as I feel compelled when I'm with these women?
Of course!
It's in these moments of weakness that I need to accept the challenge and go past where I thought I could ever go.
I'd love to tell you that all it takes is an act of will, but that's simply not true. Pushing yourself in any capacity requires heart, determination, and discipline. In theory, we all have heart... It's the determination and discipline we must discover within ourselves so that we can see what it will take to go beyond our comfort zones.
There have been so many occasions I have wanted to quit. I'd tell myself that I was in the wrong group, I could find an easier team...As time went on and my speed began to increase, I was still getting crushed. Although I don't consider myself a glutton for punishment, I pushed on. I knew if I want to grow, it meant gravitating towards people who are where I desire to be at some point.
I feel better about myself when I know I am challenged. I am a human being filled with potential, a potential I may never live to see uncovered or experienced if I don't pursue my dreams. I need to know what I am capable of, what I am made of and how far I can go if I follow my heart.
For those of you thinking about joining a group yourself, wanting to raise the bar in your own life and challenge yourself to function and perform at your optimum level, here are a few ideas to process:
You won't know what you can or cannot do until you give it a try.
If you feel like quitting, trust that you are not the only person who feels or has ever felt this way.
Have patience and be kind to yourself. Rome was not built in one day. You will get faster if you show up and do your workouts.
Don't compare yourself to anyone else but yourself. You are not how fast you are, how thin you are, what kind of car you are driving or what job you hold. Notice your accomplishments and give yourself a pat on the back.
Getting smoked and feeling like a slow poke doesn't exactly invite warm feelings into my being, but I try to keep my intentions in perspective and not allow my ability to get co-opted by my ego.
Running is exhilarating to me and if it weren't for this group I'm running with right now, I'd never be the runner I am today. Nor would I be able to share this act of humility with you and encourage those of you in my shoes to rise to the challenges that confront you in life.
You may surprise yourself and find that you are much stronger and more capable than you ever thought you were. There will always be someone faster, stronger, and smarter, prettier.
The question is: where do you want to be and what steps will you take to be the best that you can be?