Eat + Train Like An Olympian! A Team USA Dietician Explains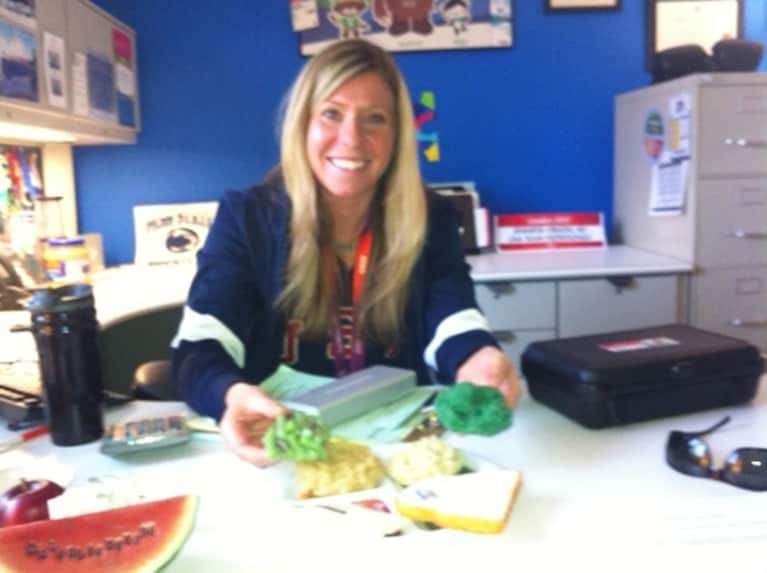 Jennifer Gibson knows sports. She's a former competitive kickboxer who now works as a dietician for the U.S. Olympic Committee, where she oversees nutrition for wrestling, judo, boxing, taekwondo, fencing, diving, synchronized swimming, and gymnastics athletes.
We recently were given the opportunity to meet with Jennifer at the U.S. Olympic Training Center in Colorado Springs, Colorado, and learn how America's best fuel their bodies.
MBG: First, could you give our readers an idea of Team USA diet guidelines and practices in general?
JG: We focus on the core fundamentals of nutrition—quality of nutrition in eating whole foods, serving amounts, and eliminating processed foods (as much as possible); then tailor each individual's diet to their body's dietary needs in regards to their sport discipline and body make up.
Each athlete's body type is different and it's my job to find the appropriate diet for each athlete to perform at their optimal level. It also depends on the sport the athlete participates in. A wrestler or boxer's diet will be a lot different than a gymnast or endurance athlete.
Some athletes will require higher concentrates of protein and fiber while others will incorporate smaller portions of lean protein and lasting hydration. Everyone knows the process of losing weight: eat less and do more. In the Olympic arena, a person's body is their tool and it's our responsibility to ensure they have the guidance and support to find that perfect balance.
Organic, or does it really matter?
We definitely support organic when it's available for our athletes; our philosophy is that we want food that is one generation or less from where the food comes from.
We work with our sponsors to provide organic food options whenever possible and do what we can to make it readily available to our athletes. We even have some athletes who maintain a personal garden.
Team USA nutrition team researches and implements what we believe are best practices for our athletes, emphasizing quality of nutrition (whole foods diet), sustainable nutrition habits (local) and environmental impacts of our produce.
Are any of your athletes vegetarian or vegan? 
We do have athletes who are vegetarians or vegan, especially in our sports that require a lean muscle physique, such as gymnastics, divers and endurance athletes. It is not something that we require of any athlete. It is a personal preference and requires a particular palate.
What is your approach to supplementing possible lack of protein?
Times have changed drastically in the past 10 years and supplementing protein has become much easier with the evolution and acceptance of super foods such as hemp products, soy products, etc., and the growth of readily available nutritious food options.
We will monitor B12 levels with our vegetarian athletes, which can only be found in animal sources. Our vegetarian or vegan athletes require a little more due diligence to ensure they are receiving proper nutrients. It is not our practice to recommend any athlete use supplements, especially because of concern over potential banned substances, but we are confident through continuous research that a proper diet or diet modification can supplement any lack of vitamin or nutrient in the individual's body.
Many of our athletes travel up to 6-8 months a year, so we make sure to pack their bags appropriately, monitor and suggest eating options. It really comes down to planning when traveling and making sure to pack your meals.
I also believe you'll find that locating vegetarian or lean protein meals in other countries not as difficult as it may seem. Many other countries diets are based on whole grains and lean protein such as fish, rice, grains and beans. It has also become much more acceptable at eating establishments in recent years to offer vegetarian, vegan and organic options when eating out.
We also encourage our athletes who are not vegetarian to at least go one day a week without eating meat and pump up fiber and iron-rich foods on those days.
Since many of your athletes compete in sports that require a strong, lean and flexible physique, has Team USA incorporated yoga into their training?
Most definitely, Team USA Sports Medicine provides Yoga and Pilates to all our athletes on campus 2 to 3 times a week. Many of the Olympic sports require flexibility and we've found tremendous other benefits in practicing yoga, such as stress management, strength training and conditioning and sport rehabilitation.
You would be surprised at some of the athletes we have practicing yoga, such as our wrestlers here on complex... I'd say 50% of them live for Hot Yoga!
Let's say tomorrow is my big race: what are the best dinner and breakfast options to perform at my optimal level?
This depends a lot on the sport. I generally tell athletes to eat what they will use the next day. In endurance-type sports you'll be needing hydration due to sweating, burning carbohydrate stores, and muscular damage. Endurance athletes will likely not dip into fat and fiber because it will still stay stored in their bowels.
We'll focus on carbs (lower fiber carbs, such as white rice, quinoa or couscous), lean protein and veggies. If you look at the plate of an endurance athlete, we would maybe take away the veggies and bulk up on carbs, lean protein low in fat (fish, chicken, lean beef), no creams, sauces or spices so as not to upset their GI (Gastrointestinal Tract) and hydration (water and electrolytes) that is easy to digest.
Veggies, although highly recommended in training, may be harder to dispose of in the morning and bloat an athlete during race day. Again, because this is also dependent on the make-up of the individual, it's important while training to try different meal compositions before exercising to find what works for you or what meal makes you feel energized and strong.
Ultimately, whatever feels well in your gut. We continually try different foods with our athletes to find the perfect formula for each individual. It's all about individualism and palate and what works for the athlete.
We interview many endurance athletes who also require a lean body mass. Could you provide a few tips for those looking to enhance their sport performance in regards to diet or nutrition or looking to maintain a specific body weight?
First and foremost, see a registered dietitian, make sure you have realistic goals and understand what your motivation is.
Realistic goals are the cornerstone of weight loss.
You will not lose weight unless you do it in a way that is happy and sustainable to you. There are so many diet books or generalized diets out there that don't work. You will save a lot of headache and money in going through multiple diet books if you start with a credible diet plan and consult with your dietitian as to your progress and possible steps for improvement.
You could spend the same amount of money on running shoes as it would cost to have a dietitian consult. It is also important for people to understand that each individual is chemically and physically different and what may work for one person will not necessarily work for you. There is no quick fix. Being healthy is work but well worth the time.  You can find a list of registered dietitians on the Academy of Nutrition and Dietetics website, including bios and reviews.
To learn how elite athletes are utilizing emerging technologies and apps to monitor and track their daily activities visit LivingHealth (www.livinghealthe.com) and receive in-depth insight from some of sports best!