If I Don't Get Enough Sleep, I Get A Little Cray Cray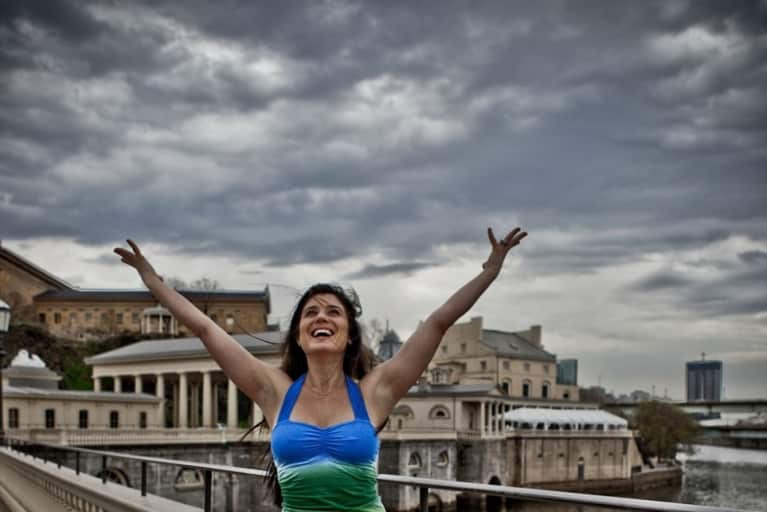 I took the red-eye to Philly a few weeks ago to teach my workshops there. It was a bad flight and I'd gotten no sleep for two nights and the taxi ride to my grandfather's was what I dubbed The Taxi Ride From Hell.
So you can imagine when I got to my grandfather's in South Philly, I was feeling a bit raw.
Sleep deprivation makes me, to put it mildly: crazy.
So I go upstairs into the world's smallest bedroom, which my mother and aunt shared for many years (mind blowing!) to take a nap in a creaky twin bed. I spot a picture of myself that my grandfather has in a frame in the bedroom. The photo is me as an 18 year-old, severely anorexic.
In my sleep deprived crazy state, I started to have a bit of a panic attack. I texted my husband a photo I took with my iPhone of the photo with the caption:
Look how skinny I was here. I should be that skinny again. 
He wrote back: You look 40 in that picture and your head looks like it is someone else's and stuck on your body as an afterthought. You are beautiful now. Go take a nap.
So yes, when I am really really tired or stressed out, my demon is there waiting.
So I do my best to avoid getting into such states. I avoid stress at all costs, as best I can.
I woke up from my nap and felt like me again.
Phew!
I ate a big lunch, as I do these days. (Again, phew!) I looked at that photo later and decided it was time I shared it and really put those painful years to good use. To maybe help and inspire someone who has not made it to the brighter side of all that.
I am not perfect.
Yes, I have healed. But I still have to do the work. I have overcome that dark period of my life with grace but every once in a while it rears it's sick head. I am glad those moments are very very few and far between these days.
I wanted to share an email I got from a Tribe member that made me feel so proud. Not just for her, but for me. We are in this together. Together we shall overcome. I invite you to come and join my Tribe.
Dear Jen: Tomorrow it will be two years since I started to recover from anorexia. 
Two years ago, I couldn't read or write (which, when you're in law school is kind of a problem), and I hadn't eaten anything in nearly 4 days; I didn't think anything in my life would feel good ever again. But as awful as that time was, it brought so many amazing things into my life, among them you and your classes. 
You've inspired me and changed my life in so many ways. I learned that exercise is supposed to be fun and feel good, I learned to "thank the universe in advance," and I learned that falling down during tree pose is great because you get to laugh at yourself, take down your neighbor and then get up again--because what is falling but an opportunity to get back up with a sense of humor? I learned to really feel grateful for my life and excited to live it. And each time I came to your class, I started to get a little better.
I don't know if you know what an impact you have on people just by being truly yourself--I hope you do. But in case you don't, I want to tell you that your class is like the light at the end of my week! It's a time that I know is just about making myself feel good--enjoying myself and the fact that I get to live in this world with so much amazingness in it. 
It's a safe space of sorts because I know that during that hour nothing bad--whether it's stress from work or a fight with a friend or just not feeling good enough generally--can come in that room (and if it does, I will just breathe it out and leave it there). It must be because you've got magic powers. But I want you to know the strength of your spirit and how it transforms a room and all the lives in it. And seeing how bravely you face the obstacles in your life whether it's in class or on your blog--with honesty and grace and insight--gives me courage to face mine. 
So thank you. Thank you for being you and being here in my life. Thank you for always being there at the end of my week--for being a line on my mental gratitude list and part of my gratitude flow each week. Thanks for changing my life and inspiring me!
In the comment section below please share what you have overcome in your life. We all have something, folks. Yes, mine is kind of deep and dark and yours may be that you have really tight hamstrings. No judgement. We are all up against something. What are you currently overcoming? And just an FYI, overcoming does not necessarily mean that it is gone forever.
It simply means you are stronger than IT!