What I Learned From Giving Yoga (And Myself) A Chance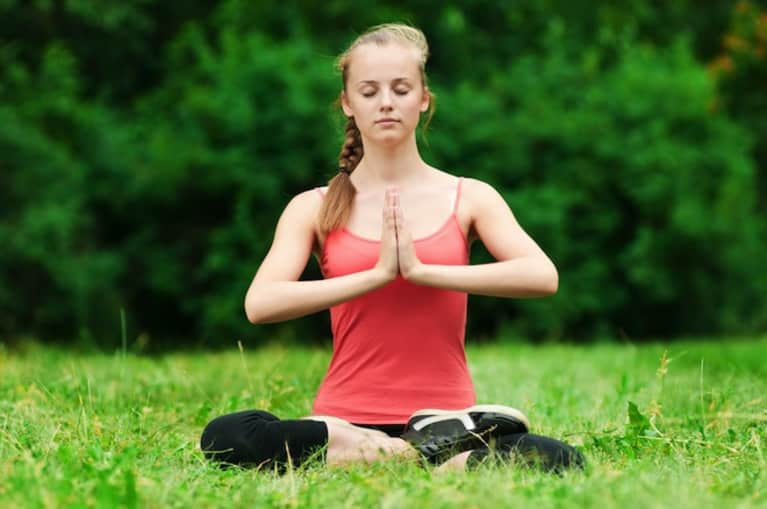 You've got to be kidding me. Me? Yoga?
In a class? With other people? With exercising?
Group workouts? Not me.
Secretly, I'd always wanted to take yoga. I even bought an interactive video game that includes an approximation of yoga. But I could never quite get out of it what I knew I could get out of it with actual human coaching on posture and breathing—so when an offer from a daily deal site landed in my inbox, some part of me seemed to know I was ready for this.
But I resisted. The idea of working out in any form in front of strangers did not thrill me; the idea of attempting to contort my body into unfamiliar poses and floundering in front of said strangers was terrifying.
I'd never been comfortable in large crowds, and I was not looking forward to the prospect of looking like a bumbling idiot in front of one.
But despite myself, two coffees, some nervous pacing, and a flurry of texts later, I had signed up for not one but two months of unlimited yoga.
It was time.
From awkward yoga novice…
I showed up, and the instructor smiled and checked me in. She seemed genuinely pleased that I had decided to come, which was unexpected and put me at ease—until I noticed that the curtains over every one of the six or seven windows were tied in a bunch, and everyone walking by could gawk at leisure.
Not cool.
There were four, maybe five other people in the class; I tried my hardest not to look at them. My heart pounded in my chest. I rented a mat, awkwardly found a place on the floor, and started stretching.
Ambient music began. I'd kept my eyes closed for awhile so I didn't accidentally look anyone in the face, and I was pleased to see, upon reopening them, that the instructor had pulled down all of the shades. She began leading a stretch, then simple poses, and I followed along. I began to calm.
Until I opened my eyes and saw the teacher touching another person's shoulders, correcting her posture. I stared straight ahead and mirrored the girl in front of me to the best of my ability.
…to real-life practitioner
And there I was, deep in what I assumed was Warrior II, minding my own business, when the instructor crept up behind me and gently twisted my back leg just a little to the outside. My face burned. I followed along nervously, sure the entire class was staring at me, waiting for it to be over, waiting for her to—
Ahhhh, so that's what it's supposed to feel like.
It felt like a dream, perfectly stretching each of my inner thighs with the pleasant sensation of knowing I was hunkered down in a stable foundation, all four limbs somehow simultaneously firm and relaxed. I exhaled and began to settle in.
Then, something surprising happened: I began to enjoy myself.
The rest of the story? I spent the next two months blissfully dropping in on a class nearly every day, and when my unlimited pass expired, I immediately became a regular member.
What I learned
I learned the basic poses and stretches, and I learned to focus and incorporate mindful breathing for a deeper, more holistic experience. I learned I'm more flexible and have better balance than I ever dreamed, especially when I went to class consistently.
I learned to recognize that little voice—the one I had barely noticed, the one that had kept me from testing the boundaries of my comfort zone—and, most importantly, silence it.
I learned to put things into perspective. While I was the yoga rookie then, I see new people in that position nearly every day. They learn, they practice, and they grow, and I don't think they look silly at all—I know the strength of will it takes to come to an unfamiliar place and do something you don't quite understand in a room full of strangers, and I know how happy they're going to be that they did it.
And I learned to say goodbye to my biggest misconception about group workouts: that what I look like matters. It doesn't, not one bit.
Yoga taught me to worry less about how something appears to others, in class or on the street, and to focus on myself and listen to what I need—mentally, physically, and emotionally.
Life is too short to let fear prevent us from living it.