5 Reasons To Say Yes To A Yoga Adventure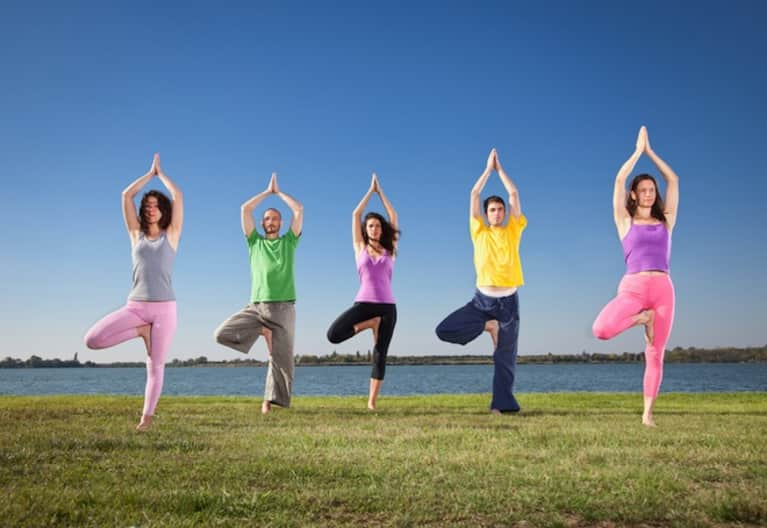 Ever had the urge to travel somewhere far off? Somewhere exotic? Ever wanted to venture somewhere that felt a bit too different or distant to go on your own? A yoga adventure trip might be just the cure.
Here are five reasons to go on a yoga retreat somewhere out of the ordinary: 
1. It will ease any tension about visiting a wildly unfamiliar location. 
Our practice is at its base meant to ground us. To help us find balance, to aid in our human evolution as conscious accepting beings. Bringing your practice with you while abroad or more specifically, having a yoga practice as the basis of your travel can amp up your comfort level.
After my first yoga training, I traveled solo through four continents and to over 30 countries. My constant: a purple yoga mat. Sometimes when I felt homesick, sad, tired or scared, I'd unroll my mat and sit or even sleep on it. I was instantly soothed. I once again felt safe. I won't lie; I sometimes also cursed the mat for making my backpack that much heavier! But at the end of the day, I was always happier for having it.
2. Don't have a travel buddy? Don't worry! 
Taking a yoga vacation ensures that you're already going to be placed in a group of people with similar interests to you. Everyone going loves yoga, you already have that in common. Everyone on your yoga adventure is there for the same reason: exploration. To explore their body, their breath, their movement, a new country and maybe some new activities. What a great experience to share with others!
3. People who laugh together grow and love together. 
A yoga adventure is a great way to push your boundaries and challenge yourself. Sometimes we're more open with strangers than we are with people closest to us, feeling that they would not as quickly jump to conclusions or judge us.
Going on a yoga adventure is guaranteed to bring out all kinds of feelings. A usual response to the new and strange is laughter. Seeing something for the first time often elicits one of two emotions: humor for the folly of things, or gratitude for the abundance that we have back home. Both bring so much joy!
4. It will change your perspective. 
A yoga adventure in a far off land is a wonderful way to change your perspectives. By having the distance from our home, we can often look at our life's challenges with a more objective eye, working through them from abroad.
5. You'll have great stories to tell your friends back home!
At your next tea-date, you'll have wonderful tales to recount about your time abroad, maybe souvenirs to share, and probably a bit of sparkle in your eye. You can feel confident about having not only improved your yoga practice, but also maybe gained a bit of worldly wisdom.
Want to join the ride? Take in the ornamental beauty of Marrakech, Morroco with me this May!