Don't Wear Your Genes To Yoga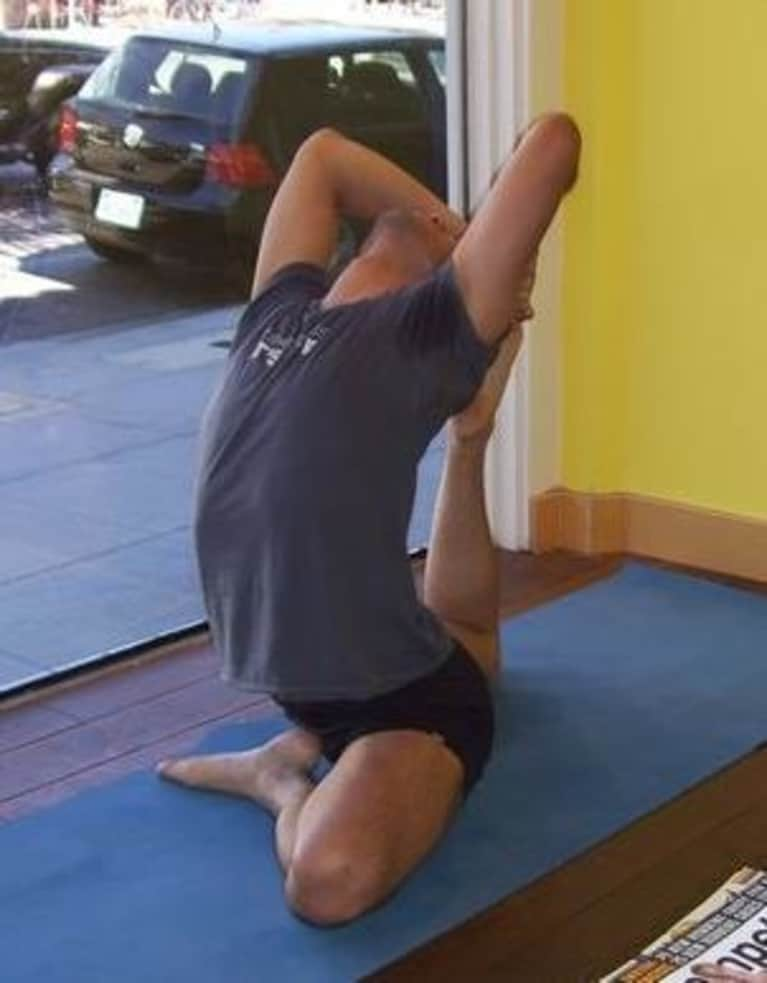 "My [fill in the blank] are genetically tight."
Sigh.
I don't think a week goes by in which I don't hear this from a student. As a public service announcement, I need to state the following: The casual excuse of genetics for any limitations are more than often false, contrived, and self-limiting.
Before I settled into the life of an acupuncturist and yoga teacher, I attended medical school and worked in the biotech field for two different commercial laboratories. My understanding of the science of genetics can be estimated as better than average; I can still speak till I'm blue in the face about matters of genotype and phenotype.
But strictly in regards to yoga....
The concert of muscles that are engaging and relaxing in the simplest of physical movements are equal if not more complex as any verbal expression uttered. All movement involves multiple factors; muscles, nerves, bones, not including the symphony of neural synapses in our cerebrum, cerebellum, and brainstem; There is never just one thing, every executed action is a veritable concert.
Movement is both structural (body) and dynamic (impulse, will, action). What's interesting is the structure of tissue is also inherently dynamic. Bones, muscles, ligaments will change in response to repeated stimuli. Our seemingly "concrete" tissues are neither static nor permanent but grows in shape and size based on repeated information. This is what happens with exercise (building) and in apathy (degradation). This phenomena is referred to as plasticity.
Our cultural disposition that the genes are the primary cause of physical impediment is frankly inappropriate for the vast majority of us. It's an unfortunate label that doesn't lead to a journey, but to an end.
Few people exhaust every reasonable option first before blaming genes: bad habits, stress, muscular imbalance, lack of mind-body connection. Most jump into the byzantine and complicated world of genetics partly because the vagueness and intellectual opacity can rationalize an obstacle. Unfortunately it can erroneously absolve us of personal responsibility.
There's an aphorism that comes to mind when I hear people assign fault to their genetics: When the house falls apart we first blame the architect, never the occupant.
Think on this: when we have mental stress, our words are truncated and distracted, so why can't something akin to this be true in the language of our body?
What if our diet is inappropriate (gluten, cigarettes drugs, alcohol, caffeine)? This can lead to the intestines being inflamed leading to an irritation of associated skeletal musculature (ala referred pain)? What if you were like me and suffered from a bad fungal infection (Candida)? I had a somewhat serious inflammatory/auto-immune reaction that lead to an awful year long rash and chronically sore muscles.
The dermatologist told me I was allergic to cats, soy, and corn. He never brought up the possibility of an infection leading to an over-sensitized immune system. If I wasn't experienced and, honestly, so stubborn, I would have agreed with him and assumed it was a genetic intolerance to random things.
If I had accepted his steroid therapy I could have potentially put myself into a world of complications and side effects. Instead I did my own research and took a chance on $70 of herbal anti-fungals from the nature market; My problems resolved in less than a week.
admittedly, it took me much work, diligence, and a bit of luck to come upon the right information; The answers were a long time coming but if I had just settled on the dark cave that is genetics there never would have been any answers.
Modern genetics can tell you if you are going to be potentially 6 feet tall, have blue eyes, and die from the terrible and lethal Huntington's disease. Modern genetics isn't at a therapeutic level where they can tell you that you will never do a forward bend or Pigeon posture.
Our blueprint is set to a certain degree, but very few us possess the visceral connection to experience the depths of our actual limitations. The only person who can make that statement true or false is yourself. There is no exploration in certainty, particular one of your own making and one based on assumption.
Remember it is our beliefs, more than genetics, that determines your reality.