The Girl Who Hated Savasana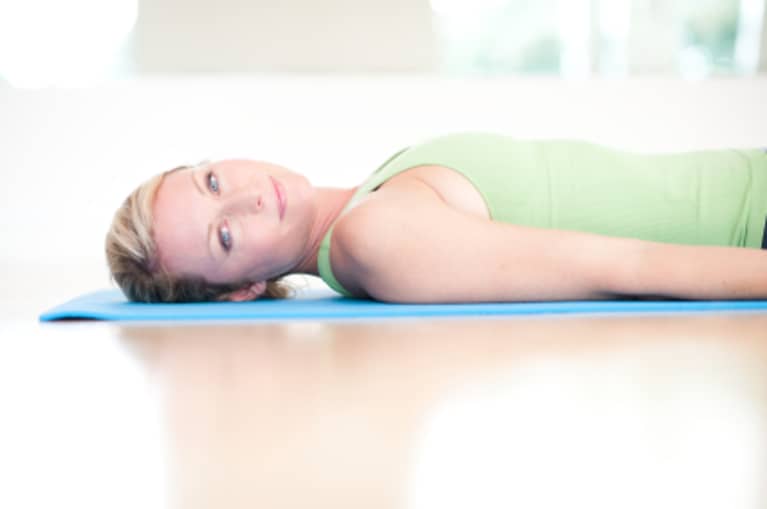 For the many years I lived in the Los Angeles area, at least a decade of them were devoted to cultivating my yoga practice.
I was a regular at Yoga Works in Santa Monica and was either in a strong vinyasa flow class or spending my afternoons in the studio with other Ashtanga Mysore practitioners. By all accounts I considered myself a serious yogi.
However, when my fellow practitioners were winding down and preparing for savasana, (otherwise known as corpse pose) I was quietly rolling up my yoga mat and slipping out the door. Hopefully unnoticed.
I was THAT girl. The one who left before that ultimate pose. The one who just couldn't bear it. For me, savasana was torture. I mean, who in their right mind had the time or luxury in their day to rest? To relax?
It was definitely not part of my tightly-wound, busy-body, busy-life vernacular.
Come on. We all know her. The one that's stepping over yoga mats and making way for the nearest exit as other practitioners get settled and lie down on their backs with their lavender eye pillows and other accoutrements. Perhaps some of you have even been her (him) at points in your life.
Why on earth would that final relaxation pose be so difficult for some of us?
In savasana, there is a surrender that must take place to allow oneself the space to relax. There is a permission we must grant ourselves to give in to this relaxation. It is a reward. It is a gift. It is the taking of a moment to absorb all that has dawned in our practice.
The moments of doubt we overcome. The breath we find. The courage to dance on an edge or a precipice from which we are not quite certain we will return. All of these accomplishments are incredible. They are hard earned.
Often it's a struggle just to get on our yoga mats. And there are moments we struggle once we get there. Some days it is a wrestling match of the mind. Other times it is a wrestling match of the body. And the only way to liberate this so-called struggle is to soften and surrender. Savasana is taking all of that work and just letting it be. Allowing it to reabsorb into us. It is the taking and acceptance of the final fruit of our efforts.
Last week, as I prepared for savasana, years after my time in Los Angeles, and several years now after having my babies, I laid back and smiled to myself as I remembered the girl that couldn't take that moment. The every day running and perpetual fleeing to get out before savasana even began. Now it has become a pose that I revere. One that I honor. One that I cherish. One that I have come to understand, to love and to need.
As I listened to what my now yoga teacher had to offer, she reminded me of something that had not occurred to me before:
Savasana IS the FINAL pose of this lifetime. And it's a great idea to get good at "doing it."
Namaste folks, and happy savasana!