How To Turn Your Shower Into A Spa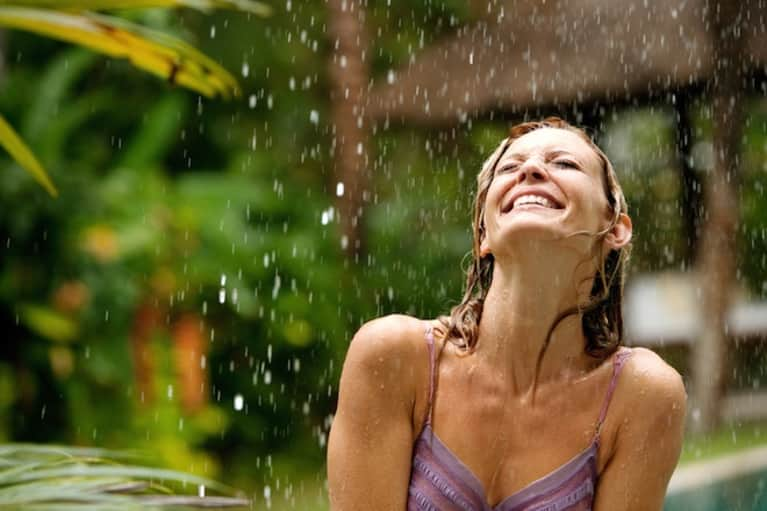 Soon after my son was born, I found myself making a huge commitment - to myself. I committed to showering daily. This may seem a little ridiculous, but if you're a parent and you haven't lobotomized the memory of the first months of parenthood, then you understand. It's a dirty, messy, unshowered kind of situation.
Even now, a shower is a small moment of peace for me. Be it a five minute one or a luxurious ten minute soiree. It's my time, right when my son drops down for his morning nap, to rejuvenate, cleanse, and prepare myself for the rest of the day, and it is amazing.
Here are some tips I use to turn my shower time into a spa-like experience:
1. De-clutter: A messy bathroom and shower is the opposite of peaceful. 
Periodically go through your bathroom items and toss empty bottles and ancient products. Invest in a few cute boxes with lids that you can use to store things in to keep the counter clear.
2. Keep the shower clean. 
I keep a kitchen scrubber with a fillable handle in the shower always. I fill it half and half with white vinegar and natural dish soap. After every shower, I scrub down the tiles, floor and shower door and rinse off. This keeps it clean - easy!
3. Aromatherapy: drop a little essential oil into the corner of the shower. 
The steam from the water makes the oil drift into the hot air, and it's fabulous. Since it's cold and flu season, right now I've got Thieves oil blend on tap (sometimes called Medieval), which is great for clearing those nasal passages. Another favorite is a lavender/vanilla mix for relaxation. Please be careful as doing this can make the shower floor slippery.
4. Oil your skin: I massage oil into my skin while still in the shower. 
It helps to seal in moisture and acts to soothe all of the nerve ends that live on your skin.
5. Use loofah gloves. 
You can get a pair of scrub or loofah gloves from any supermarket or Target. Give your skin a nice scrub down to increase circulation and wake you up!
Enjoy, and remember, a little YOU time is very important!