Have Fun! 10 Ways To Be The Happiest Version Of You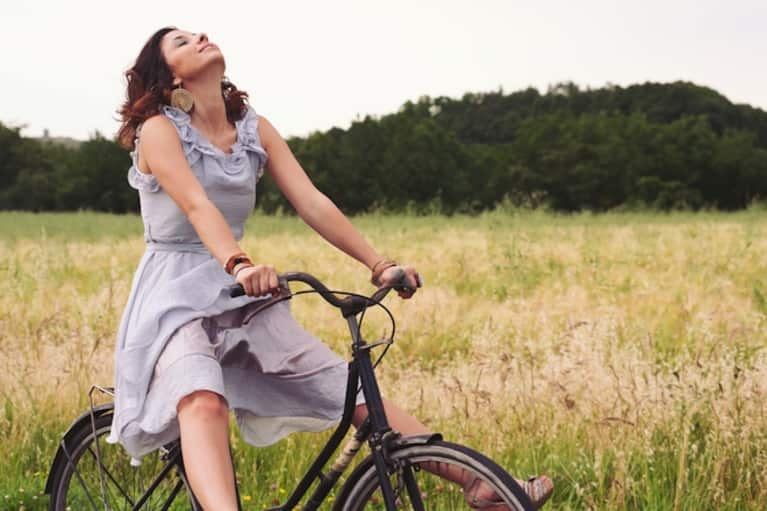 Life is better when you enjoy it. It's simple: If you enjoy life, you feel good. And feeling good rocks!
It's easy to forget this though - in the midst of the 9 to 5, when things aren't going exactly how you want them to, during a difficult time, or when you're so busy it feels like you don't even have the time to blink.
Here are 10 ways to enjoy your life more:
1. Get out in nature! 
There is nothing better to heighten your enjoyment sensors than a dose of Mother Nature. Whatever the weather, getting outside, seeing natural light, catching some vitamin D, breathing fresh air, communing with the day and your environment will help bring you perspective and connection, as well as blowing the cobwebs away.
2. Figure out what activities you love to do and do them! 
Get connected with the things that bring you joy. When does time fly? When do you feel most like yourself? On your bike, singing, in the kitchen, swimming, painting? Make a list of the things you LOVE to do and bring them into your life regularly.
3. Focus on what's happening right now. 
Whatever is happening in your life, you always have the opportunity to connect with where you are right now, to become still, quiet and focused for a moment. The more you do this, the more grounded you'll feel, and the more you'll allow space in your life for enjoyment to seep in when you least expect it!
4. Find a creative outlet. 
Everyone can find enjoyment, connection and satisfaction through being creative. If you've got something you love doing, schedule in a weekly session for it. If you'd like to explore something new, book a course or get a library book out and give it a go.
5. Connect with friends. 
Feeling connected multiplies enjoyment, so reach out and share. When you feel the urge to talk to someone, pick up the phone. Schedule dates with friends. Go find people who are into the same things you are. If you love animals, find time to spend with them, walking next door's dog or helping out at a cat sanctuary. Also, don't forget your connection with your greater self, your spirituality – a short, daily meditation can open the door to much more light and enjoyment into your life.
6. Give thanks. 
Where you put your focus grows. If you focus on what is great in your life, what you love, and what you are most grateful for, your perspective will shift. Do it regularly and you'll find yourself enjoying what you do have more.
7. Set aside some me time. 
You need time just for you. Even if you are really busy, squeezing in 15 minutes of alone time a day will make a huge difference to not only how you show up in the world, but also how you feel. Find a moment for your favourite CD, some shut-eye, that big book of sudokus or simply a cup of tea and some quiet.
8. Honor your basic needs for food, shelter, food, sleep, and love. 
Think about what's essential for you to be content. Do you need to be warm? Do you need to see someone every day? Do you need to eat regularly? Do you need 8 hours sleep? Identify and value these things that you know keep you able to enjoy life, and organize your schedule with them in mind.
9. Single-task. 
Life is deeper, more rewarding and more enjoyable when you single task - as you connect with the task at hand and come into the present. Multi-tasking spreads you, and your potential enjoyment of life, thin. Give yourself the opportunity to enjoy what you are doing in every moment by single-tasking wherever possible.
10. Treat yourself. 
A self-administered foot massage, a walk with no destination, a facial, half an hour doing nothing, that pair of earrings you've been coveting, a long, aromatherapy-infused hot bath. Do it! You deserve to feel good.