Beat Colds With Homemade Garlic Ear Oil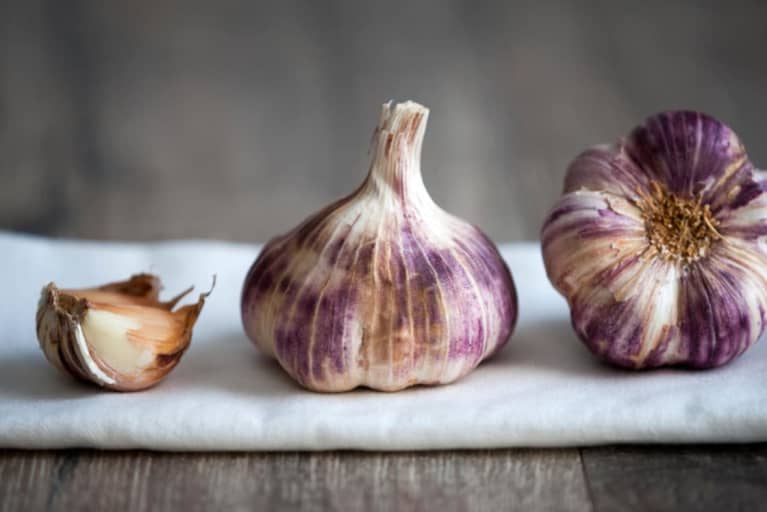 I've been fond of the small of garlic since I was a child. For the holidays, my family would travel long stretches of pavement toward the hills of Gilroy, the Garlic Capital of the World.
With my eyes closed, I'd breathe in the pungently sweet air and smile, knowing that soon, I'd enjoy hot cakes, crumbling biscuits and vegetables of all shapes and colors.
I didn't know it then, but garlic is one of the most powerful natural medicines in the world. For centuries, it's been used for its antibiotic, anti-fungal, and antiviral properties.
Garlic heals me from the inside out in more ways than one. I use it in every dish that I cook, I eat entire cloves raw to cure illness (talk about bad breath!), and recently I've been indulging in homemade garlic ear oil.
Garlic ear oil is an ancient Ayurvedic medicine that's beyond easy to make on your own stovetop. According to Dr. John Douillard, a well known Ayurvedic educator, using ear oil is a wonderful way to keep your sinuses and cervical lymph lubricated during the dry portion of the year.
Since using this remedy in my ears, I've noticed fewer colds and infections, improved sinus draining, less sinus pressure, easier breathing, no ear pain, and clearer, glowing skin (seriously!).
To make garlic ear oil, you'll need:
A small saucepan
1-2 bulbs of garlic (about 10 cloves)
1/2 cup of oil (I like sesame)
A small bottle & dropper
In the saucepan, combine the oil and whole peeled garlic cloves. Bring to a simmer, and allow to bubble and spit for about 20 minutes. Make sure the garlic isn't burning! Remove the pan from heat and allow to cool. Slowly pour just the oil into the bottle, and store at room temperature.
To use, tilt your head to the side and squirt a dropper full of warm oil into your ear. Allow it to rest for about 5 to 10 minutes.
I like to lie my head on a pillow and give my lymph nodes a massage. Drain the oil onto a tissue, and repeat on the other side. Feel free to do this often. I do it at least once a day! Sometimes I even walk around the house with my head cocked awkwardly to one side.