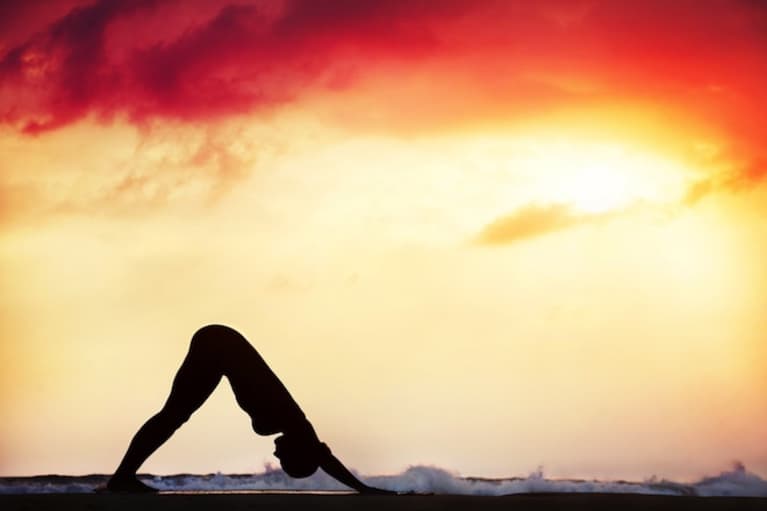 Nourish your soul. What a vague sentence, am I right? Nourishment can be defined as "the substances necessary for growth and health." The soul is the inherent essence of one's being.
So what does it mean to cultivate the necessary substances for the growth and health of our being?
Glad you asked! My answer: Go find out.
Not the answer you were looking for? Well, friends, it differs for each and every one of us; nobody has the exact answer. We all, however, cultivate these beautifully unique substances every single day, in our own lives, and I'm going to share with you some the ingredients of my own soul nourishing meal.
Use candlelight
I don't care if I'm showering by steamy candlelight (I call this my "rainforest shower" practice), stretching on my bedroom floor by candlelight, meditating by candlelight, or writing by candlelight, the ambiance soothes me immensely.
Aromatherapy is a powerful tool, and I choose to treat myself to well-made, authentically scented, beautiful candles that have a long burn life. Dim light is one of the greatest gifts we can offer our optical nerves, who spend all day long processing light (not to mention iPhone screens, computer screens, television sets).
Aromas can truly envelop not just the senses, but also the mind. For instance, I have a ginger peach candle burning beside me as I type. It's in a beautiful, ornate tin, and my mom gave it to me last month. It brings me such joy, the artwork on the exterior, the divine fragrance it releases…such a simple way to nourish my soul.
Be near animals
I'm an animal lover, a vegetarian, and a dog owner. My heart is warmed just by the thought of the unconditional love offered to me by my pup, and simply thinking of animals makes me happy (softie much?).
I wish I had more time to volunteer at the local animal shelter (it's one of those things I wish I did, to be perfectly honest). I think being a dog walker sounds like one of the coolest jobs. I am first to volunteer to dog-sit for anyone.
I love cows and pigs more than the average person. Horses bring me to tears; they're so dear to my heart. With their wordless love, intuitive nature and heartwarming presence, animals never fail to nourish my soul.
Take a yoga class
Let someone else help you nourish your soul (but don't expect them to do the work). Show up to yoga ready to participate. Think of the teacher as someone leading a cooking class. They provide the knowledge, the sequence, the suggestions, the expertise; you mix the ingredients, adjust the temperature, knead the dough.
If someone tells you to breathe, to turn inward, to cultivate heat and strength, those words can easily glaze along the surface of someone not willing to do the work. Go to yoga and be gentle with yourself. Go with the purpose of nourishing your soul, your body, your mind.
Modify more than usual, take child's pose 15 times, indulge in a heavily supported savasana. How about this one: speak up at the beginning when the teacher asks how everyone's feeling. Raise your hand.
I know, I know, the school-aged child in you is thinking, "But everyone will look at me!" Let them. Because you know what (cue the typical grammar school teacher response)? Most of them will likely thank you for saying what they too were thinking.
You don't have to bare your soul, just know that you can voice something that isn't necessarily physical. Yoga teachers are trained to holistically nourish their tribe. Saying, "I've been feeling scattered and anxious this week," deserves airtime as much as, "I've been having lower back pain," does. Allow yoga to take your hand and lead you a place where you are eager and willing to nourish your own soul.
I could go on and on about nourishing my soul, as it's one of my favorite practices. Brewing a mug of herbal tea, taking an Epsom salt and essential oil bath is another favorite, taking a walk with my mom (walking together in the vineyards in my hometown nourishes my soul so deeply that it carries me for weeks at a time). These are all sacred acts of my own, and perhaps some of them call out to you.
The purpose of this piece is more to stimulate in you the desire to nourish your soul…so go. Gather your own ingredients, experiment with the recipe. Then sit down and enjoy your hearty creation of soul nourishing goodness because you, more than anyone, deserve it.
In the comments below, I'd love to know what's worked for you. Let's all grow together.