Don't Bother Me. I'm In My Comfort Zone!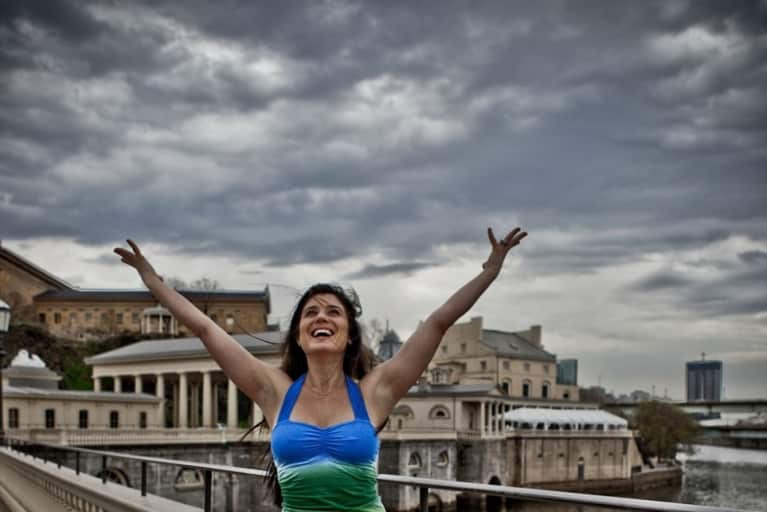 Come on, you've said that! Or at the very least, thought it.
Sometimes in yoga, I'm in a pose I've done a million times. I know I can go deeper, be it physically, or with my breath or my intention, and yet, it just feels so comfortable to stay where I am. Where I know I can hang out without being challenged. I call it Comfort Zone Yoga.
For many years as I was waitressing at a popular restaurant in West Hollywood called Newsroom I felt as if I worked in The Comfort Zone Cafe and lived in the Comfort Zone Apartments.
Sure, I wanted to do something else, and live in Santa Monica, but I was just so darn comfortable in my uncomfortableness.
I had cash all the time. It was easy. I didn't really have to use my brain. Not that much anyway. When I wanted to take off, all I had to do was find another body to replace mine of the "floor." I could pretty much do whatever I wanted (and I did, trust me) since I worked there for so long. As far as my apartment went, I had cheap rent and the idea of moving made me sick to my stomach so I avoided it. For years.
I was safe.
I had my rituals, my schedule, my habits. Yes, I was pretty unhappy but one gets used to such things and happiness seems such a small price to pay, right?
Wrong!
I sit here staring at a card someone just sent me in the mail. (Getting letters in the mail is such a beloved treat, isn't it? So ancient a gesture.)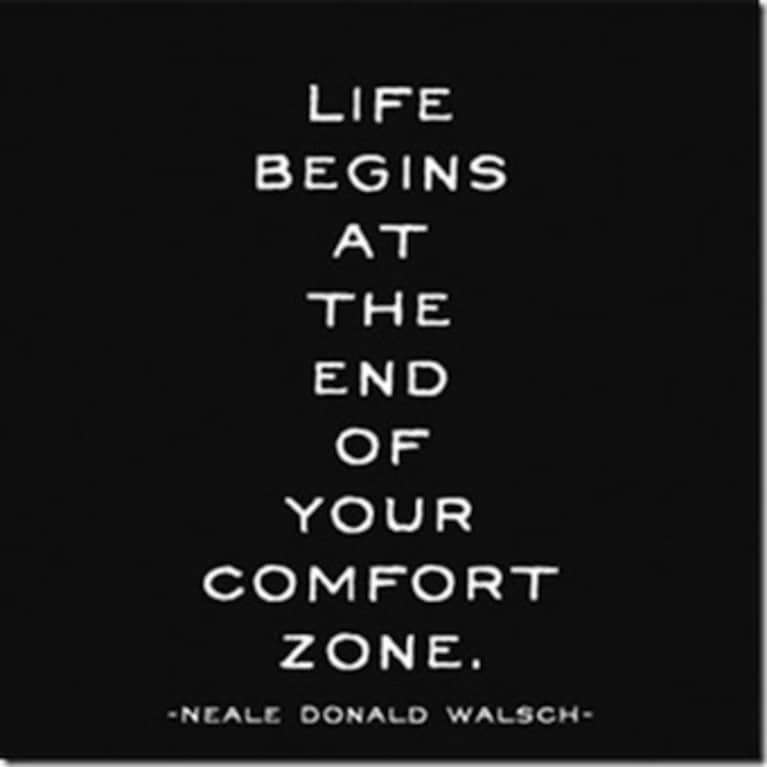 Oddly, all my years at the Newsroom blend in. Seriously, ages 21 to 33 are a big fat blur.
It is only now that I feel fully alive and inspired.
I am no longer in my comfort zone. Every day I do something that takes me out of it, further and further and each day I manifest more magic.
I made up a horoscope for everyone the other day. It read:
"You will wake up smiling. The first thing out of your mouth will be 'Thank You.' You will tell 'Guilt' to take a hike and 'Stress' to bugger off. You will walk to the edge of your comfort zone, stand there for a moment, and then walk beyond it. You will be happy."
All jokes aside, I really made it for myself as a reminder.
I was stuck for many years. Even my anorexia was a comfort zone for me. It fit like an old glove and knew if I took it off it would be like throwing myself to the sharks.
Eventually I did throw myself to the sharks except they weren't sharks and I didn't throw myself. I eased myself into yoga and healthy relationships and self-love.
There were no sharp teeth.
Today's Daily Manifestation Challenge is this: In the comments below, please add where you can take action and step out of your comfort zone today? Where is your comfort zone? Where does it end? Are you willing to take the challenge?
Manifest Your Life,
One Laugh at a Time,
& Get the Heck outta Your Comfort Zone!