What My Homebirth Taught Me About Being Fearless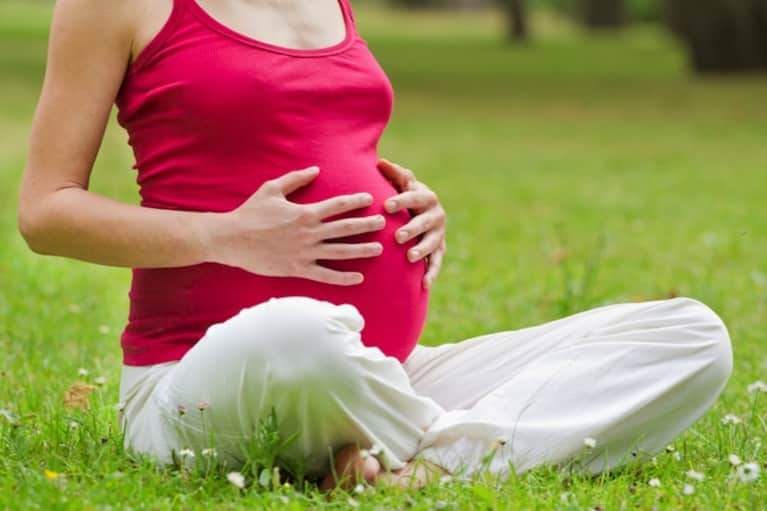 In 2010 I gave birth to a beautiful and healthy 9lb. 2oz. baby boy in my kitchen. Only my husband, close friend, and a midwife were present, and it was an incredible experience. The lighting was dim, I had complete control over my environment, and I knew that I could do this even though I'd never done it before.
While the homebirth movement is making a comeback and these stories are plentiful if you look for them, most people respond with bulging eyes and a dropped jaw when I share this with them.
Was I scared? Anxious maybe, but confident, too. How did I endure the horrendous pain? My body produced natural painkillers called endorphins, adrenaline, and oxytocin, and it's a totally different sort of "pain" than when you unexpectedly hurt yourself because it comes with wisdom and months of mental preparation. What would I have done if something went wrong? I would have been taken to the emergency room at the nearest hospital. For healthy young women with no complications during pregnancy, the chances of "something going wrong" are very low.
To be completely honest, I did suffer a minor injury in the form of a dislocated tailbone because my baby was larger than average (or just healthy). I am still healing from that, but would I give up my experience for a nerve-shocking hospital visit where I would have likely gotten a C-section because my baby was big?
Nope.
It was totally worth it, and now I know I can do anything.
When I recently went skiing for the first time I was pretty scared on my first run down the mountain, and I didn't want to do it. I inched my way down and yelped with fear every time my skis would propel me forward.
Then I realized I gave birth to a 9lb. baby in my kitchen, this should be a piece of cake! That simple thought made me instantly straighten my posture, get control over my body and environment, and have fun without fear. I whizzed down several more times and impressed my husband who was initially sure I'd never ski again.
At the time of labor and delivery, I didn't think I was doing anything brave at all. I thought I was merely doing what had been done for thousands of years, what was natural, and that I was merely surrendering to benevolent forces beyond my control. Little did I comprehend I actually did something that most people would be scared to do!
So now that experience is a source of strength. It is my mantra whenever I have fear about anything. If I could create and deliver as strong and dynamic a human being as my son is, everything else is easy.
My purpose in sharing this personal story is to say that fear is just a thought, there's nothing out there that you can't do if you align yourself with pure intentions.
What is YOUR source of strength? Think about it. When in your life were you brave without even trying to be? What is courageous about you? There is something, without a doubt there is, a moment in your life when you acted without thinking, with love instead of fear. When you are challenged, recall that experience and let it guide you into something new.
Sometimes the reward of success is worth the risk of failure.
(Just so we're clear, I'm not saying homebirth is for everyone! But if you're healthy, under 35, and have no complications during pregnancy, talk about it with an experienced midwife if you're thinking of going that route, I'm glad I did.)