Personal Peace Is Global Peace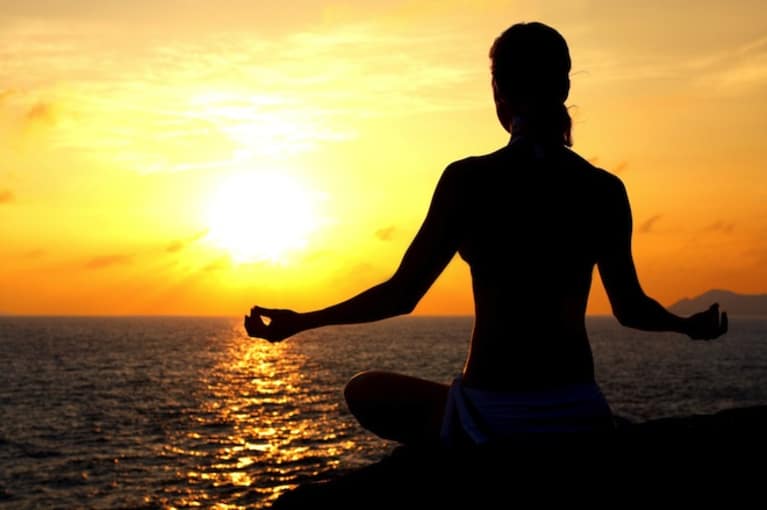 Positive energy is just as powerful as negative energy, and when we're faced with the harsher realities of this world it's often difficult to remember that.
However, I believe that the most powerful way to combat anger and evil is to confront it with peace and joy. We all need to prioritize cultivating a personal sense of happiness and gratitude in order to enact a sustainable change – first in our individual environment, and then globally.
Several weeks ago, Elena Brower updated Facebook status with this simple, powerful phrase: Personal Peace is Global Peace. This has resonated with me since I read it, and I've spent a lot of time trying to articulate this through action, as well to as create practical suggestions to help others move forward with love and compassion, even if the world gives us reason to recoil.
So what does this mean? I know it's often so difficult to feel loving towards ourselves: we live in a culture that prizes perfectionism, indoctrinates via fear and guilt, leads by shame and praises by exclusion. We have been taught to diminish ourselves in order to build others up, and as a result, very few of us see the brightness of our own light. But we have to start to try.
Here is what I am doing to enact a change within myself:
1. Meditation
I have started sitting with Lovingkindness. During a Lovingkindness meditation, you repeat the same loving phrases (may you be happy, may you be healthy, may you always know love in your heart, may you be safe) – first toward yourself, then towards someone you love deeply, then a more global audience, and finally, to the difficult people in your life.
At first, doing a Lovingkindness meditation can seem wooden and false, but I promise you that it eventually seems more natural and it can open up pathways of resistance and sadness and allow for personal freedom and peace. Check out Sharon Salzberg's books Lovingkindness or Real Happiness for a deeper explanation on what this is and how to do it, or download Lovingkindness podcasts for free on iTunes.
2. Breathing
Before you react negatively to something, take a deep breath and calm down. THIS IS THE HARDEST THING I HAVE EVER ATTEMPTED TO DO. To say that I am a huge over-reactor and drama queen is an understatement. I am emotional, I am intense, and I am stubborn. But that one deep breath has the power to make a world of difference, and the shifts in my life are proof of that.
Yes, I still overreact, and I am often still just as intense and stubborn as ever, but I know now that there are options, and I can choose a softer reaction if I remember to breathe. And if a deep breath doesn't chill you out enough, jump up and down, make a funny face at yourself, or talk to yourself – audibly – and remind yourself that there are other ways to react.
3. Reading
Turn off the TV and turn on your brain. Choose interesting, empowering books that make you think and provide you with tools to understand and improve your life. The right book can help change your perception into something more affirmative and productive, and it can inspire you to do the things you've always wanted to do, but were otherwise afraid to start.
When you read books that resonate within you, you create a springboard for action and a platform for change. Some of my favorites this year have been: Daring Greatly by Brene Brown, Instant Happy by Karen Salmansohn, and The Fire Starter Sessions by Danielle LaPorte.
4. Making lists
To-do lists are great for getting things done, but they aren't great for directing your life in a heartfelt direction. When you are following your heart and living in a way that aligns with your values, you become a peaceful and satisfied individual.
So, for just one day, ditch the "to-do's" and pay attention to what you are grateful for, what makes you happy, what chills you out, what you like, what makes you feel special and what creates joy and happiness in your life…When you are feeling sad, overwhelmed, depleted or lonely, pick something off of the list focus on as a way to revitalize your heart. It is incredibly powerful to actually see the things in your life that are cause for happiness. Remind yourself of the good and it will be a lot easier to be the good.
5. Relax 
This is different for everyone. What works for me is a massage, a bath, a favorite candle and some solitude, a walk with my dog, a special cup of tea, or sharing belly laughs with a good friend. Take some time to understand what relaxation means and feels like for you, and make it a priority in your everyday as a part of your self-care regimen. I promise that it will make you happier, which will allow you to make others happy in turn.
6. Be good to others. 
Sometimes, the very best thing you can do to remind yourself of the goodness inside you is to extend yourself to another person. By being open and kind to someone who needs it, or to someone who isn't expecting it, you not only change the course of their life, but you also change the course of your own.
The best part about being good to others is the ripple effect you create – your kindness inspired others to be kind, and so forth. I love Ann Curry's 26 Acts of Kindness, call to action in response to the Sandy Hook tragedy – but let's not stop at 26.
7. Get involved. 
If there is a cause you're passionate about, then attach yourself to it. Instead of turning to social media and bantering with friends about the change you want to see, go out and work for it. Change happens because of passionate people, and right now the world is begging for a change. The world needs you.
Take the negative, helpless energy we often feel as bystanders and transform it into the positive and exciting energy of action.
Let's all resolve to redirect our lives in a way that makes a difference every single day. Let's support each other in loving ourselves first, and – even more radical – let's also celebrate each other's light when it starts to shine. One by one, if we commit to finding peace within, we will inspire peace around us.