7 Tips To Raise Chill Kids Using What You Love About Yoga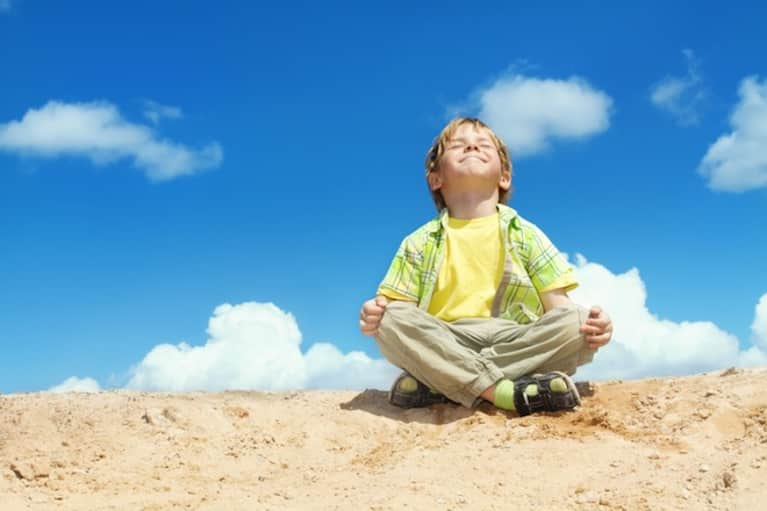 Teaching yoga principles to kids gives them the tools to stay calm and in a chill mode of operation. Granted, these tips are for all ages, so you may have fun incorporating them into your daily routine.
1. Breathing. Teaching kids fun ways to breathe will help to ensure they remember in challenging situations, the foundation is to have them take their arms over their head breathing in on the raising of arms and exhaling on the release of the arms. Fun imagery includes acting like a volcano, balloon or simply counting the breaths.
2. Mantras. Use hand movements and words help to focus. Examples include Sa Ta Na Ma in which you touch your fingers and I am Happy by Shakta Khalsa.
3. Dancing. Slow dancing using balloons and exaggerated movements gives them something to focus on while being silly and slow.
4. Relaxing Songs. Playing peaceful music calms our souls – try classical, spa, nature sounds and songs everyone can sing along to such as This Little Light of Mine or Peace Like a River.
5. Settling the Mind. Discuss how thoughts are going to always go through your head, teaching that you can settle them by thinking of something happy, appreciating someone special, focusing your attention on a snow globe as the snow settles, pretending you are soaking in the sun. The options are limitless.
6. Mandalas. These are intricate circles with shapes, these are good to color and given so detailed, it assists in settling down the mind. Free copies can be found here.
7. Candles/Fire. Use real candles or battery operated tea candles and make a pretend camp fire or if you have a fireplace make a fire. Just sit back and watch the light and melt into doing nothing but being in the present moment.